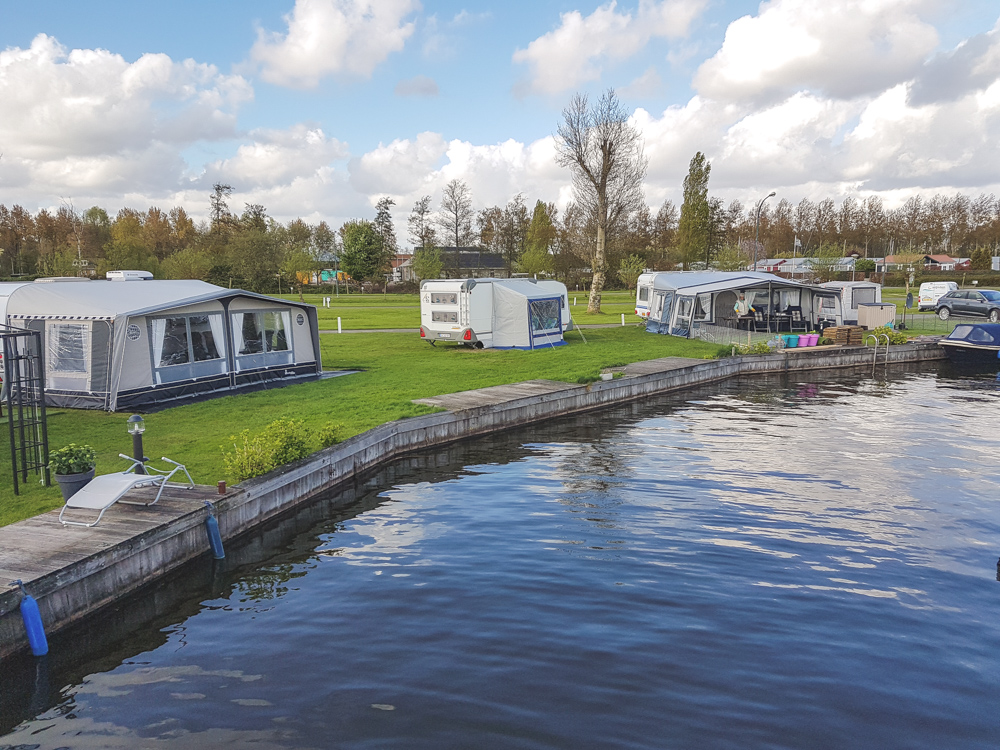 So while on our road trip through The Netherlands, we stayed at two campsites. We did a review of the first campsite that we stayed at, and then this is our review of the second.
Campsite: Recreatiecentrum Mijnden – Loosdrecht, Netherlands
Dates: 15-17th April 2017 (2 nights)
Location
Recreatiecentrum Mijnden is located just on the outskirts of Loosdrecht in North Holland, roughly a 40 minute drive to the centre of Amsterdam. It's located right on the banks of a river and marina, with a lot of the seasonal pitches having their own little boat parking spot (for smaller boats). It's really easy to get to with main roads leading up to the site and barrier access. On check-in you're given a card that allows you entry and exit through the barrier which is valid for your stay.
There's plenty of facilities on site, but there's some supermarkets and shops/restaurants in the nearby town, which is only a few minutes drive away.
Facilities & Amenities
The campsite has a small shop and restaurant and there's also a playground, laundrette, beach, bike & canoe hire and free wifi on site along with toilets and showers. The showers cost €0.50 for 7 minutes, though the only thing we didn't like with this was that the payment thing was in the communal area, you put your coin in and chose your shower, then had to run to the cubicle, strip down and shower all in those 7 minutes, so you waste a good 2 minutes just getting undressed.
The only thing that we used while we were there was the free wifi, and toilets/showers and the shop. The shop was well stocked, though the prices were obviously a lot higher than going to the local supermarket, but it was good for a quick stop on site.
The toilets and shower blocks were always clean and warm. The only thing that could have been improved was the number of showers – I think there were 5 showers in total in our section of the site, but as we went in off season it was fine. There were plenty of mirrors and sinks too for doing hair and makeup and, being Europe, there were plenty of plugsockets around the sink too for things like hairdyers and straighteners.

Pitches
The pitches were a good size, pretty much similar to the pitch sizes in the UK, and included water and electricity in the price. From what we could gather from the map we received on arrival, they have specific pitches for caravans and campervans – from what we could gather the campervan ones had gravel tyre tracks. As the campsite is right by the lake and marina, we had views over the marina and our own little mini pond by the side of us too!
Local Attractions
The campsite is in the perfect location to explore North Holland, with central Amsterdam being only a 40 minute drive away. We got the train from a nearby town into the city which took around 45 minutes and it was so easy to get to. We didn't really see much around the local area, mostly because we spent the day in Amsterdam and then the second day had a change of plan and ended up visiting Zaanse Schans and Volendam the other side of Amsterdam which were both good.
Price
Prices start at €22 per night including 2 people, a motorhome or caravan (+ car), tourist tax, electriticy and water. High season starts at €27 per night.

Other Notes
It was in a great location, with plenty of cycle tracks around the area. It was more like a mini resort than a campsite, which was nice. It was a nice quiet campsite, but most of the nice waterside plots were taken up with seasonal plots.
Overall Score
Shanes Rating: ★★★☆☆
Pros: Clean, Friendly, Nice Views of the Water
Cons: Fee for Showers
Aprils Rating: ★★★☆☆
Pros: Clean Shower/Toilet Block, Good Location, Nice Views of the Water, Close to Amsterdam
Cons: Fee for Showers
Map
Save
Save
Save
Save