Want to build that dream home / get away on wheels? You're probably unsure if you have what it takes to build a campervan, but don't let that stop you! We all have to start some where, me and April had no experience building a campervan.
Just take a look at our DIY campervan build, proving you can do it with no previous experience!
Our Experience
I'm a programmer by profession and April works in admin, so we both have very little to zero DIY skills required in either of our jobs. My hobbies involve some DIY such as working on RC cars. You can read more about us.
When we first started the campervan project we had very little experience, and zero when it came to converting a campervan! We had no idea where to start, what to buy, how to do it… it is very daunting task when you first start, especially once you've committed and purchased a van!
1. Planning
Plan, plan and more planning… I cannot stress this enough!
We made a big mistake by not having a complete plan before starting the build, and midway through the conversion we decided to make some big changes which meant that we wasted time and money! We decided we didn't need a dedicated bathroom after spending 2 weeks in Europe, plus speaking to full time van lifers who also didn't have bathroom facilities.
This meant changing the space into storage / work top area, and that all the work we had already done had to be removed, costing us a whole new lino floor and a loss on the items we had already purchased which needed to be sold – like the fixed toilet, sink and shower sets.
We strongly suggest you take a look around the internet and Instagram to get ideas of what you want and then come up with a confirmed plan of what you want to achieve before you start anything.
2. Internet
The internet is a great resource for information! You wouldn't be reading this otherwise so you're already heading in the right direction! There are hundreds of thousands of articles, posts, blogs and forums to name a few, where people upload content related to most things campervan. We've also found the instagram community to be amazingly helpful, and we've asked friends we've made on there for help when needed.
From solar panels, 12v electrics, gas, build a bed, insulation, water to name a few, the internet has been a massive help with our campervan conversion and I think it would have been a struggle without it.
Here is a couple places I found useful.
Forums
https://www.diymotorhome.co.uk/
https://www.ukcampsite.co.uk/chatter/
Informative Websites
http://deepredmotorhome.com/
http://www.campervanconversion.co.uk/how-to-convert-campervan-or-motorhome
Social Media
I have added Facebook and Instagram as separate sections below as they deserve their own sections!
4. Facebook
Facebook groups are a very good resource. They are very active and you tend to get responses within the hour from users! I have found these groups very informative however I do have to stress, people can be very opinionated from my experience.
5. YouTube
YouTube is a great resource, not just for van converting. You can learn to do almost anything from YouTube! There are hundreds even thousands of videos, tutorials, reviews, how to videos…. YouTube was a major factor in our build as it allowed me to learn how to do plumbing, gas works, wood work techniques, install van windows, roof lights…. just about everything!
I would spend days watching videos such as how to install vinyl flooring until I was confident I new all the theory behind it. I would then proceed to actually do it and most times succeed first time, and if I got stuck, straight back onto YouTube.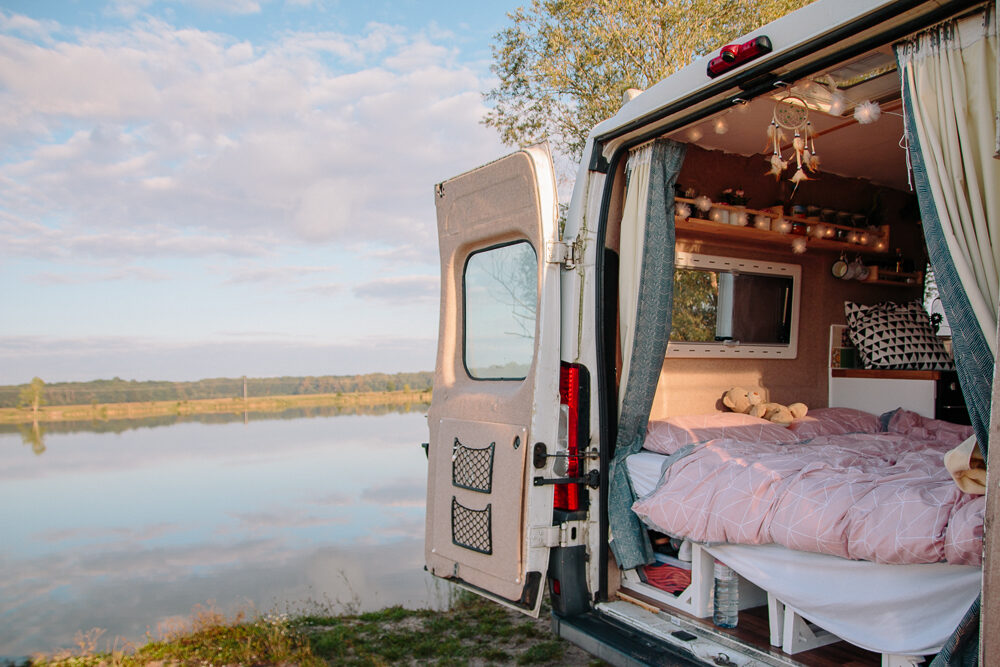 6. Instagram
Instagram has a strong community of van lifers from weekenders to full timers, and we've found that the van community is very friendly and helpful. We have used instagram as a way to share our van build and adventures, ask for help and also help others. For example we had issues with our Propex heater, and after some stories and interactions with others we discovered our Propex heater unit was not performing correctly and a quick re-fit (a restricted gas pipe) and the problem was resolved!
We've made some really good friends through the app, who we've been lucky to meet up with on a few occasions. It's great sitting around a campfire chatting all things vanlife with others who totally get it too!
P.S. If you want to follow us on instagram we're @adventuresinacamper
7. Have fun
The most important tip is to have fun! Believe me there will be times when you just want to rip your hair out, but just think of the future and the reasons why you chose to build your camper.
I learned a load of new skills which will be helpful in the future, and had fun whilst doing it!
Conclusion / Backup
There is many resources available for self-build campervans! If you're stuck Facebook groups and forums are a easy way to connect with people and get feedback, recommendations and solutions.
Remember you're not alone during your build, so maximise available resources! Ask around, you may find family members may be willing to lend a hand or their skills. We had help at random stages during our build from both mine and Aprils family.
Aprils dad assisted with the window installation. My dad assisted with the installation of the interior and my mum upholstered the bed cushions.
Have any tips or tricks to help self builders with there campersvans?
Leave a comment!