If you live in your van, use it throughout the colder months or just generally want to be able to have a warm van on colder summer days, then you'll most likely want to have some type of heating system in your campervan. There's a few options to choose from, so we thought we'd go through each one to help you decide what type of heating to install in your campervan.
Although there's way more than these options available out there (like electric fan heaters, oil heaters etc), most people opt for one of these three as a long term heat source. So, what are they? Gas, Diesel and Wood Stoves are the most popular choices for heating campervans!
Obviously, to make the best use of heating options, you need to have good insulation in your van to start with, otherwise the heat will escape straight away, or draw in moisture if you have any exposed metal surfaces. We have thermal curtains, along with thermal window screen coverings which we use when it's super cold outside to help keep the heat in.
1. Gas Heaters for Campervans
This is the option that we went with in the end for our van after a lot of debating, so I thought we'd start here. Gas heaters use a fan to draw air in from the outside which is then passed into the combustion chamber, where it mixes with gas and is automatically ignited by a spark heating the air, which is then vented through to the van. There's no gas pumped into the van – this is sent out through an exhaust, so the air in the van is clean. You can also re-circulate the warmed cabin air back through the heater to warm the van up quicker.
The most popular option for a gas heater in campervans is by Propex – we have the HS2000 which comes with a thermostatic control, meaning we can leave it on during the night and it'll kick in again when the temperature drops. You'll need either an underslung LPG tank or internal bottles of butane/propane as the gas source.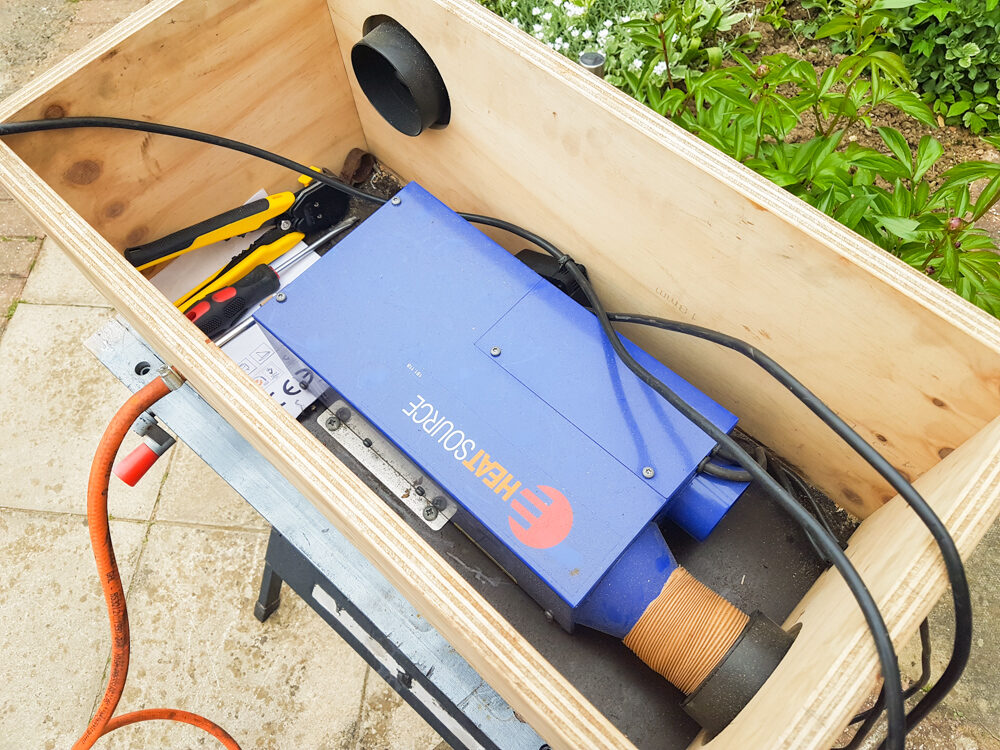 Prices can vary depending on the type of gas source that you use, but the heater itself new costs around £480. In terms of underslung LPG tanks, these can set you back around £500, or you can buy refillable LPG bottles or Calor bottles for much less, it just depends on what you want to use in your van.
Pro's of Gas Heating
* Most likely already have a source of Propane/Butane in your van
* Efficient to run
* Easy to find fuel source
* You can leave it on overnight
* Thermostat controlled
* Easy to install and fix any faults yourself
Con's of Gas Heating
* Plenty of ventillation required
* Quite noisy inside the van
2. Diesel Heaters for Campervans
Diesel heaters are another popular option for heating campervans. Usually, they take the diesel from the van's actual fuel tank, through a heat exchanger and into your van, therefore there's no need for any other tanks or bottles in your van (unless of course, you need one for a fridge/cooker). Like the gas heaters, they produce clean air inside the cabin, and vent any exhaust fumes outsde.
The main diesel heater brands are Eberspacher and Webasto, but for the base model, prices can range from £800 to over £1000, so they're not cheap to buy, but once they're installed the usage costs are fairly low.
Pro's of Diesel Heaters
* Can use van's fuel system
* Cheap to run
* Easy to find fuel source
* Thermostat controlled
* Operate better in cool temperatures and high altitudes
Con's of Diesel Heaters
* Very expensive to buy
* Can be quite complex to install yourself
* Quite noisy from outside of the van
* Need regular maintenance/servicing
* Can sometimes smell the diesel fumes outside of the van
3. Wood Stoves for Campervans
And the third option for heating your campervan is wood stoves. We love the idea of these, but find that it just wasn't a practical option for us in our van. Obviously, they work by fire to create heat inside the chamber which heats up the metal stove, with any smoke being sent up through the chimney. They look great inside a van, and create a lovely cosy feeling on a cold winters night, especially if you get one with a small window so that you can see the flames.
You can buy wood stoves from any stove shop and they come in so many different designs, but just be sure to measure the space inside your van and get one to match, otherwise you'll either be too hot or too cold depending on the heat output.
View this post on Instagram
View this post on Instagram
Prices vary from £150 upwards depending on the size and design that you want. Installation is easy, but you do have to be aware of fire safety rules and follow the legal requirements – you can't have any flammable surfaces near to the heater, so while the cost of the heater is low, just beware of the protective surfaces that you may need in the van surrounding the stove. We're not experts on stoves, so be sure to research exactly what the requirements are for your van.
Pro's of Wood Stoves
* Create a cosy environment inside the van
* Cheap to run – all you need is some wood
* Cheap to purchase
* Almost silent to run
* A great dry heat source
* Can use them to cook on sometimes
Con's of Wood Stoves
* Take up quite a lot of space inside the van
* Need protective surfaces nearby
* Need somewhere to store the wood
* Small units won't burn for long, so need constant topping up
* Not advised to sleep with the stove still burning
* A lot of safety regulations
* Some campsites don't allow burners to be used due to smoke
* Surfaces can get very hot, so not great in a confined area
* Ashes need to be disposed of – be careful of Carbon Monoxide poisoning!
Safety
Obviously, be careful when installing any gas/electrics/stoves in your van. If you're not sure, ask help from friends or family who might, or if you're still unsure, get a professional in to do it. We didn't in our van, but it's always best once you've installed any gas appliances to get a gas safe engineer to check it all over and sign it all off. There's plenty of things you can buy online to check for any leaks yourself, but just for that ease of mind.
You'll also need to make sure you've got a fire extinguisher, carbon monoxide alarm and a fire alarm inside your van too. We've linked some below.
So there you have it! Obviously, like I said earlier, if you don't have the proper insulation in your van then that's a great place to start otherwise the heat you're creating will just escape. But ultimately, the type of heater you want in your van depends on your budget, space and needs in your van.
Let us know what you think. What type of heater do you have or plan to have in your van?