No! is the quick answer. It's totally possible to convert a van without needing any electric-hookup. Our van was designed to be an off grid camper with everything we would need to stay days or even weeks without going to a campsite. In all honesty if we can refill our water and empty the toilet / waste we shouldn't ever need to go to a campsite! This makes trips a lot cheaper saving anywhere from £15 to £40 per night!
Mid Conversion
At the time of writing this we are mid conversion, but we still have the base requirements regarding power – we have installed the external power hook up, but it hasn't been connected inside the van yet, and we are in no rush to get it hooked up. So we'll tell you all about our current set-up and how it's possible to go without any mains electric hook-up!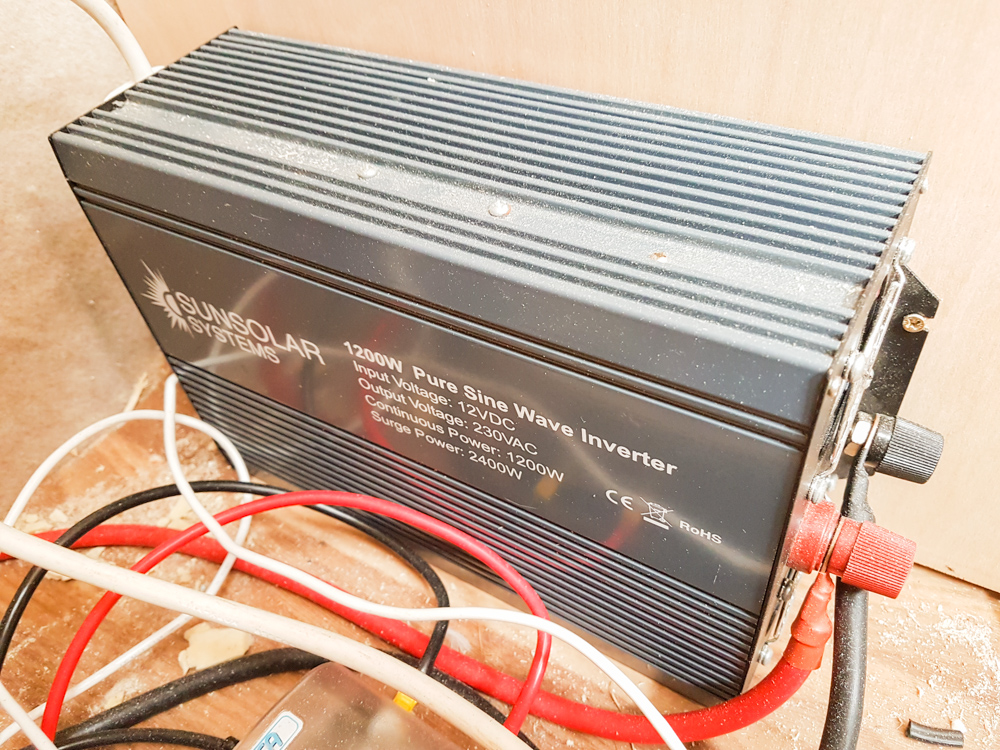 Inverter
Inverters are great devices! They essentially take a 12v power supply and make it 230 / 240v, allowing you to run regular electrical items like laptop chargers and hair straighteners that you would normally use in your house. We have a 2000w Pure Sine Wave Inverter capable of providing a constant 1000w supply and 2000w for 30 minutes.
1000w @ 230v = 4.3amps
Most of our equipment such as laptops, drone and camera batteries use about 120w which is about 0.52amps, so as you can see we are barely using the inverter due to our battery and recharging setup we have found we never need a backup electric hook-up.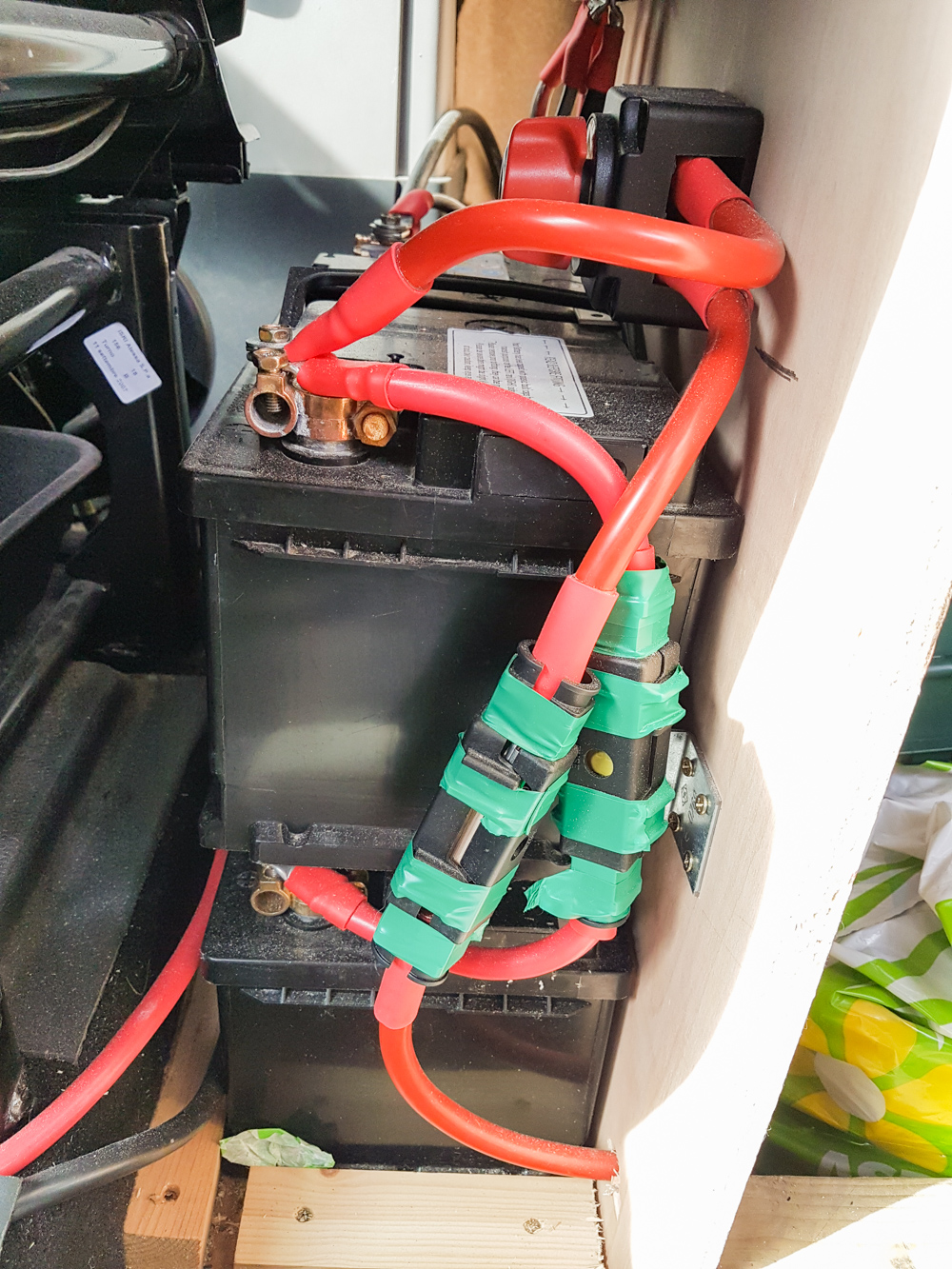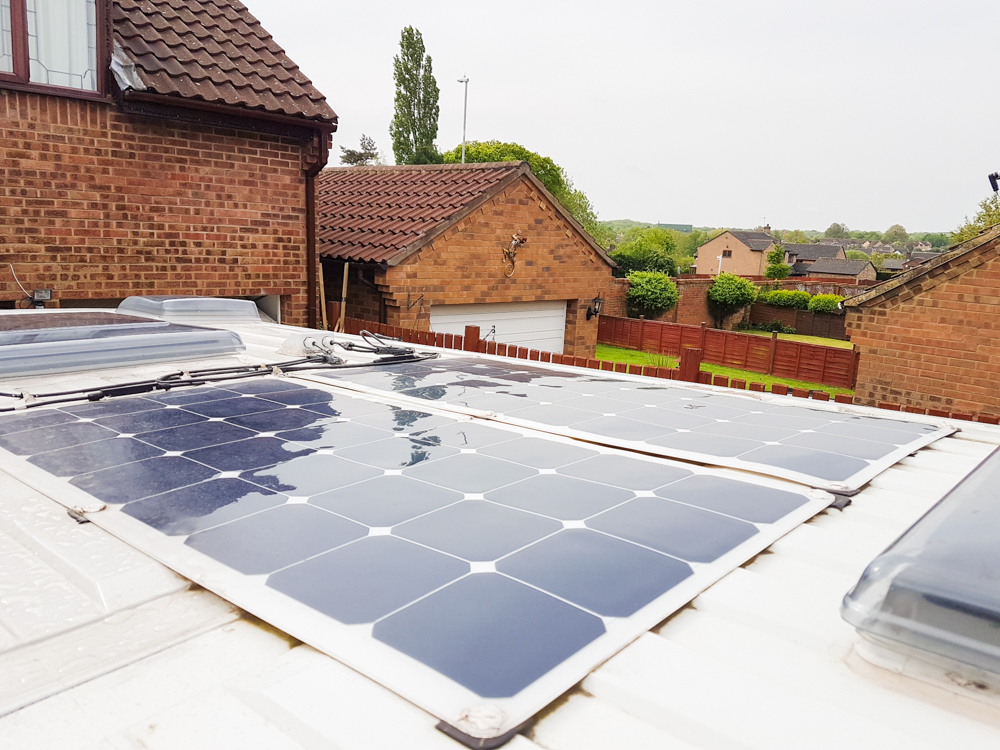 How?
Batteries
The most important thing is the batteries! We have 2 x 110mah batteries hooked up in parallel which gives us 220mah worth of 12v power. Everything in our van runs on 12v and most of it is minimum power requirements for things like charging phones and camera batteries, so those 2 batteries will power our lighting for weeks probably (left on 24/7).
Solar Panel
For off grid camping, solar power is the next major requirement. We have 2 x 100w low profile solar panels on the roof, which are hooked up and constantly charging the batteries. We have found even on cloudy days they give out a lot of power and we struggle to get the battery levels to drop.
Obviously at night the solar panels stop working, however the capacity of the batteries is plenty. We went to Camp Quirky which is a weekend campervan festival, and we found that the sun was rising around 5.30am, and by the time we woke up at around 7 or 8 the batteries where already fully charged again!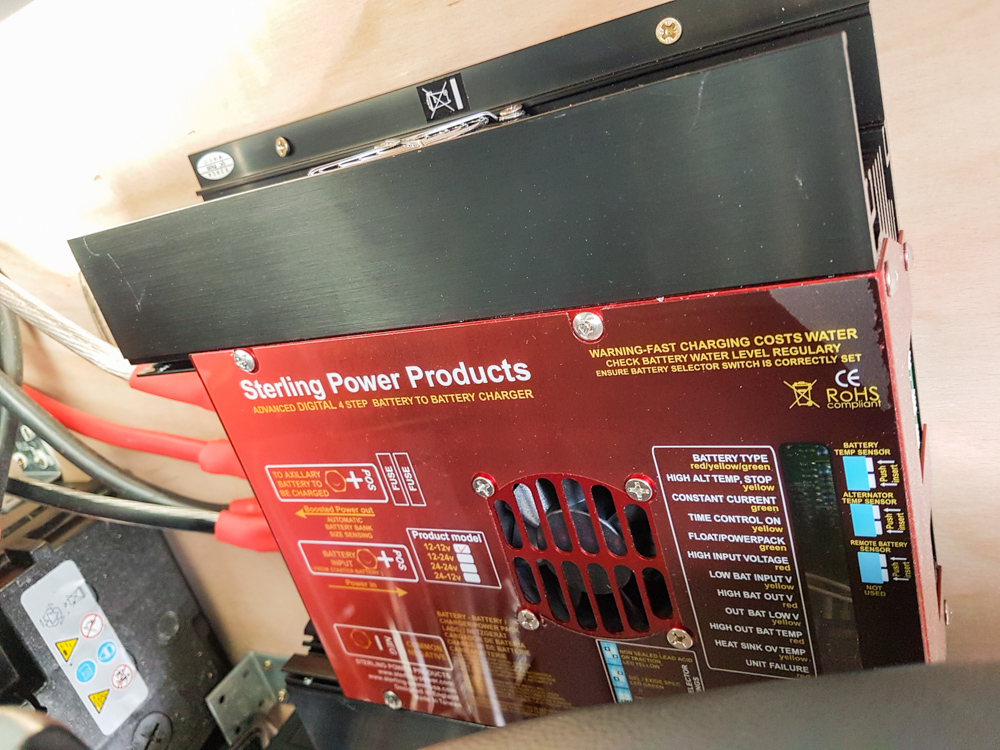 Battery to Battery charger
We have a Sterling Battery to Battery 50amp battery to battery charger. In all honesty it has only ever been used once! It is going to be more of an emergency use for us as this system essentially uses the power from the vans alternator to charge up the leisure batteries – think of it as using your van engine as a generator.
If the battery levels get low and the solar panels are struggling this is where the B2B charger will come in and ensure we have good power levels. The only issue we have is that the solar panel charger gives the B2B a false reading so unless we disconnect the solar panels (via a switch) the B2B will never engage as it believes the batteries are charging from the solar panels.
We have since been on a two-week trip through Europe and found that once the battery levels get to low the B2B charger will automatically engage with the solar panels still hooked up, meaning it uses solar panels where possible but whilst driving if the power levels are to low and the solar panels are not generating enough power the B2B will engage and take over.
So overall, honestly, it's so easy to go without electric hook-up these days! April was worried in the beginning about not being able to charge all of her cameras and use her hair straighteners while camping, but now she see's that we really don't need the hook-up. Everything we have can be run off the batteries using solar power 95% of the time, and the other 5% is the B2B charger.
Do you have electric hook-up in your van? Let us know what you think in the comments!