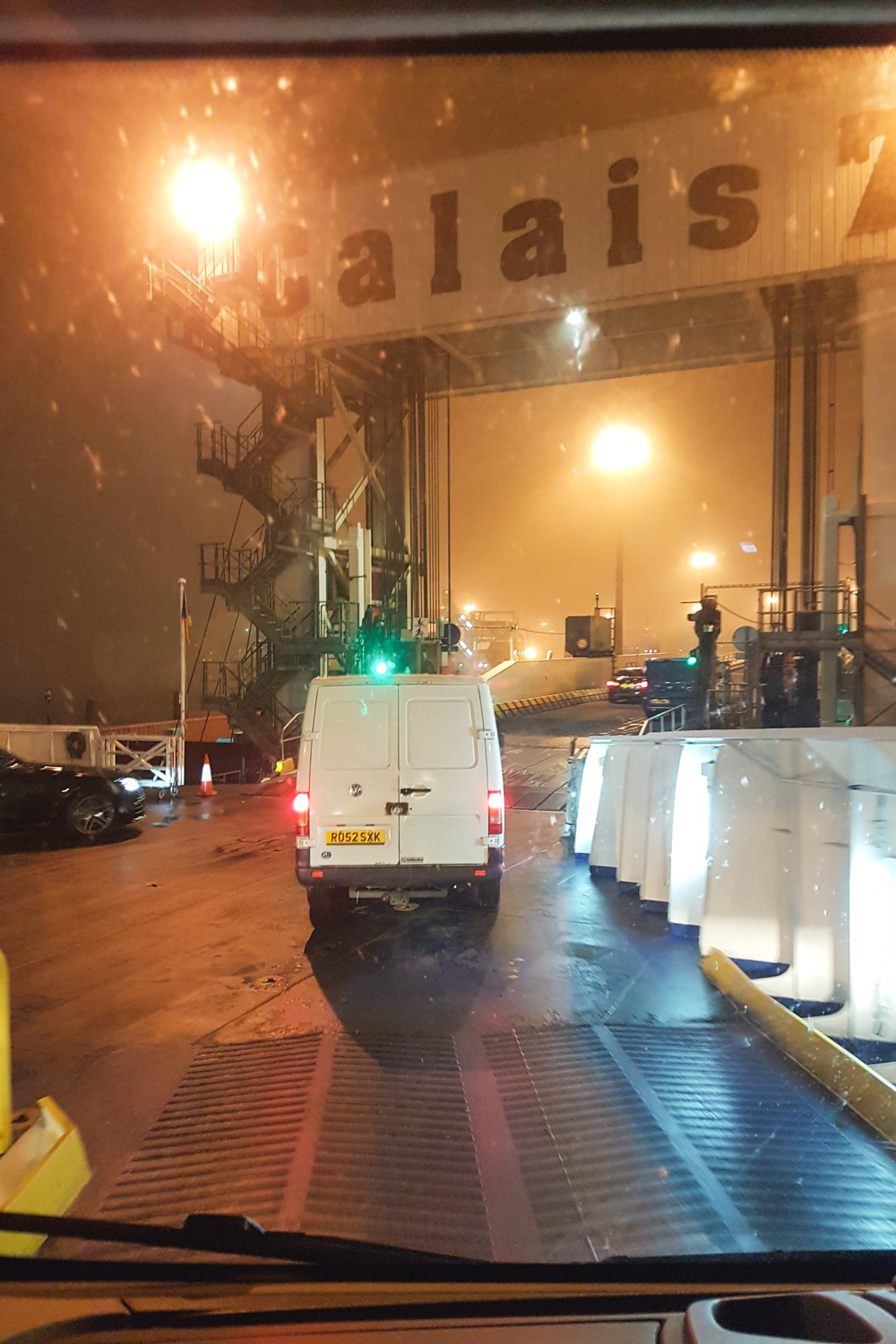 I thought I'd post up a day by day post on our entire two week Europe roadtrip which took us from the UK all the way down to the Croatian border in Slovenia (though we never actually crossed into Croatia sadly on this trip, though I wish we had in the end).
The UK to Vianden, Luxembourg
Ok, so this first day wasn't done in one day. We were scheduled to leave Dover at 10:15am on the Friday morning. Shane came home from work on the Thursday not feeling very well, I had a headache and we had SO much still to complete on the van before setting off at 7am the next morning – like finishing off the storage unit with shelves, boxing off the gas bottle, hanging the curtains, packing everything into the van and a few other little bits and bobs.
We ended up having to call up and book onto a 6:15pm ferry instead. Luckily, we always book the flexi-ticket with P&O just incase we miss our timeslot, and luckily they don't charge you any fees if you have to move times outside of your 4hr window, other than the extra price of the sailing, which for us was £38.
Well, we ended up setting off at 5pm. We live 3hrs from Dover, and there was so. much. traffic! Our satnav ended up diverting us through almost the centre of London because of traffic in Cambridge, and we finally made it to the ferry port at just before 10pm. We missed all of our available slots. Luckily, they let us on with no extra charges on the 11.30pm ferry and we finally arrived in Calais at 2am!
Luckily we booked this campsite near Calais where you can arrive at any time, so we let them know we'd be arriving late and they left the gate open for us, so we parked up and fell straight to sleep.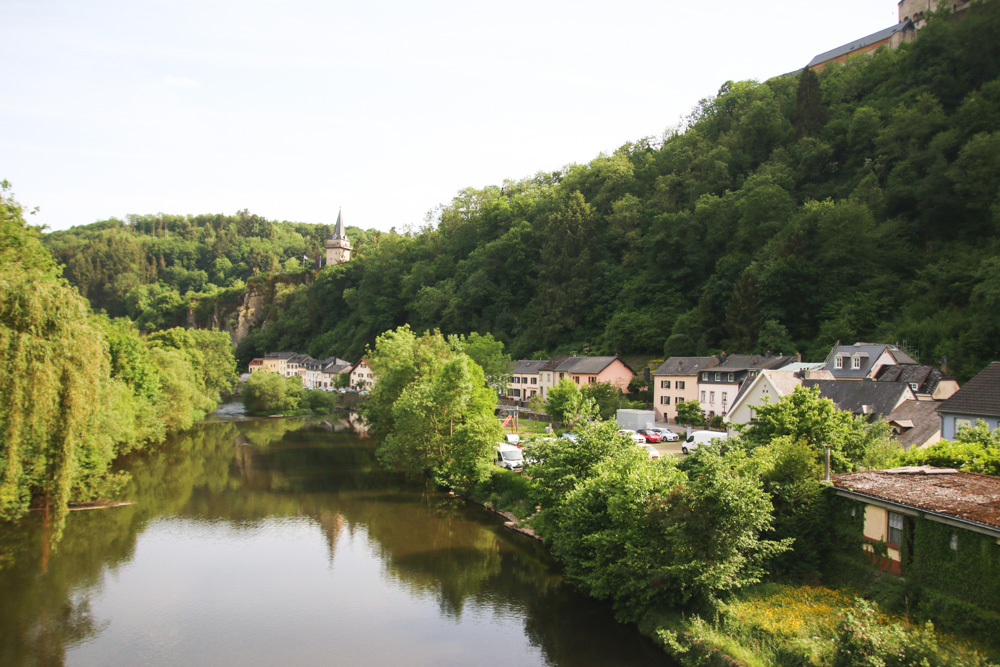 Vianden is in the north of Luxembourg, which is a 4hr drive from Calais. We set off first thing in the morning with a couple stops along the way in some aires for a rest and arrived in Vianden around 3pm. Our satnav was so weird on this trip and always wanted to take us the least direct routes possible, so we ended up crossing into Germany and down some crazy winding hilly scenic roads, with vintage cars having mini photoshoots and groups of motorcyclists weaving their ways through the hills.
Finding parking wasn't too bad here – there's quite a lot of on street parking, but being a Saturday afternoon, we did struggle to find a parking spot, but we got one near the river eventually. It cost us £3 for a few hours, until the parking turned free after a certain time (which I've forgotten what it was).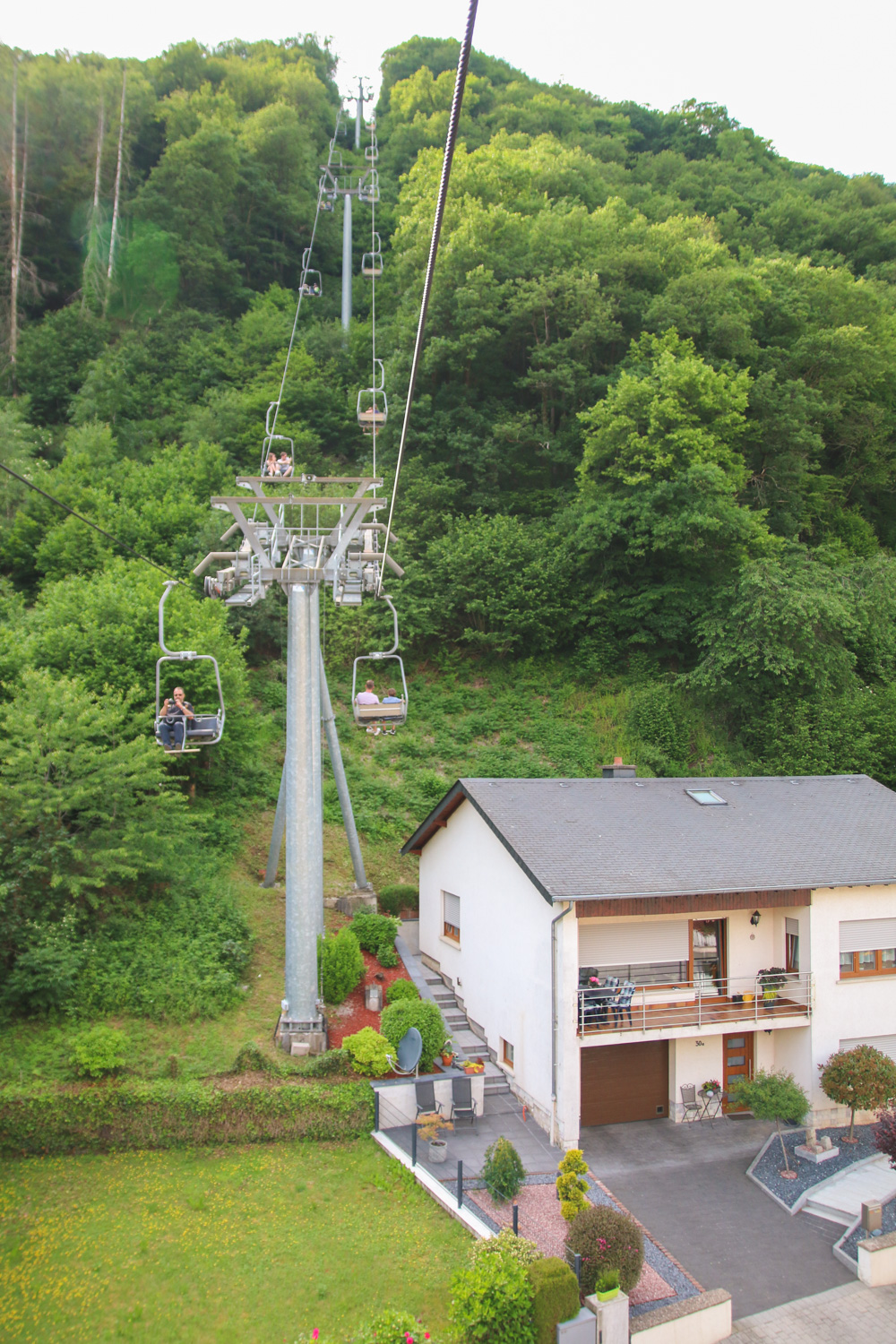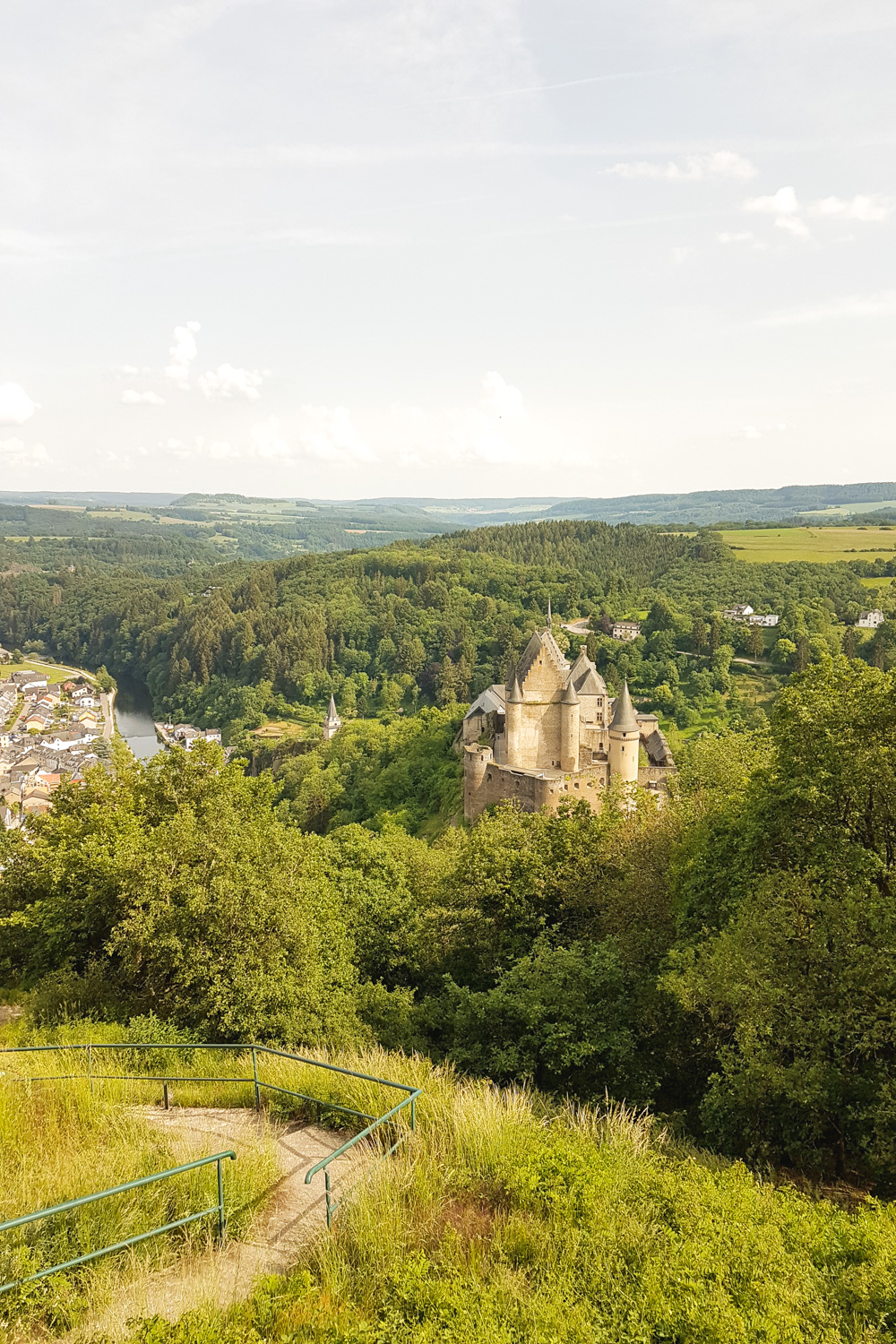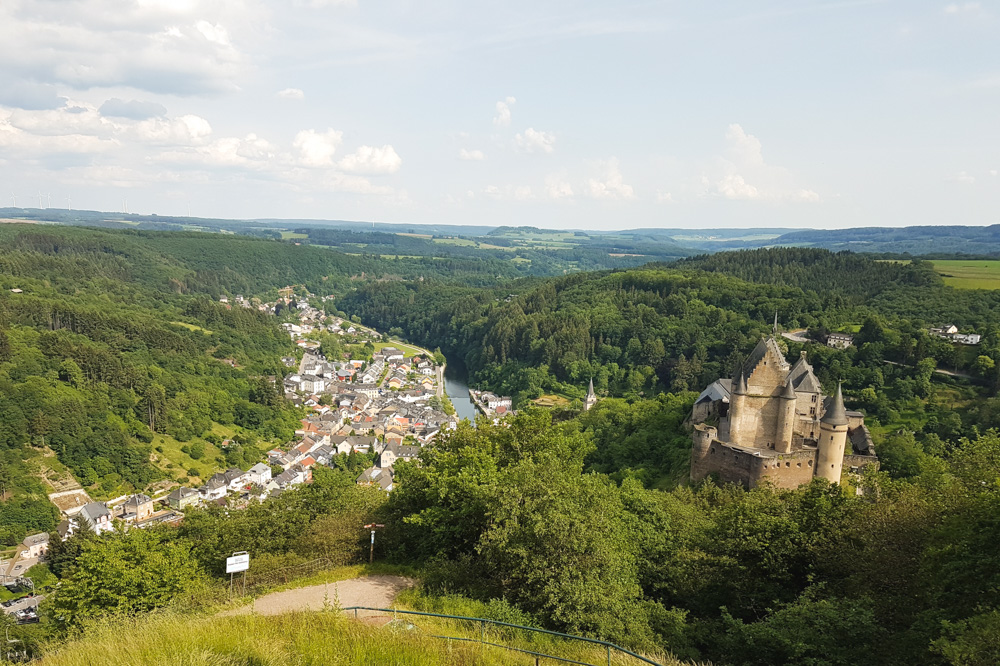 The first thing we did was to head to the cable car station which takes you to the top of a viewpoint overlooking Vianden and Vianden Castle. You can walk from the viewpoint to the Castle, but as we arrived so late in the day, we would have missed the last cable car back down and would have had to have walked the trail back into town.
The cable car was fun, though a little scary (for me – April – at least). It's those little ski-lift type ones, where you just pull the bar over your head and it takes you across the river, the town and main road, and then up the hill. The views were amazing, especially coming back down, so definitely do it if you're in the area – it costs roughly €5.50pp for a return ticket.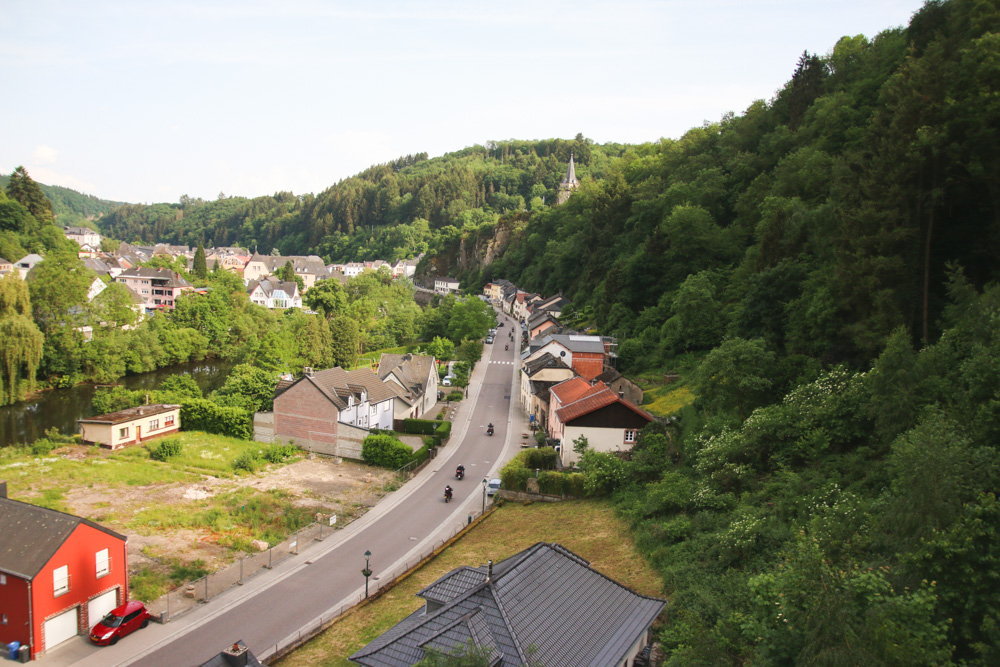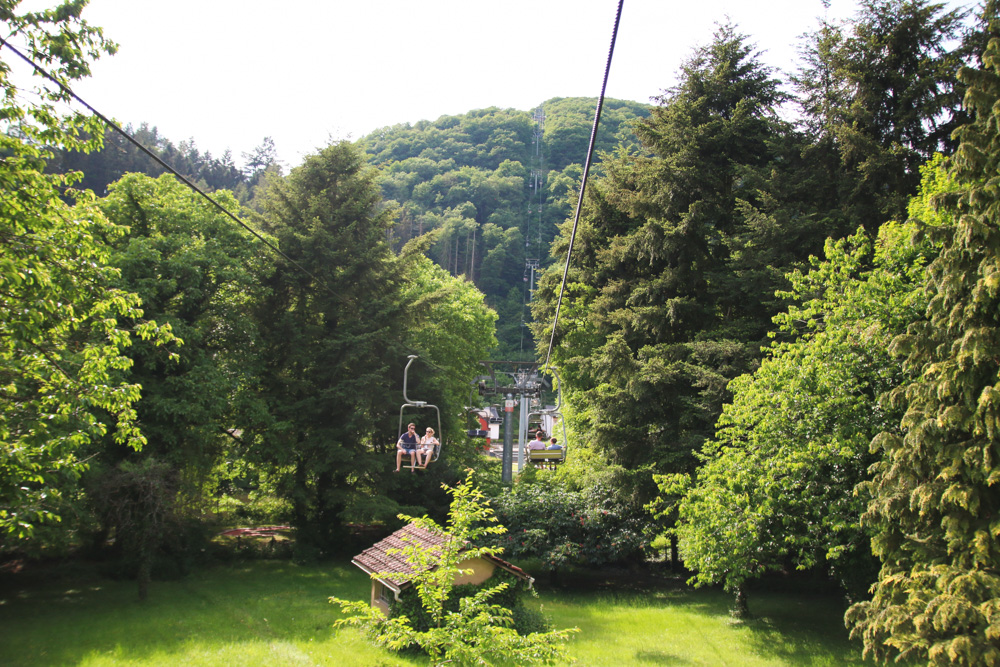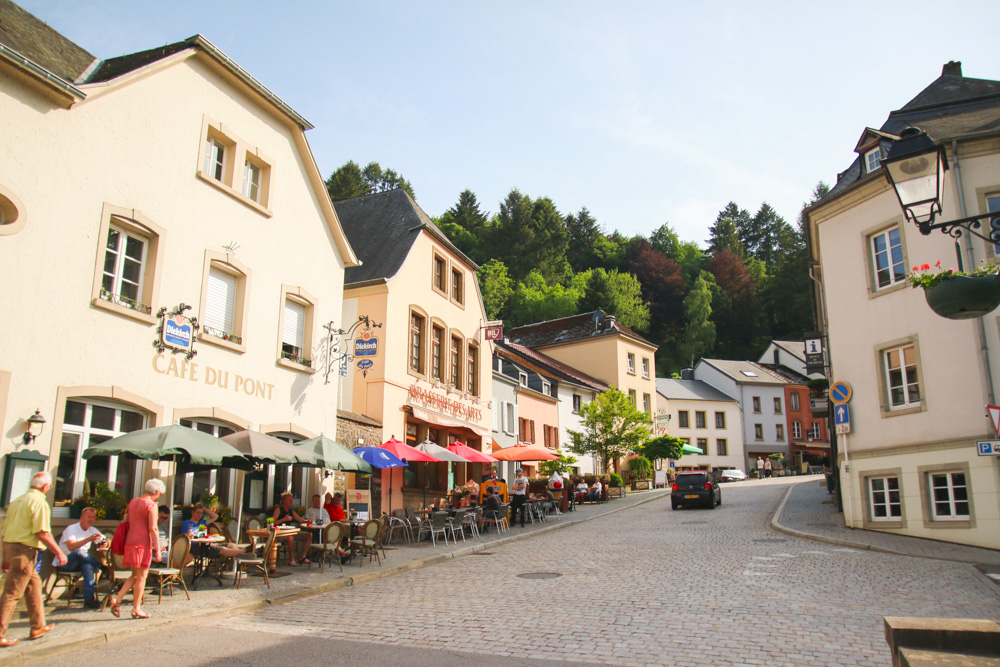 After going up in the cable car, we headed back into town and took a slow walk through the colourful streets, before grabbing a table at one of the bars/restaurants lining the river for a few drinks while we found somewhere to stay for the night. The town was so nice to wander through, and although there really isn't too much to do in the town, there's the castle, cable car and a few walks around the area.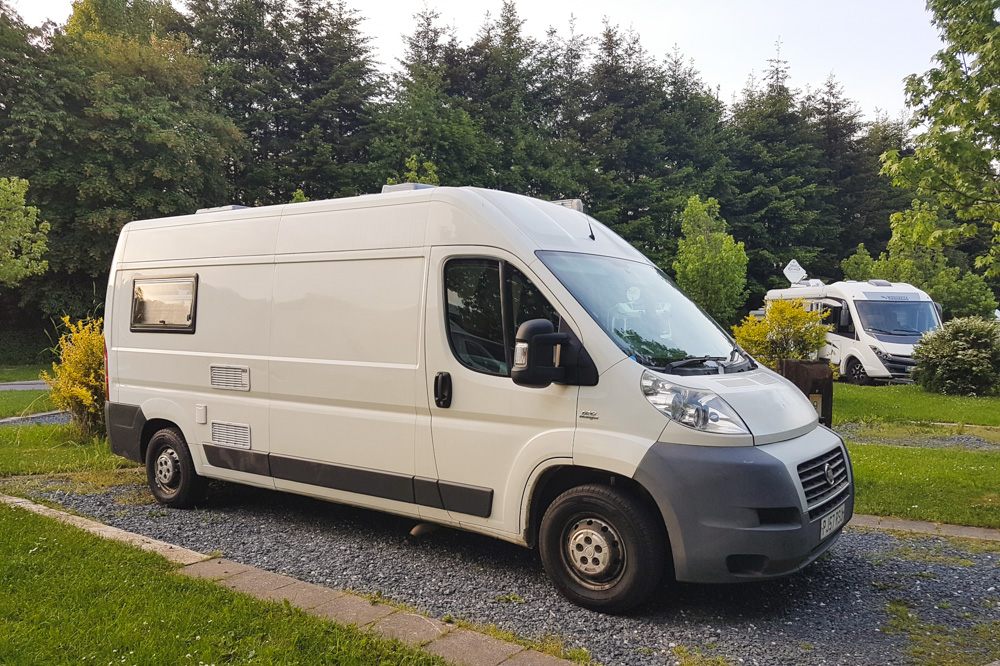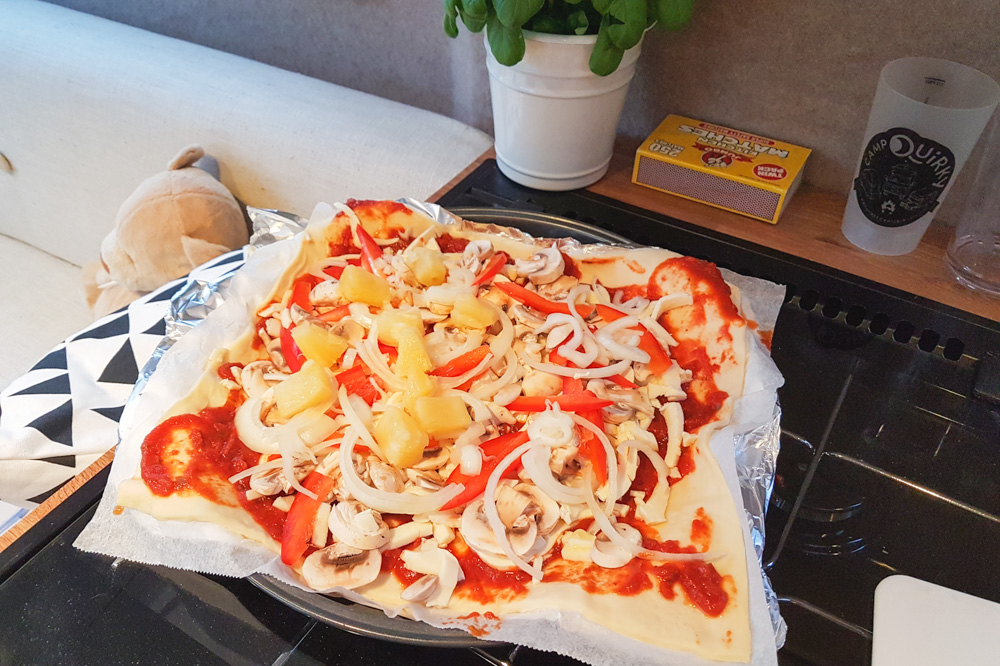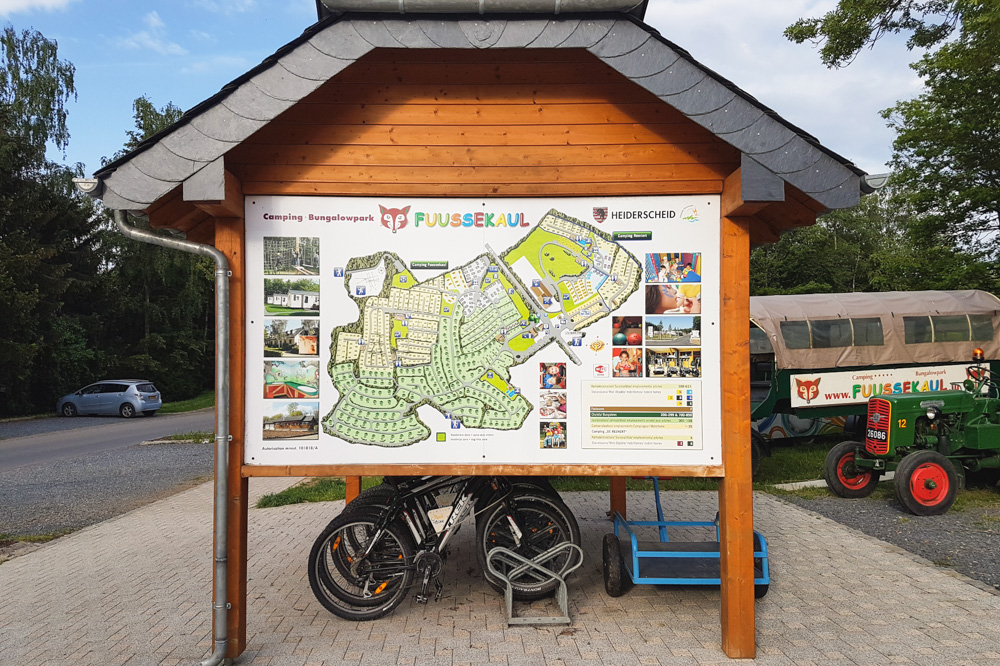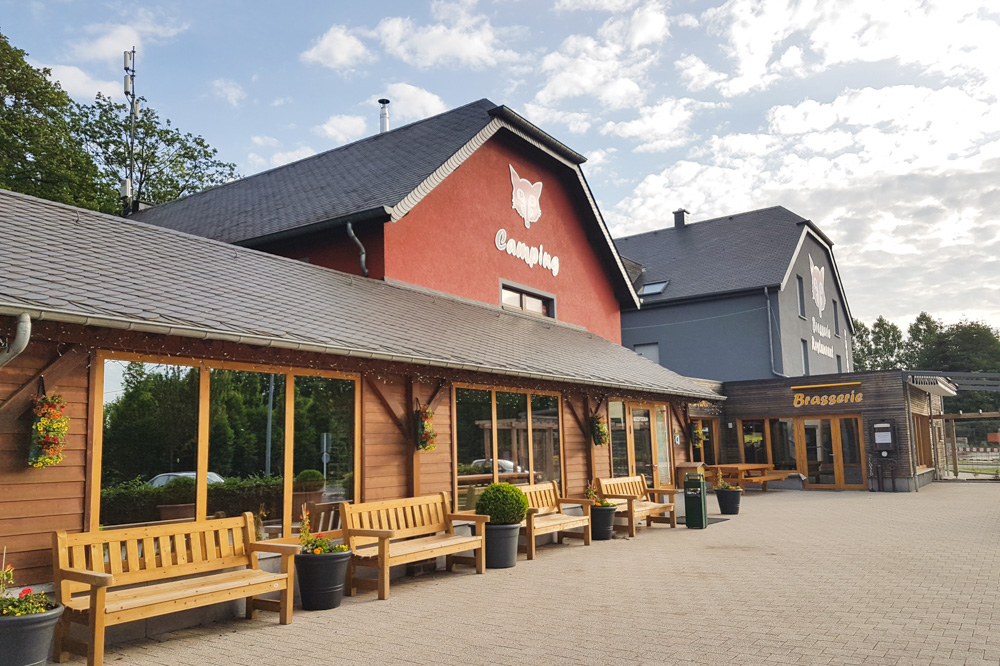 Shane found Camping Fuussekaul on the Park4Night app (our absolute favourite app the whole trip), a campsite about 30 minutes drive from Vianden. Honestly, Luxembourg is lovely to drive in, and the towns are so nice too – I wish we had longer to explore, but it was getting late and we just wanted to settle down and cook some dinner!
There's two parts to the campsite – the main campsite where all the facilites are and great for if you're planning on staying for a few days, or theres an area across the main road specifically for campervans where you can stay for the night. You just arrive at any time, park up and you can pay in the morning (if you don't pay on arrival). It cost €10 for the night which included electric and water + €1 each for a shower token and you still get to use all the facilities over the road in the main campsite.
There's also a huge fuel station with a grocery shop a 5 minute walk up the road, so we walked up there and bought some things for dinner. We really fancied pizza, so we bought a pizza base, jar of sauce and some fresh veggies. It was so so good and the perfect end to our first proper day in the campervan!
Have you been to Luxembourg before?