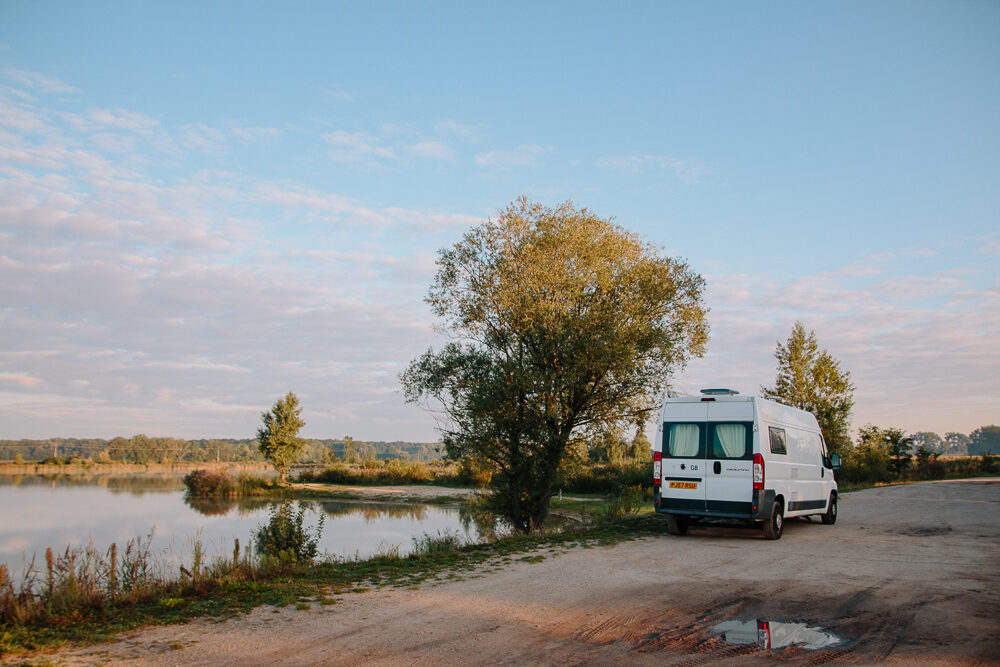 Two Week Europe Roadtrip
Last year, we spent two weeks exploring Europe in our campervan which took us through Luxembourg, France, Switzerland, Italy, Slovenia and Germany, and we had the most amazing time, so this year we headed off on another two week roadtrip. We originally planned to head to Denmark and Sweden for 2 weeks, but as the time got closer, the weather got worse and we were expecting two weeks of 15c weather with rain most days.
So, the day before we hopped on the ferry from Dover to Calais, we decided to head south instead and changed our route to explore parts of Europe that we've never been to before – Czechia, Slovakia and Austria! It was a little last minute so we didn't really have any idea of things to do or what to see, but we worked it out as we went. There was a LOT of driving – often driving 4-5hrs a day and not arriving at our parkups for the night till gone 8/9pm. It wasn't ideal, but we made the most of it and really enjoyed it!
So like last year, I thought I'd share a round-up of our entire itinerary day by day. It's funny looking back because the beginning of the trip was filled with castles and the second half with lakes and mountains! If you want to read more about each location I've shared more in depth blog posts on my own blog (april everyday) which are linked below each day.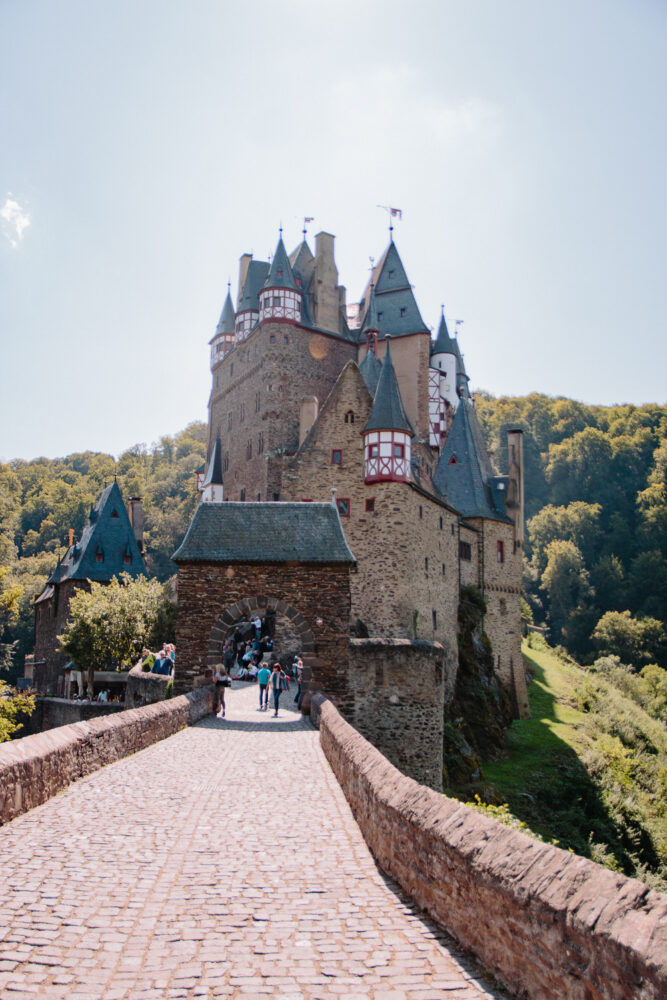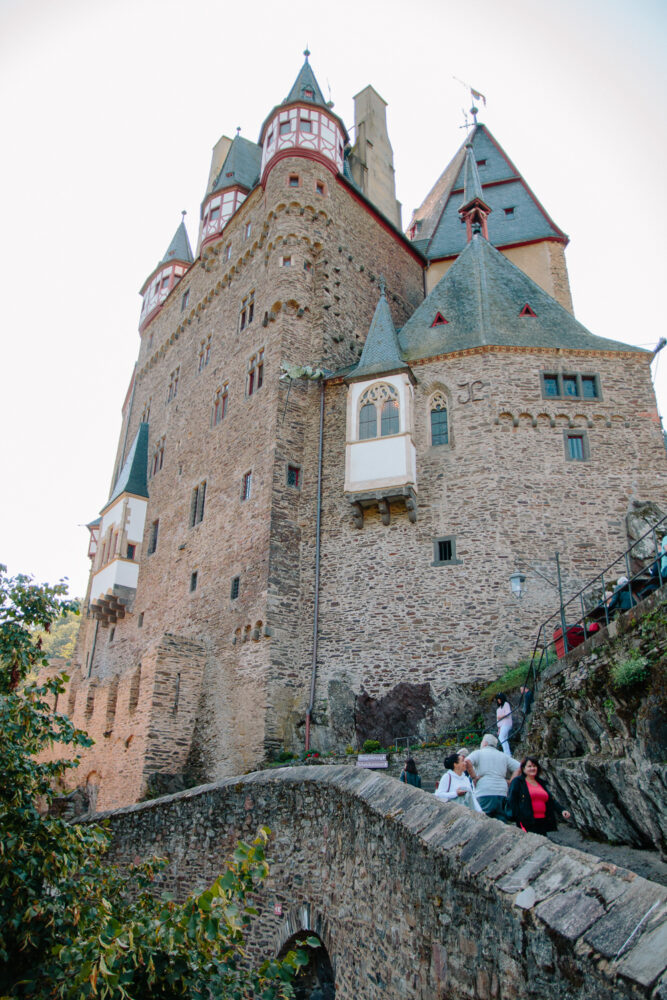 Day 1 – From Calais to Burg Eltz, Germany
We had an afternoon ferry, so by the time we arrived in Calais we spent a few hours driving through Belgium hoping to end up near Burg Eltz Castle – our first stop of the trip, but it took a bit longer than we expected so we spent the night at a little parkup in Belgium before heading over first thing in the morning.
The Castle was amazing, and I'd definitely recommend a stop if you're in the area. It dates back to the 9th Century and was built by three branches of the same family, which is why it has 3 different designs (you can see this when you visit). There's a lovely walk through the forest from the car park or you can take the shuttle bus for a few euro's per person. Entry to the castle is by guided tour only and no photography is allowed. Tours are on daily every 15 minutes between 9.30am – 5.30pm (until November) and last around 30-40 minutes. Tours cost €10.00pp or €6.50 for kids.
Afterwards, we set off across Germany to head for Czechia!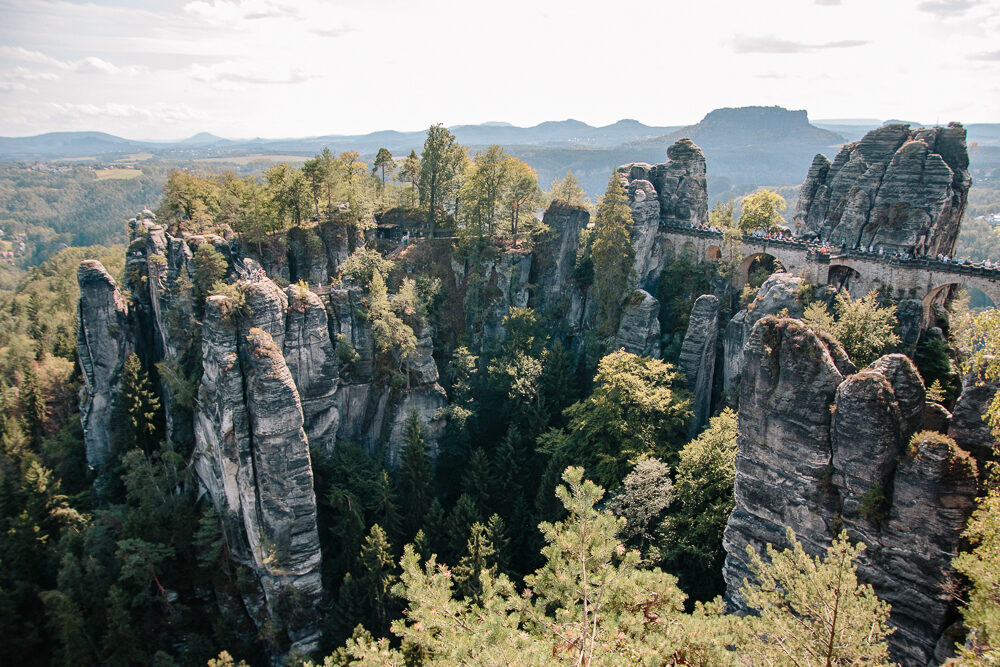 Day 2 – The Elbe Sandstone Mountains + The Bastei Bridge
With a foggy early morning start, we continued our drive to Czechia for a few hours with a stop at Saxon Switzerland National Park (which is actually nowhere near Switzerland), on the border of Germany and Czechia just over an hour from Dresden. We parked in the carpark furthest away and took a lovely little 40 minute walk through the forest to the bridge, though you can either take the shuttle bus (which we definitely did on the way back) or there's a carpark right at the main entrance to the bridge area.
We were surprised to find a whole resort at the bridge with hotels, restaurants, gift shops, but there were plenty of walks nearby to get away from it all. There's a viewpoint to view the famous Bastei Bridge, though it was SO busy with people literally queueing to get the shot.
We stayed a few hours, then drove a few hours to a campsite just outside of Prague. We struggled to find any good parkup spots on Park4Night as reviews weren't very good wth loads of people being moved on by police/locals, so we decided to head to a campsite instead which was lovely.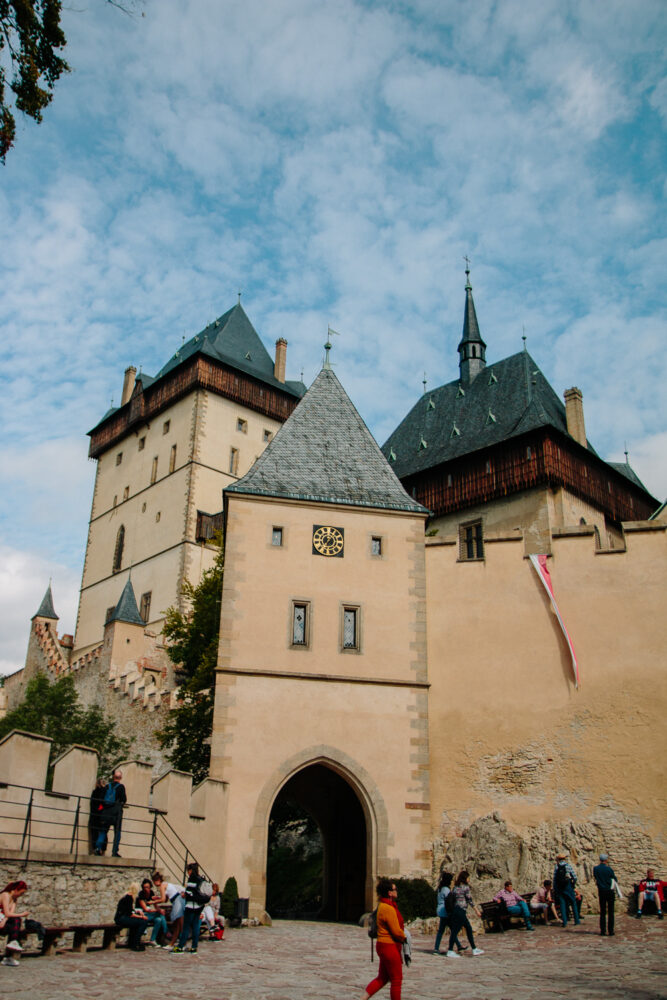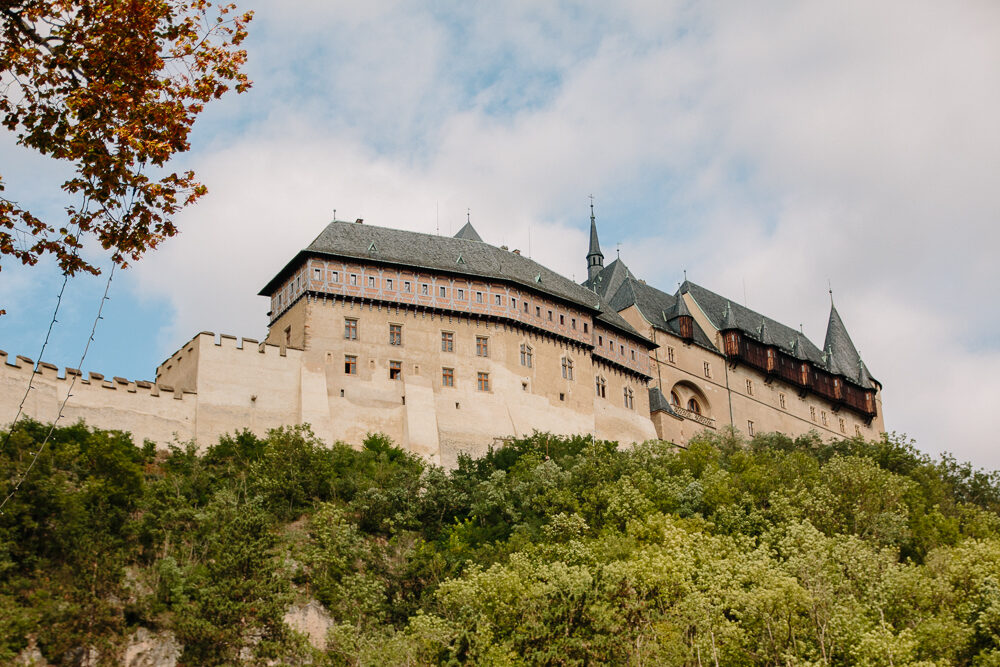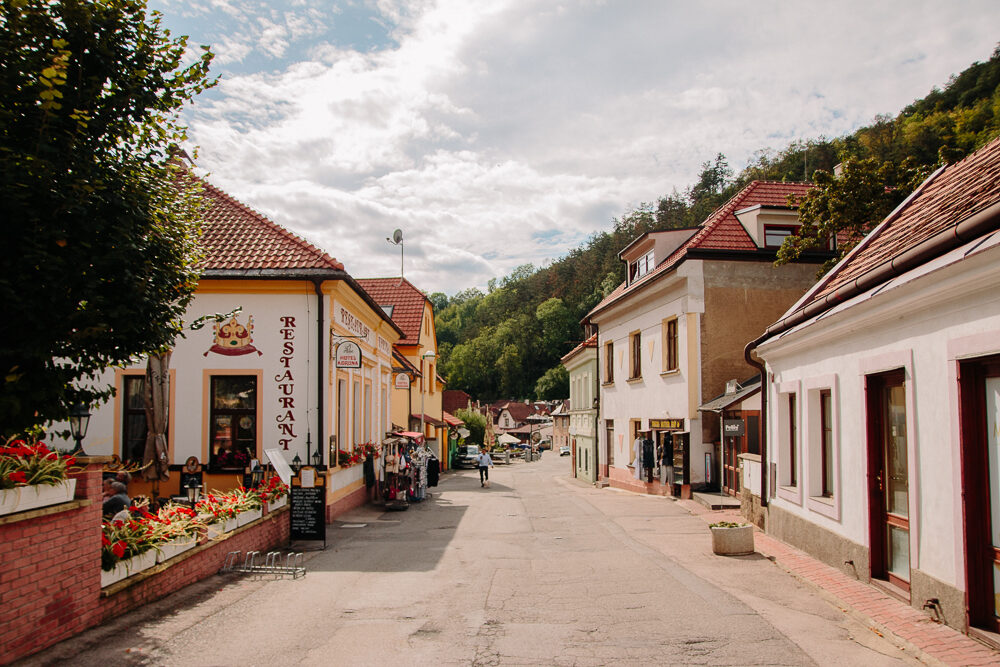 Day 3 – Karlštejn Castle
Karlstejn Castle is a gothic castle built in the early 14th Century, which is located in the village of Karlstejn, 30km (19 miles) south-west of Czechia's captial Prague, so you can easily combine them into a day trip if you've got time. It was built by the King of Bohemia and Holy Roman Emperor as his private residence and a place to store the royal treasures.
We decided to skip going into this one (as we'd just visited Burg Eltz a couple days before) and just enjoy it from the grounds which you can still enter the courtyard area for free and the town below which we still enjoyed!
You can visit the Private and Residential Rooms of the Emperor (basic tour) which lasts 55 minutes and costs 320czk (€12.50/£10.80). There's also the Sacred Rooms of the Castle with the Chapel of The Holy Cross (exclusive tour) which lasts 100 minutes and costs 750czk (€29.30/£25.30) or you can do a tour of the Great Tower for 260czk (€10.20/£8.80) which lasts 40 minutes. You can find more info here.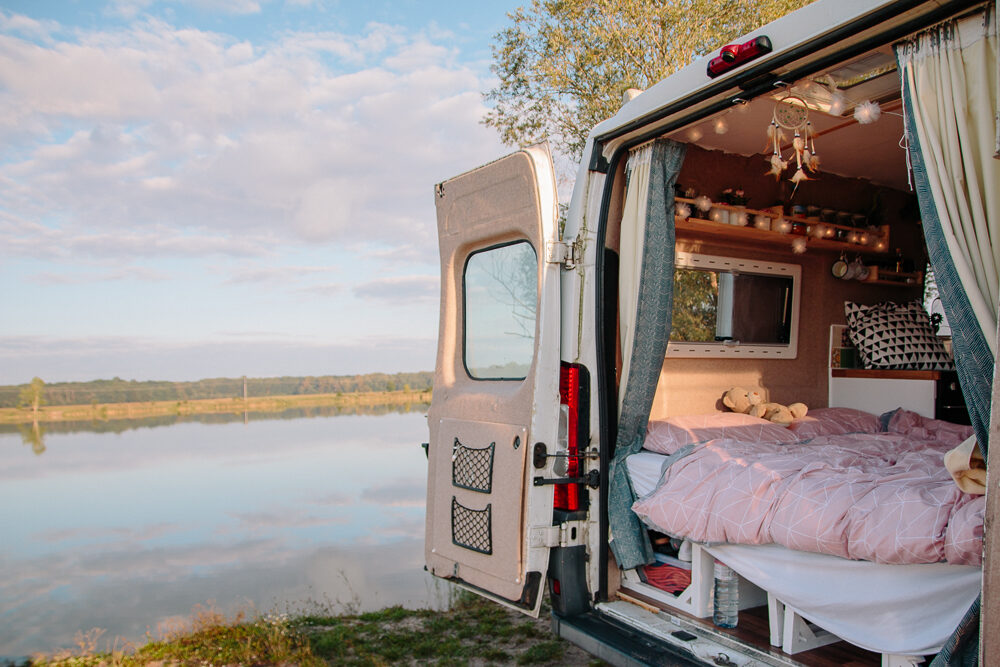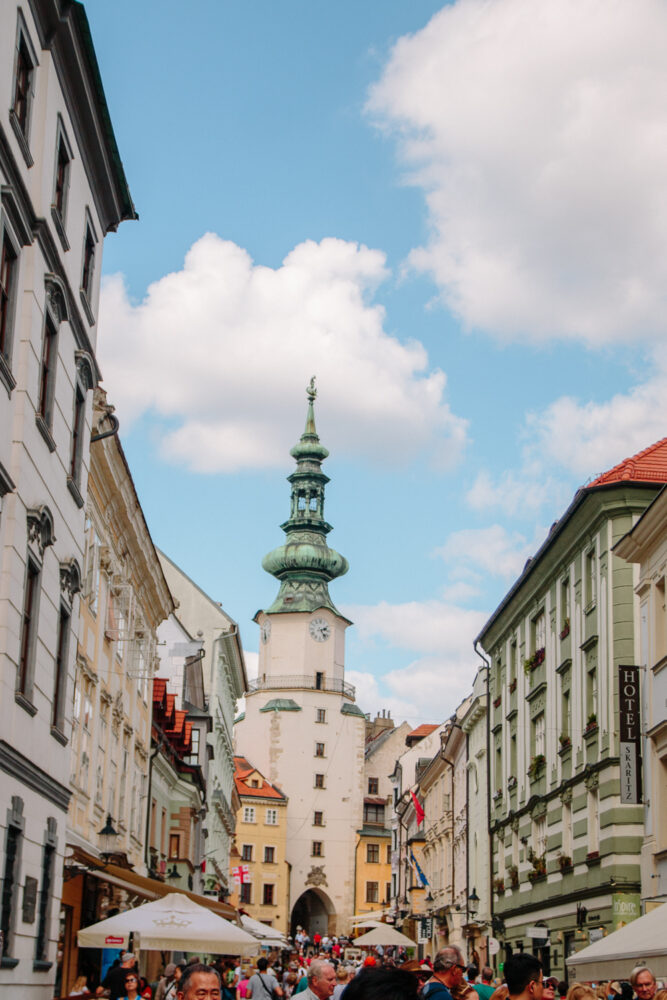 Day 4 – Bratislava, Slovakia
After visiting Karlštejn Castle, we drove for a few hours to the border of Slovakia where we found an amazing parkup by a little fishing lake. We woke up to the most amazing sunrise, where we took some photos of the van, cooked breakfast and just spent a few hours admiring the views before driving 40 minutes down the motorway to Slovakia's Capital, Bratislava.
We parked up in a huge carpark (which seems a bit hit and miss with van break-in's on Park4Night but we had no issues), over the river only a 20 minute walk to the Old Town and Castle. The city is really nice, especially the Old Town, filled with colourful streets, hundreds of restaurants and souvenir shops. We headed up to Bratislava Castle and admired the gardens for a while before taking a slow walk along the Danube to the van.
We headed back to our lovely lakeside spot from the night before, but sadly we were moved on by a local checking fishing permits. Neither of us could understand the other, but we got the jist that it was for fishermen only and we had to leave, so we headed back to Bratislava and parked back in the carpark along the Danube for the night. It wasn't the most peaceful place with the local party boats, but it had a good view of the castle and was busy enough that we felt pretty safe there.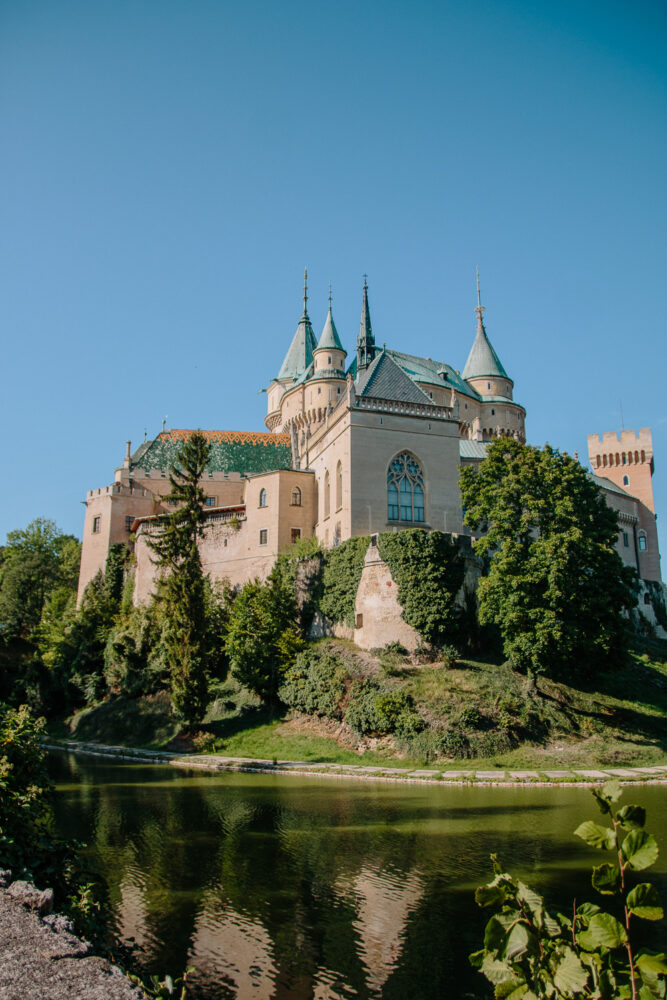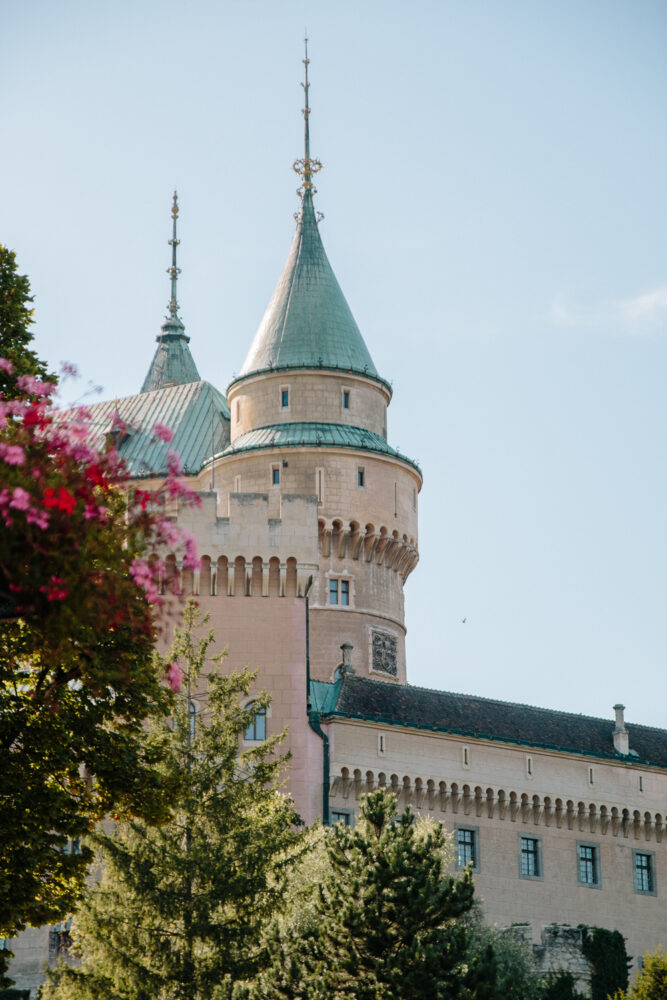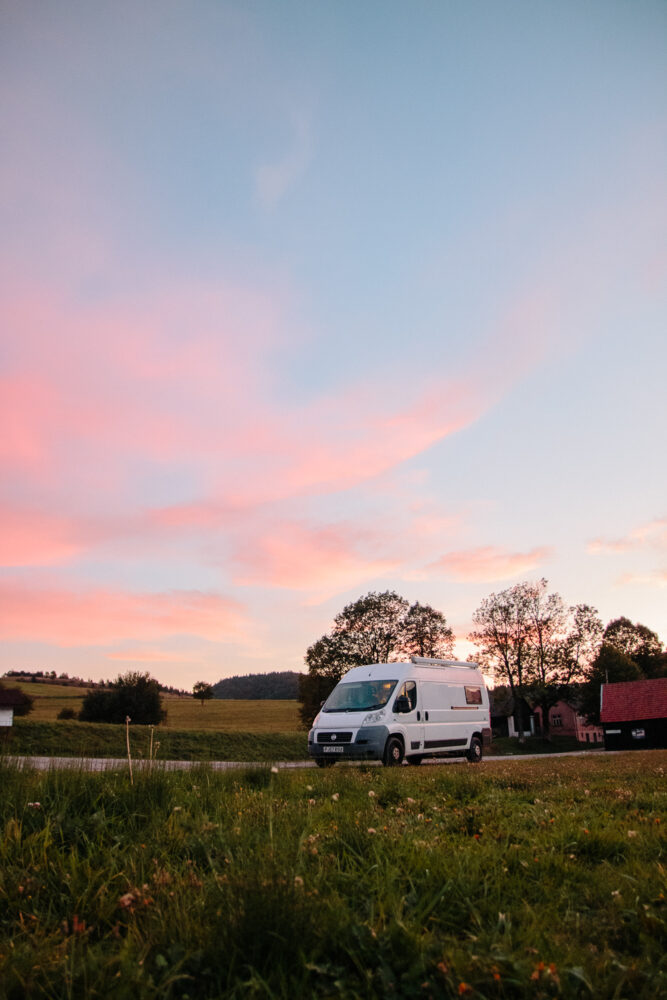 Day 5 – Bojnice Castle, Slovakia
After our night spent sleeping along the Danube of Bratislava, we headed 2 hours north-east to Bojnice Castle. Looking like it's straight out of Disney, it's Slovakia's most fairytale like castle it was one of my favourite castles of the trip! The first record of there being a castle there was in the early 1100's. Throughout the centuries, it was expanded upon, and each new owner changed the design from originally being a Gothic castle, to a renaissance style, then a romantic style, then finally in the 1900's a neo-gothic style.
Entry to the castle is by guided tour only, with English tours only happening once a day on weekdays at 11am, or twice on weekends (11am and 1pm or 4pm) depending on the month. For more up to date info on opening hours and guided tour times, check here. Entry to the castle is €10pp for adults. I think they've only recently started doing English tours, as before there was only tours in Slovak, and even our tour group was tiny in comparison to the Slovak tour, but most were Italian or German in our group.
Afterwards, we drove about an hour north to the tiny village of Čičmany where we had the most amazing sunset just after we arrived.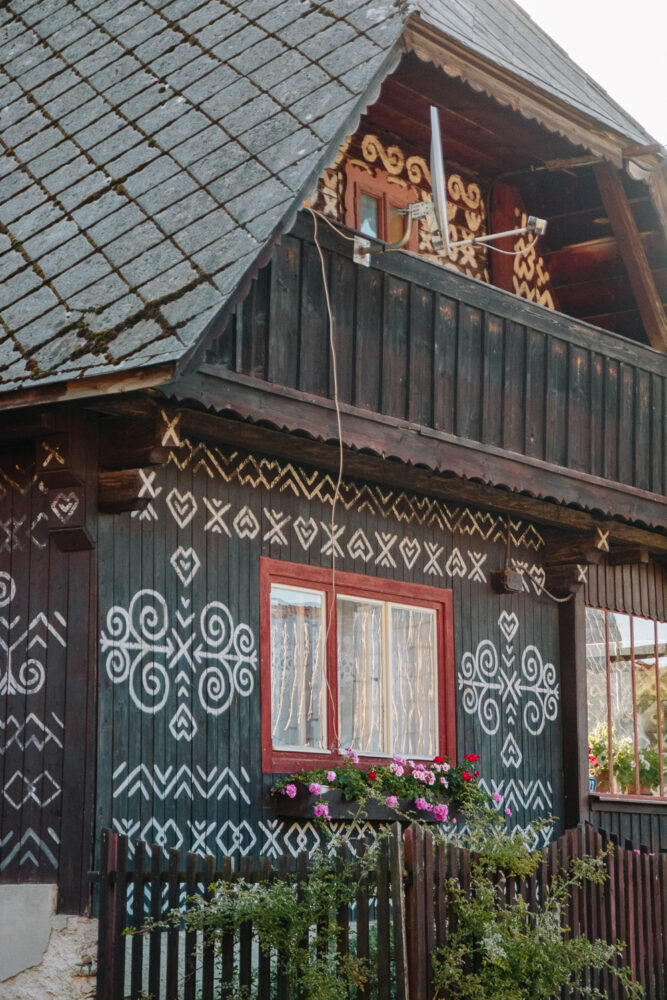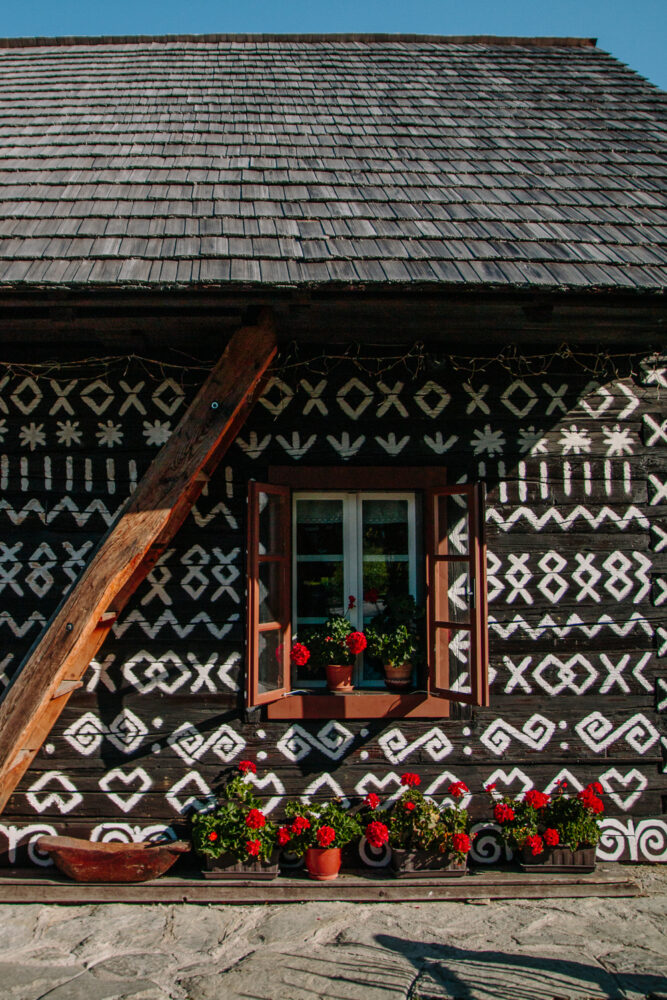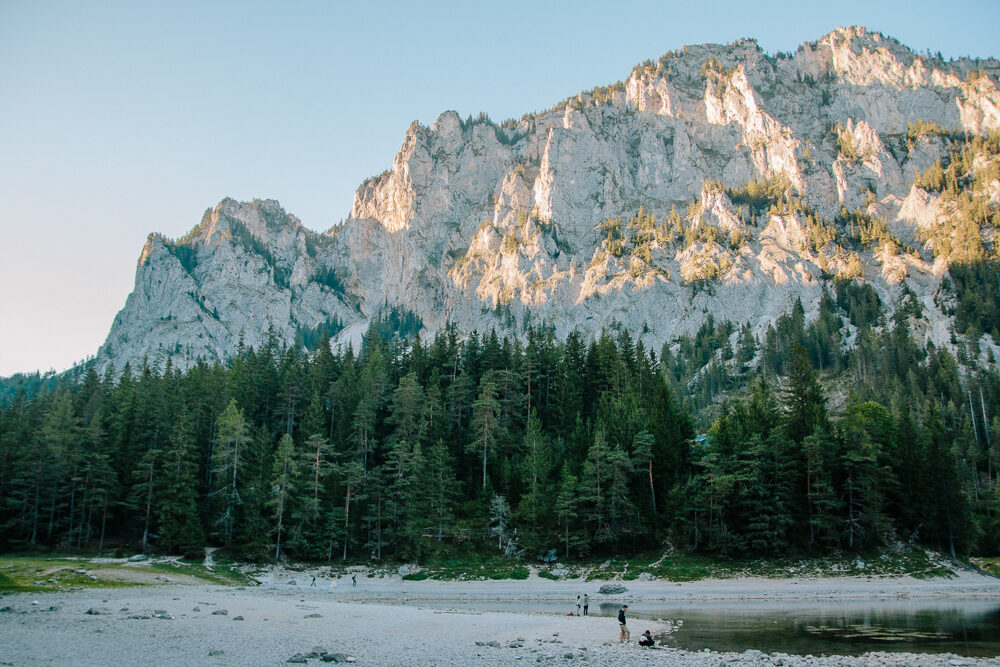 Day 6 – Exploring Čičmany + Arriving in Austria
We woke up nice and early to explore the traditional Slovak Folk village of Čičmany, where the black timber houses are painted in white geometric patterns. The tradition started around 200 years ago, when women in the village painted the patterns on with white lime to protect the damaged wood. These days, it's done for decorative reasons and to keep the tradition alive. In 1977 it was made the world's first folk architecture reserve!
It's definitely not a major tourist place, as with Bojnice castle, especially for the English it seems, which was actually really nice for a change! There's a cafe, a few hotels and a spa and obviously the museum and plenty of parking too, and in the winter there's a small ski area in the hills behind the village.
We planned to head further north to the High Tatras Mountains and Poland, but also south-west to Austria. Sadly we couldn't manage both on the one trip, so Austria won. We headed back past Bratislava again and crossed the border to Austria, with our first stop at Grüner See lake. It's famous for its crystal clear green colour where you can see trees etc under the water. Sadly, when we arrived in September, the lake had almost dried up but it was still nice to visit. (it's fullest in May/June).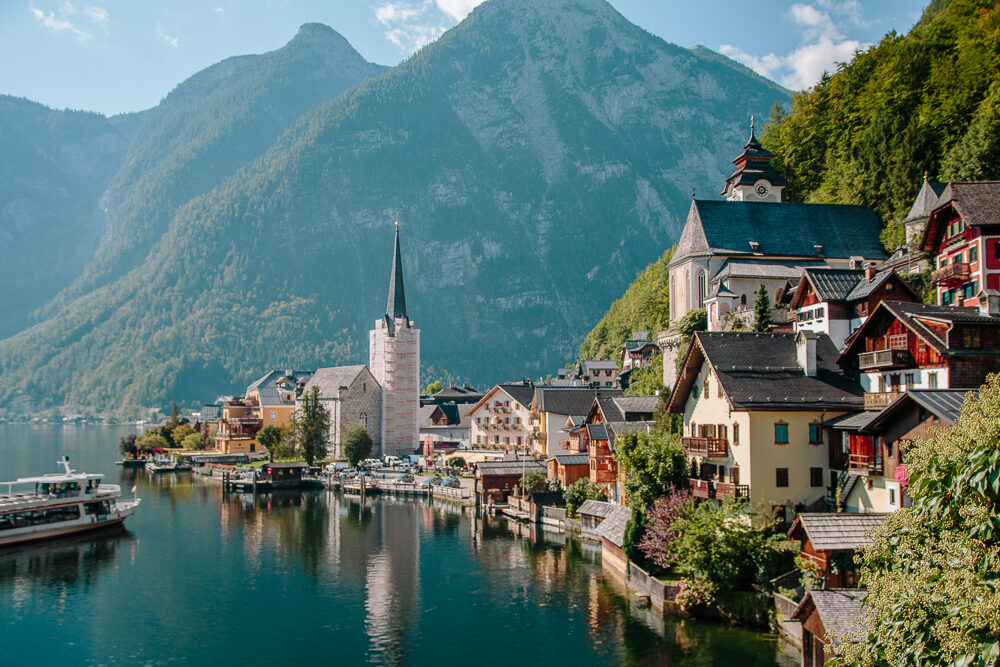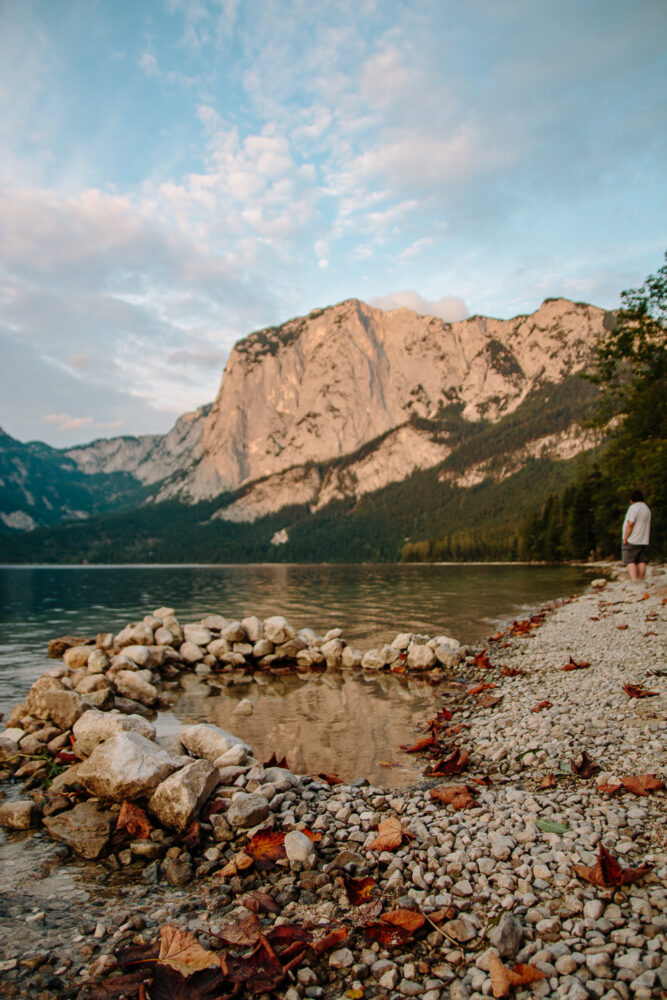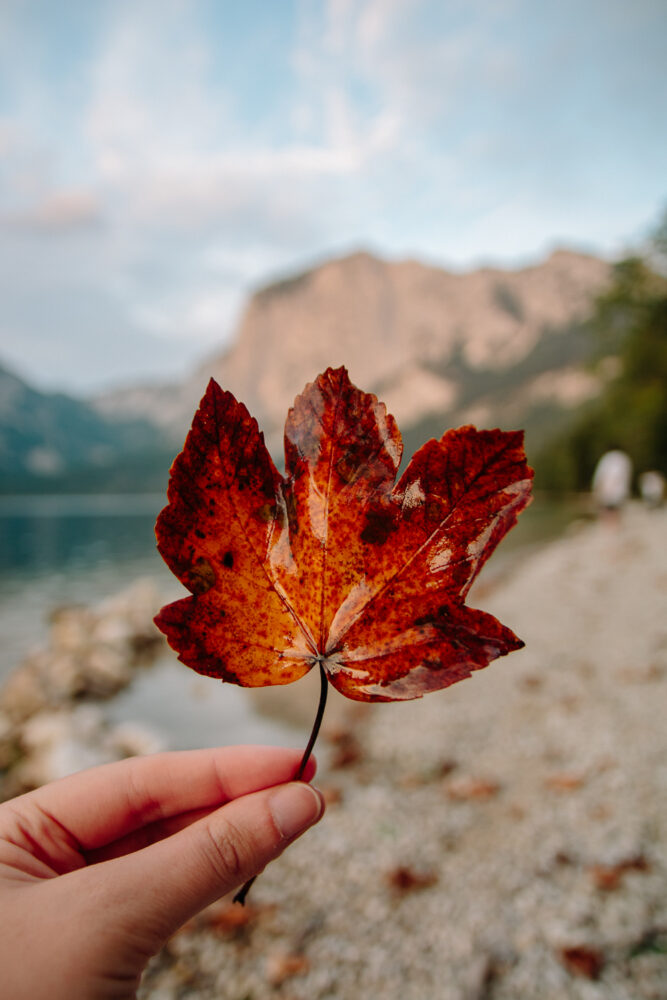 Day  7 – Hallstatt + Altaussee Lake
On our roadtrip last summer, we tried to visit Hallstatt which I'd wanted to visit for a few years. Well, we arrived around lunchime and had no idea that parking there for campervans isn't the easiest. There's a carpark for motorhomes and busses outside of town, but it's a really long walk in if you don't have a bike or something.
You can also park at the campsite for a few hours but it was very expensive, so the only other option for taller vehicles is to park in the tunnels if you can get a space. Luckily after we'd given up all hope, we found a space. It's 90 minutes free parking with a parking disc. It's a lovely little village and 90 minutes was plenty for a little wander, but if you're wanting food etc, then you might want to consider parking in one of the other places.
We'd had a pretty full on few days with SO much driving and we had so much laundry to do so we decided to treat ourselves to a lovely little campsite up in the mountains about 20 minutes from Hallstatt. The views were amazing, and there was a lovely little lake nearby which we walked down to for sunset.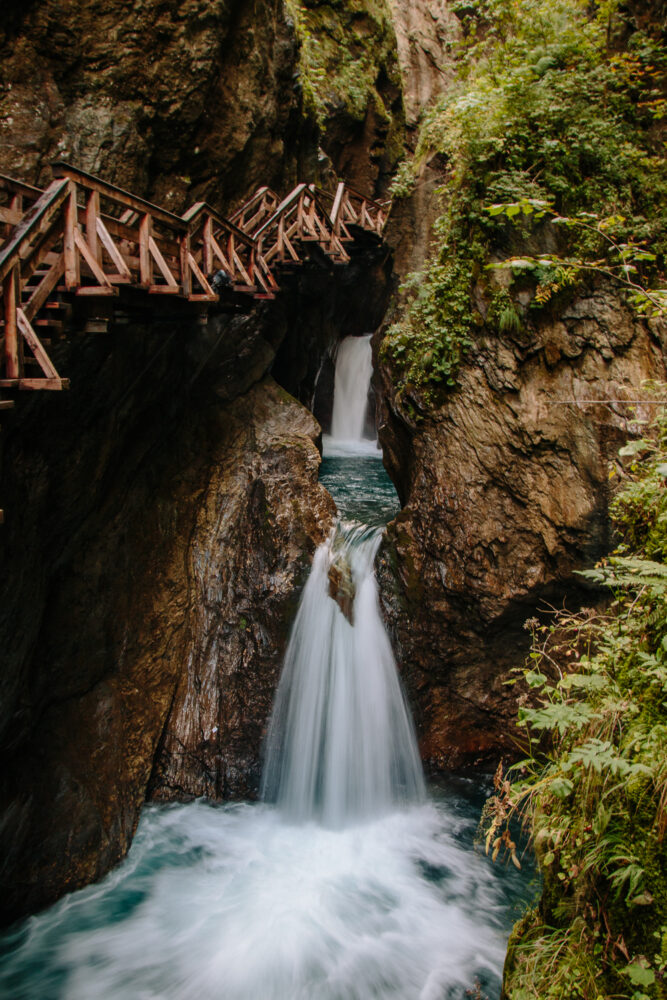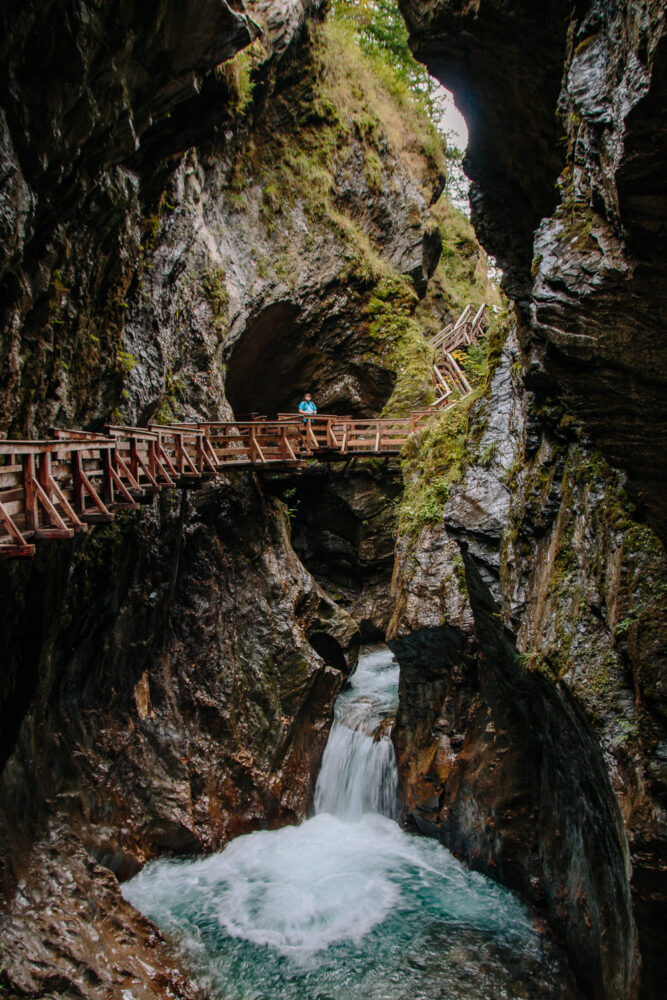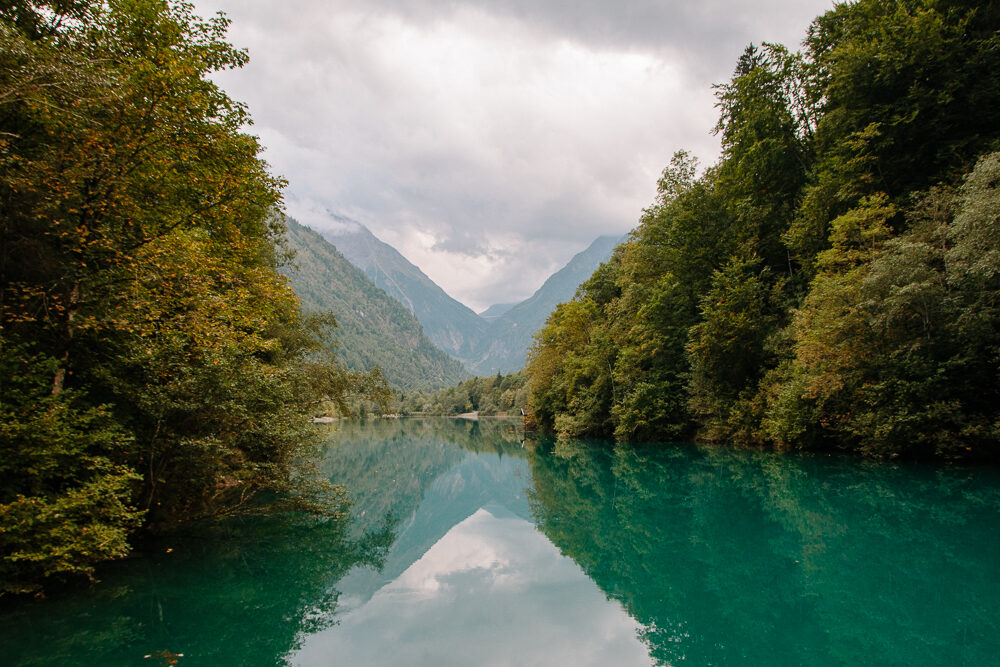 Day 8 –
Sigmund Thun Gorge and Klammsee Lake
We had no idea what to do the next day, but knew that we needed to head west across Austria to start heading home over the next few days. I left it up to Shane to find somewhere to go for the day, and he came across this gorge with a walkway through it leading to a lake, so after a chilled morning on the campsite (we didn't want to leave and even debated staying another night) we drove a couple hours to the gorge.
It was actually amazing! I didn't expect much, but it just went on and on and then at the end you arrive at the most amazing shade of green/blue lake which is only a few km round trip. The gorge cost €5pp, but I'd recommend if you're nearby to Zell-am-see. We took a walk around the lake too, with the first signs of autumn creeping in then found a parkup further down the road for the night.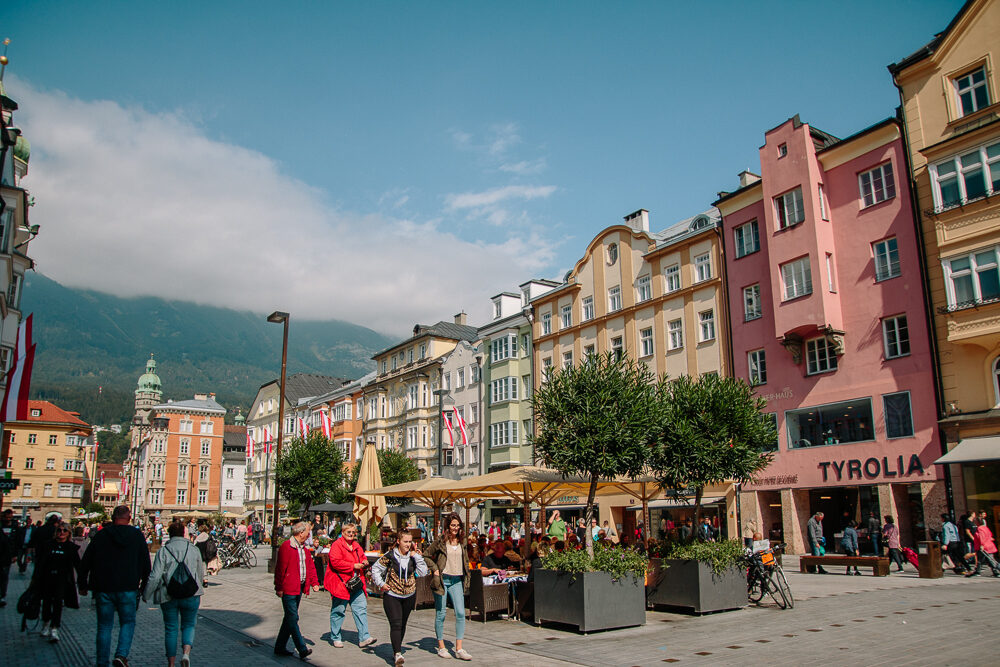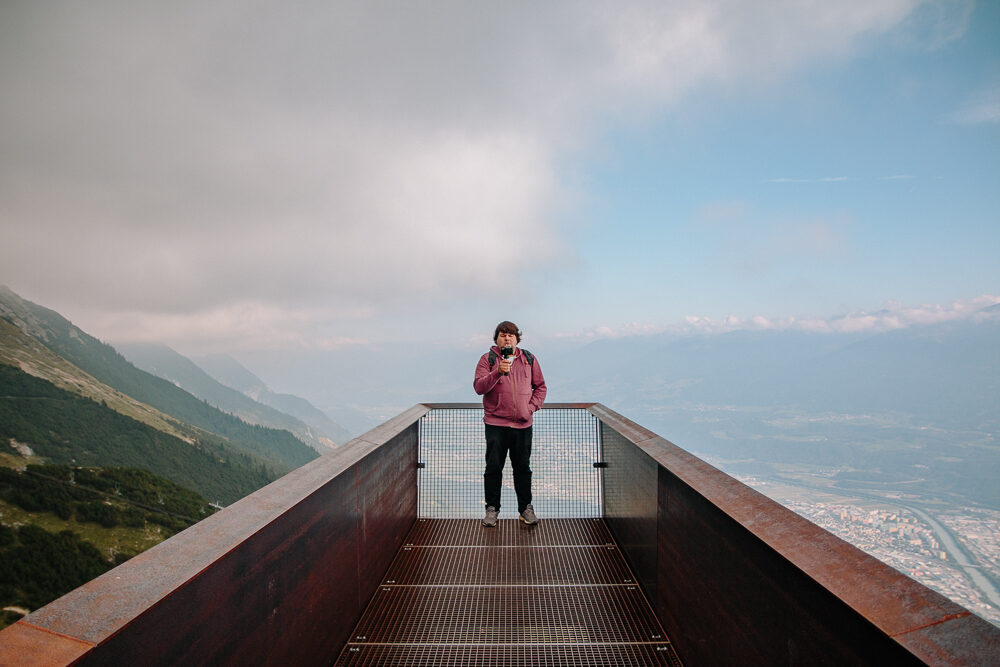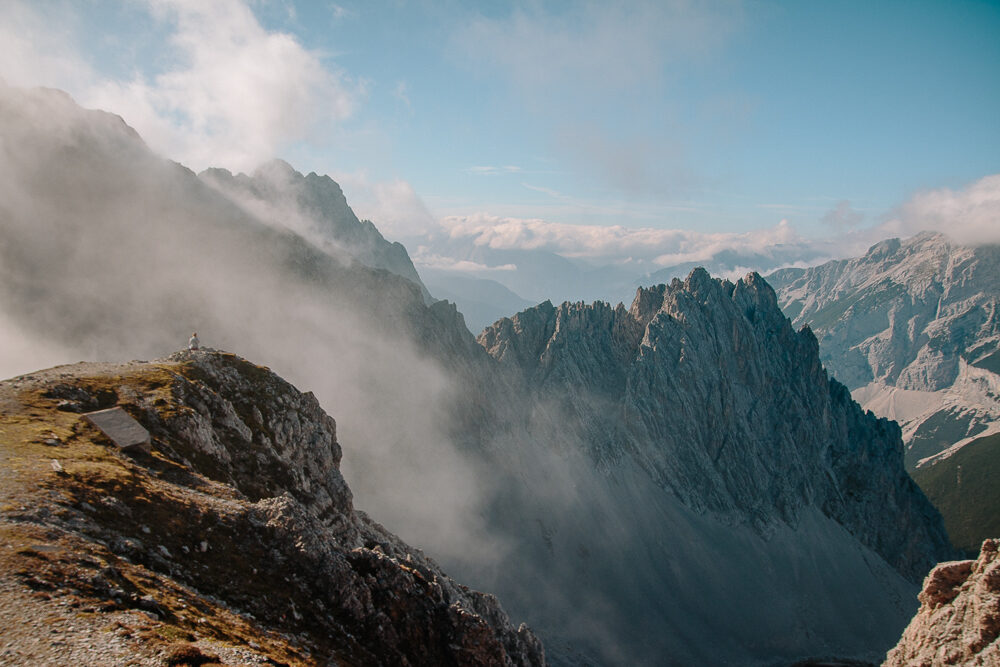 Day 9 – Innsbruck, Austria
We headed further east across Austria to Innsbruck – somewhere I've wanted to visit for a few years since one of my friends from work visited. We parked up on the outskirts of the city centre, and took a 20 minute walk into the city centre. Feeling a little underwhelmed by it all (we're not city people at all, and would much rather be in the mountains or by some kind of water), we headed to the cable car, not before a quick stop for some famous Apfelstrudel at one of the oldest cafes in the city.
There's two parts to the cable car – a funicular which heads a few stops up the hill in Innsbruck, which you can then take the cable car from there to the middle station on the mountain, where you can then take another cable car right to the top of the Nordkette. We debated for ages about whether to just go to the top station of the funicular or to head right to the top. With it being rather cloudy up there, and €38pp, we weren't too sure, but decided to go for it anyway, and it was such a good idea because we ended up going through the cloud to clear blue skies. Honestly, go to the top – the views are amazing and it was so worth it!
We then headed across the border back into Germany for the night ready for an early morning hike!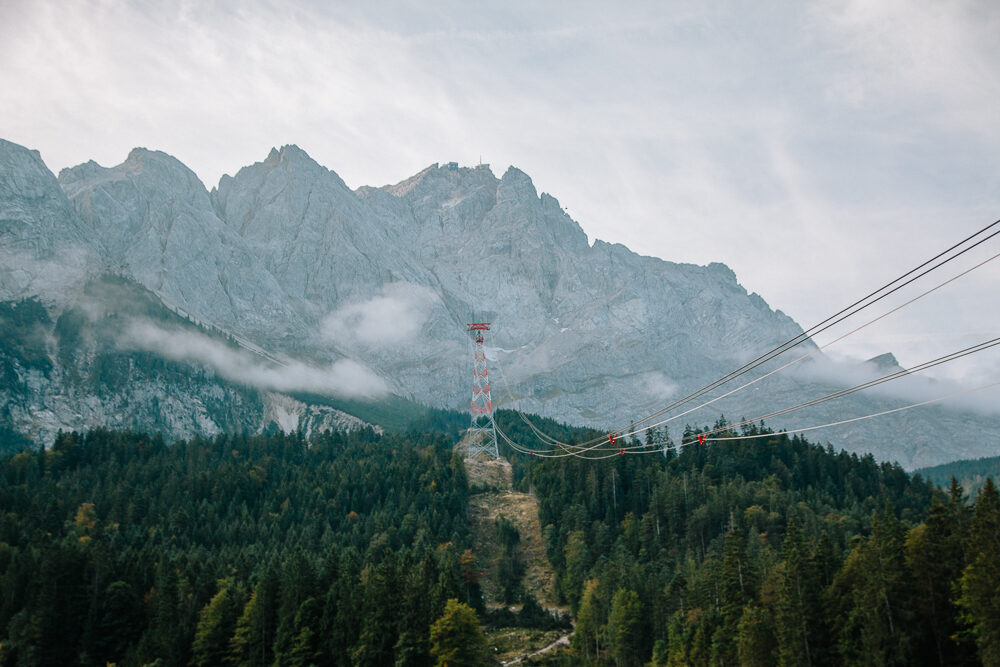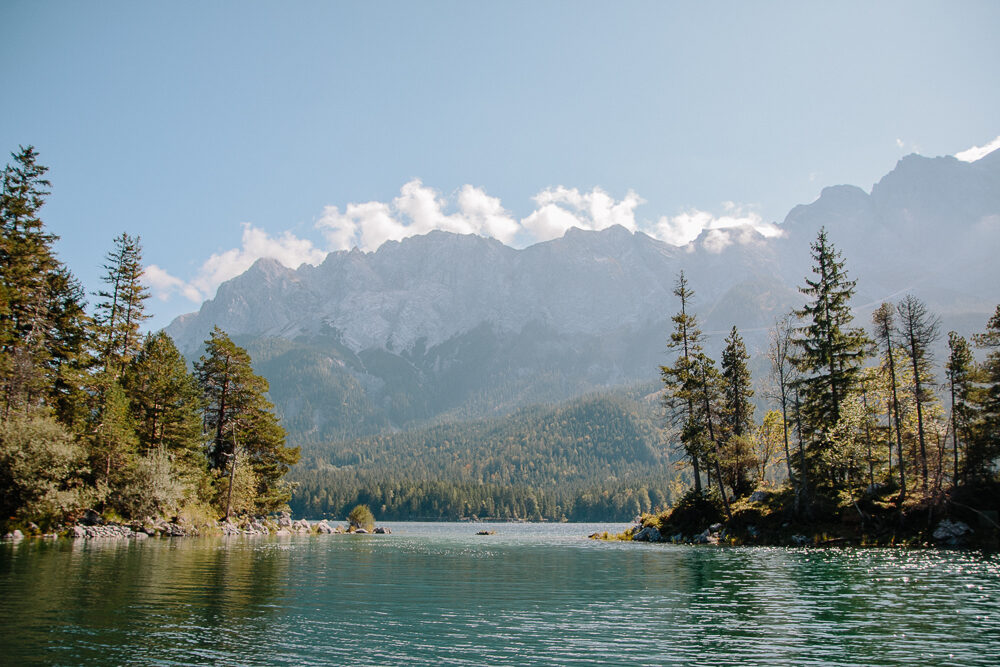 Day 10 – Eibsee Lake + Views of the Zugspitze
We stayed at a parkup just around the corner from Eibsee Lake so arrived first thing in the morning ready for a hike around the lake, with it only being around 8km. Though the walk was nice, we were expecting to walk around the shore of the lake and take in the amazing views, but sadly the walk takes you high up through the mountains around the lake with not many viewpoints. It was still nice though and we enjoyed it!
After, I convinced Shane to hire a pedalo (I'd wanted to in Hallstatt but we didn't have enough time). He wasn't convinced, so we just went for the 30 minute hire, but as soon as we got out there on the lake he was loving it and regretted not getting the hour haha! The views from the lake were amazing, so I'd definitely recommend that. We did want to go up the mountain, but the tickets were €59.50pp and we'd just splurged on the Innsbruck one so decided to skip it and headed a few hours north to Rothenburg ob der Tauber.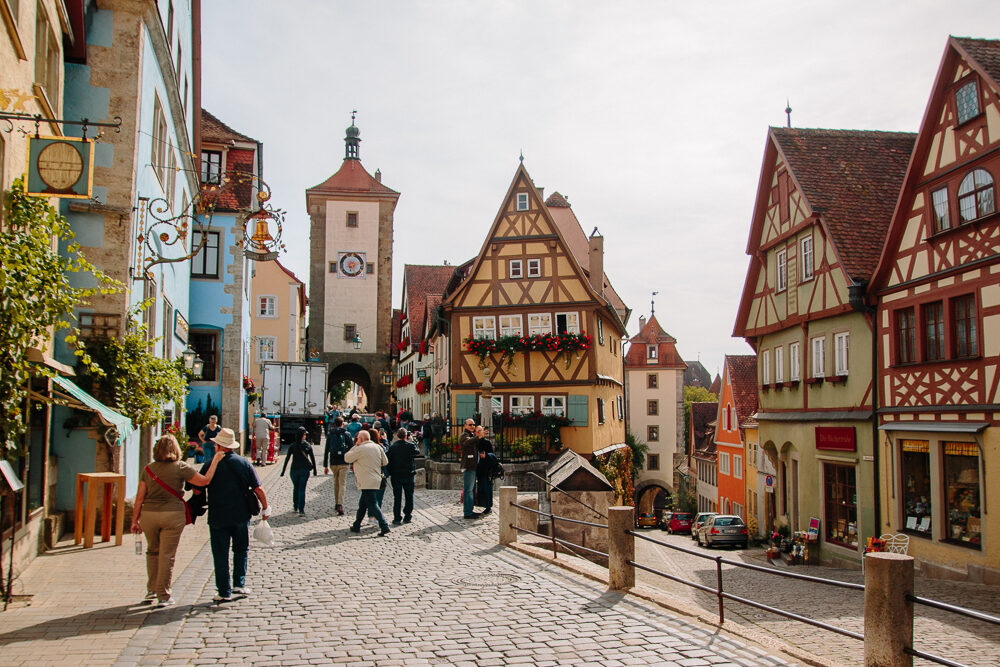 Day 11 – Rothenburg ob der Tauber
I knew I wanted to visit a cute fairytale like German town on our way back, so we headed north through central Germany to Rothenburg ob der Tauber for the day, located in northern Bavaria. Parking was pretty expensive at an aire/carpark so we only had a couple hours to explore the town. It's super cute, filled with colouful half timber lined buildings, but very touristy. It was still lovely to visit though.
The Old Town is still enclosed within the old town walls which you can actually walk through – we visited one of the towers and some kind of roundhouse with canons and defensive structures and walked along areas of the walls – all for free!
We also tried some traditional pastry balls (Schneeball), and honesly, they weren't great, but we did have a delicious kebab haha! We didn't have time to stop for lunch and as we were walking back to the van, we saw loads of locals headed to this kebab shop and couldn't resist. Afterwards, we drove for a few hours back to Belgium for the night!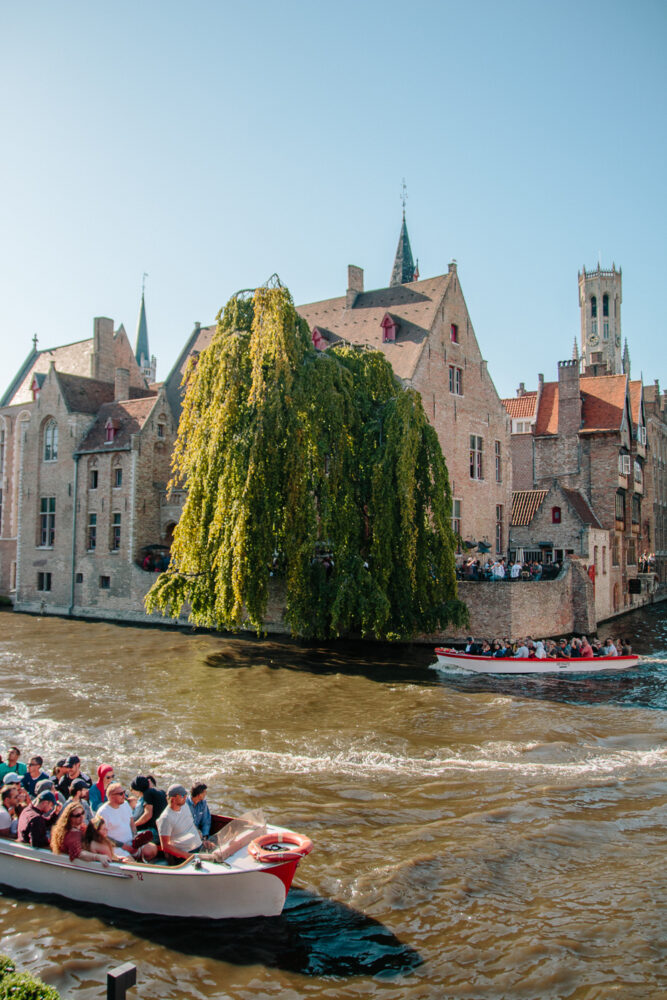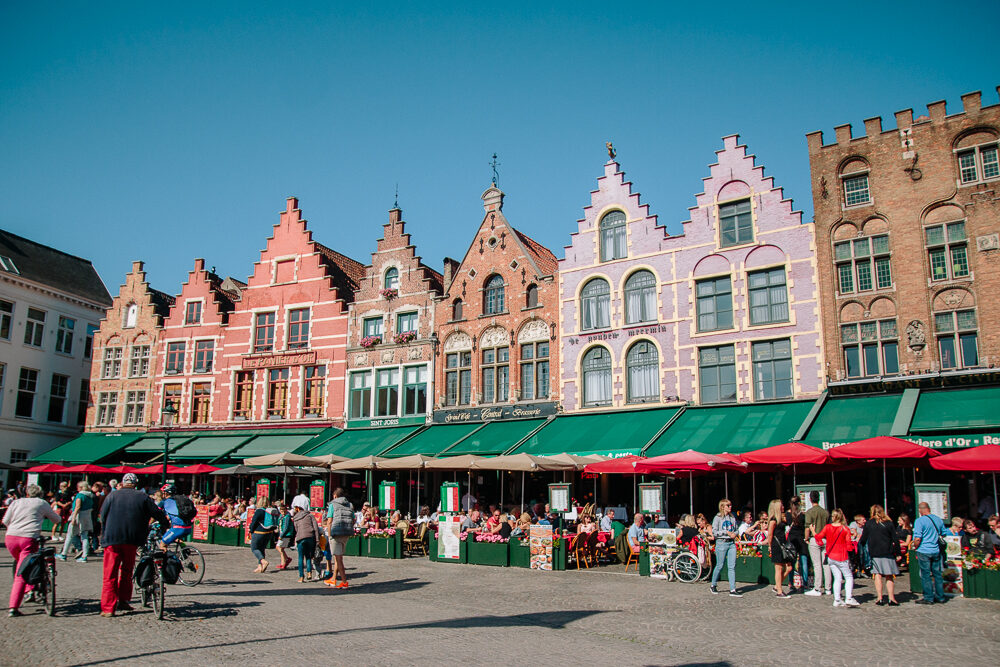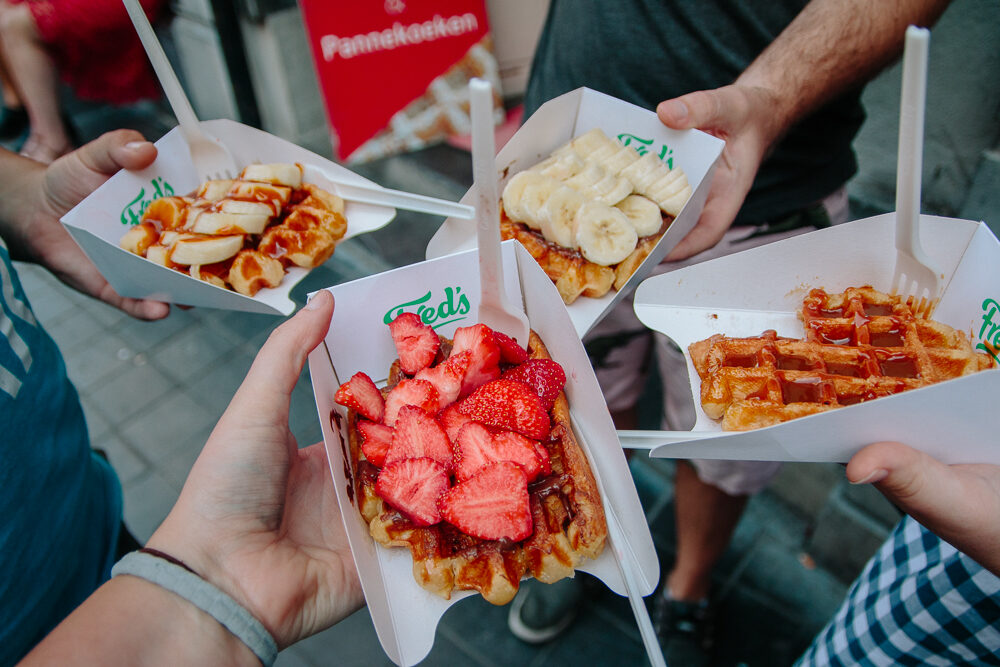 Day 12 – Bruges, Belgium
We booked a really late evening crossing from Calais back to Dover, so thought we'd make the most of the day beforehand exploring Bruges which we planned to do last year but we had to cut our trip short as we found our cat that had been missing for a year! This time, we made it there – and we arranged to meet up with our friends Hannah and Myron, who were travelling back from from spending 3 months exploring Scandinavia in their van!
We parked up, headed into the city and stopped for some lunch before obviously trying belgian waffles (and we had frites with our lunch). The city was nice, but very busy, so we left shortly after and headed back to the vans to chat for a while before catching the ferry home!
We had a great trip exploring a few new countries, meeting up with friends and enjoying the last of the warm summer weather! Let us know if you have any questions!