Over Christmas last year we took a two week break and headed down to Spain and Portugal for Christmas. To get there as quick as we could, we decided to get the ferry straight from the UK to Spain which is operated by Brittany Ferries. We hoped to get the same sailing back to the UK, but unfortunatley the dates and prices just didn't work out for us so we ended up returning with them, but via France instead.
So here's our review of our experience sailing with them on the Portsmouth to Santander route, sailing on the Cap Finistere. We paid for this entirely by ourselves, but I thought it would help anyone else who's thinking of taking the ferry from the UK to Spain!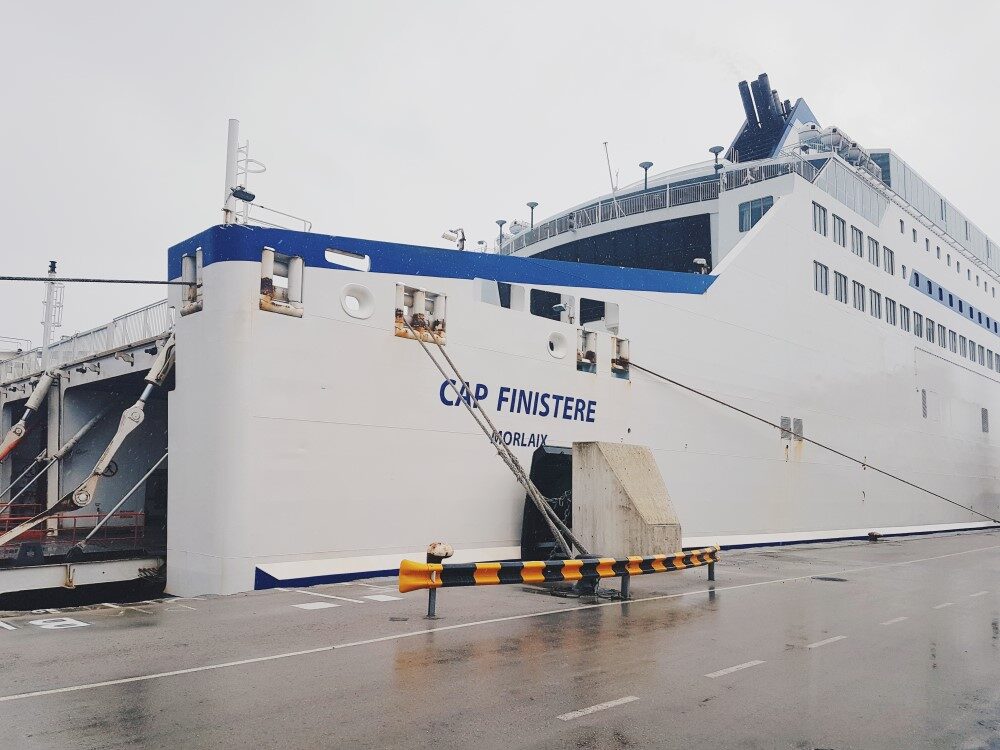 The Crossing – Portsmouth to Santander
Our sailing on the Cap Finistere left Portsmouth at 12pm on Friday 20th December and arrived in Santander at 3pm on Saturday 21st December – a 26hr crossing. The Cap Finistere is marketed as a 'cruise' type crossing offering a range of restaurants and entertainment services on board, in comparison to their 'economie' crossings which are smaller and provide limited facilities and entertainment for a cheaper price.
We opted for a 2 berth cabin with a sea view as I get a little claustrophobic, so thought that would help with that a little bit if I could still see outside during the trip and one way. It cost us £397* for the single crossing with a campervan (Fiat Ducato MWB) and £80 for the room (rooms are priced according to how many berths and if you opt for standard or club styles), which I think is a little expensive in all honesty, but it's literally the only ferry company with crossings from the UK to Spain so it's not like there's choice haha!
* prices were for 2019 Christmas crossings booked as soon as sailings were released in July 2019
Check-in was really easy – we were given our room keys at check-in, along with passport checks etc. Check-in closes 45 minutes before departure so be sure to give plenty of time – I think we got there around 10.30am and that was perfect as they were already starting to load vehicles by the time we'd got through into the queueing lanes.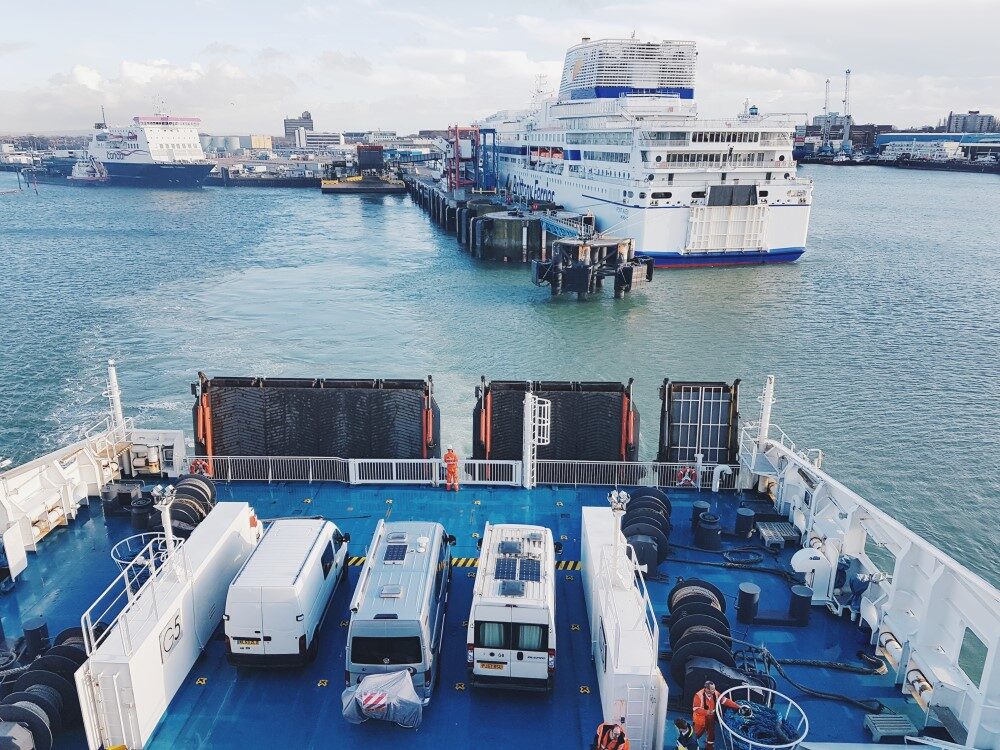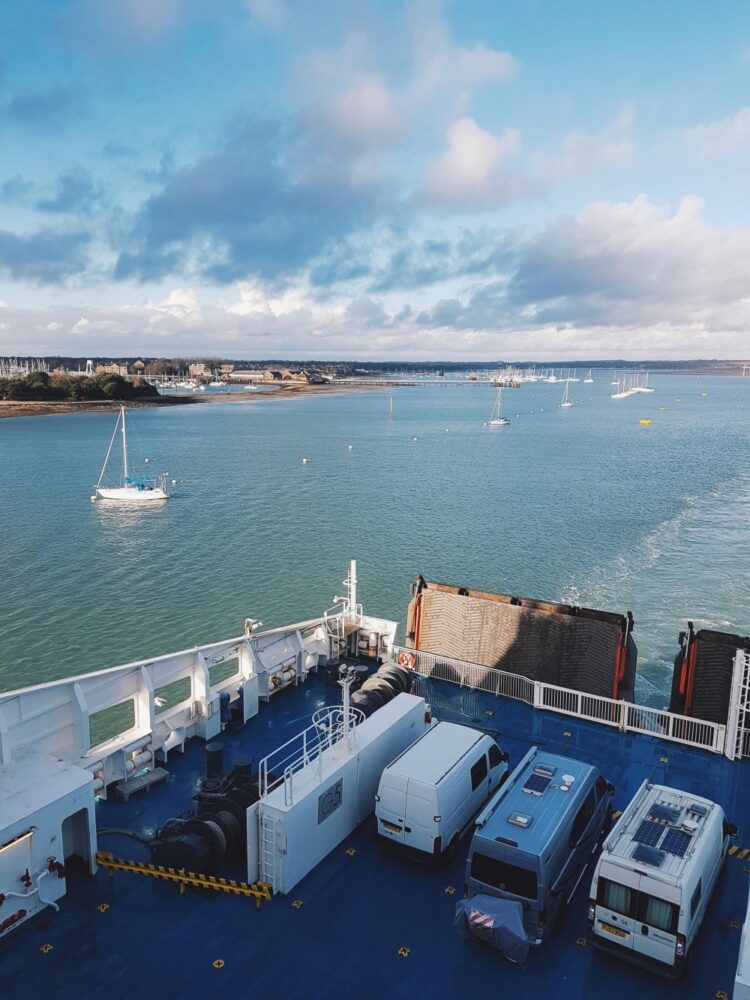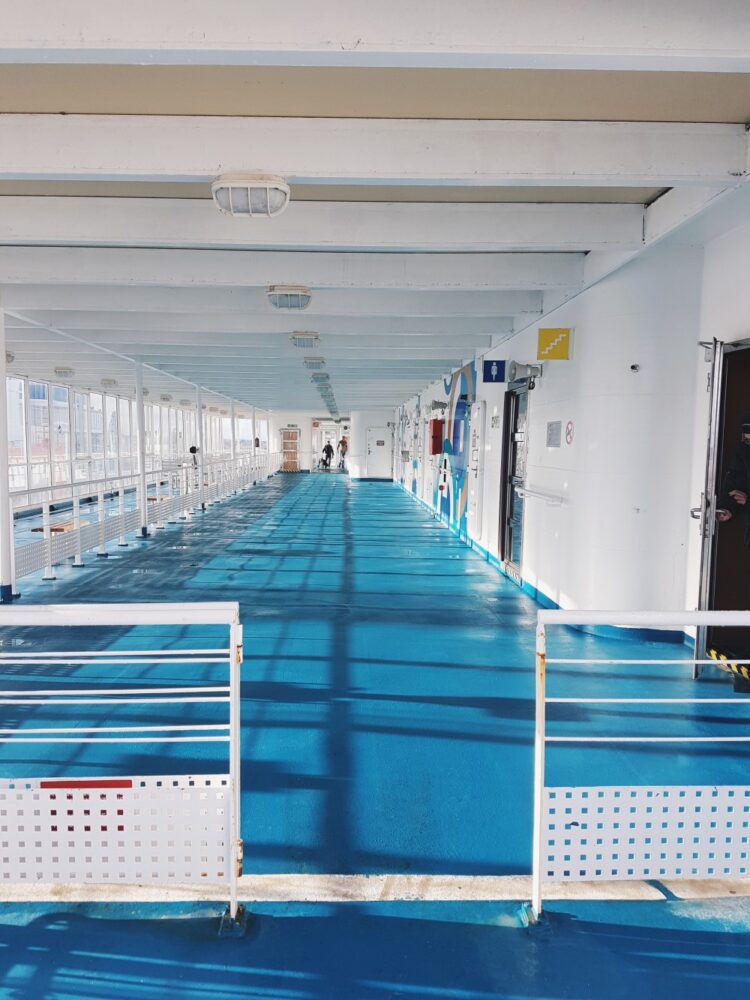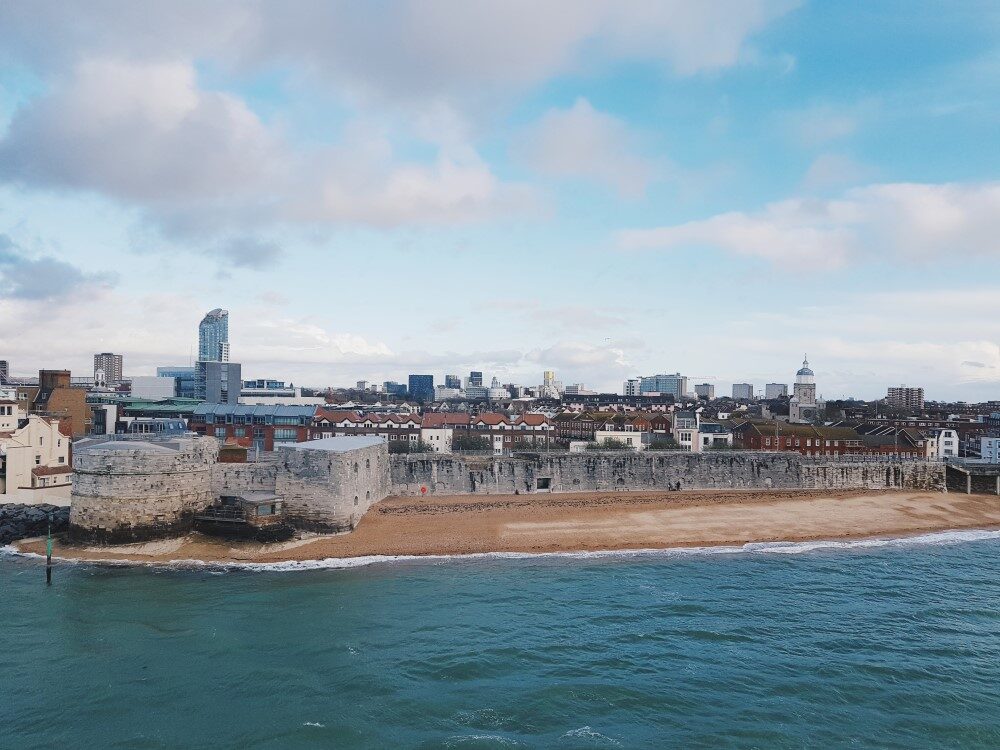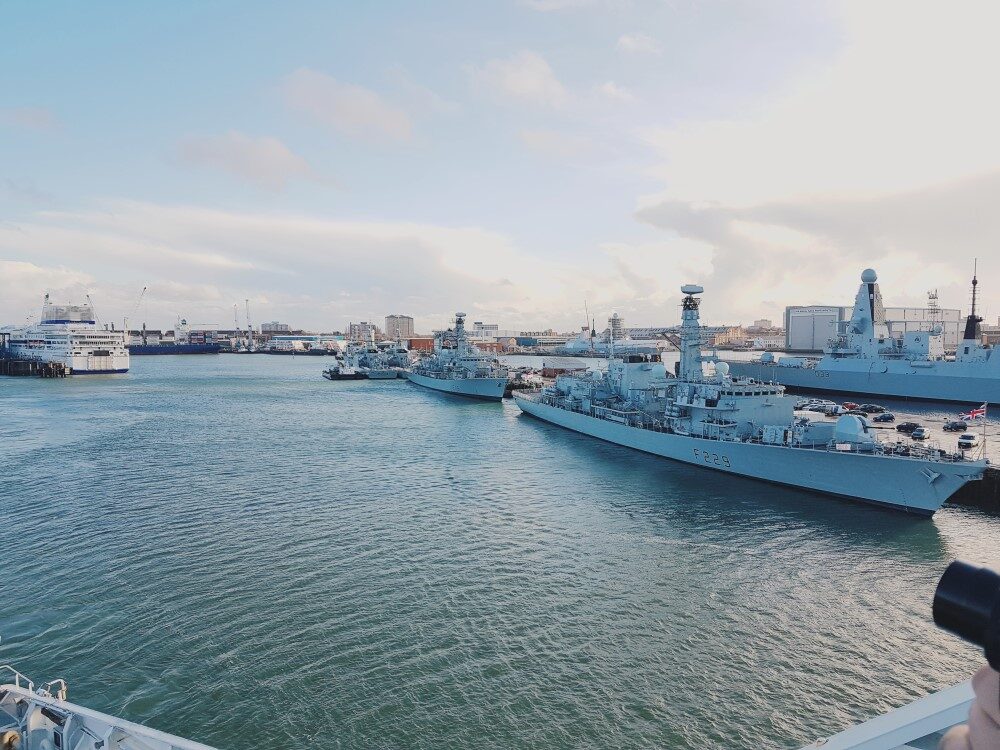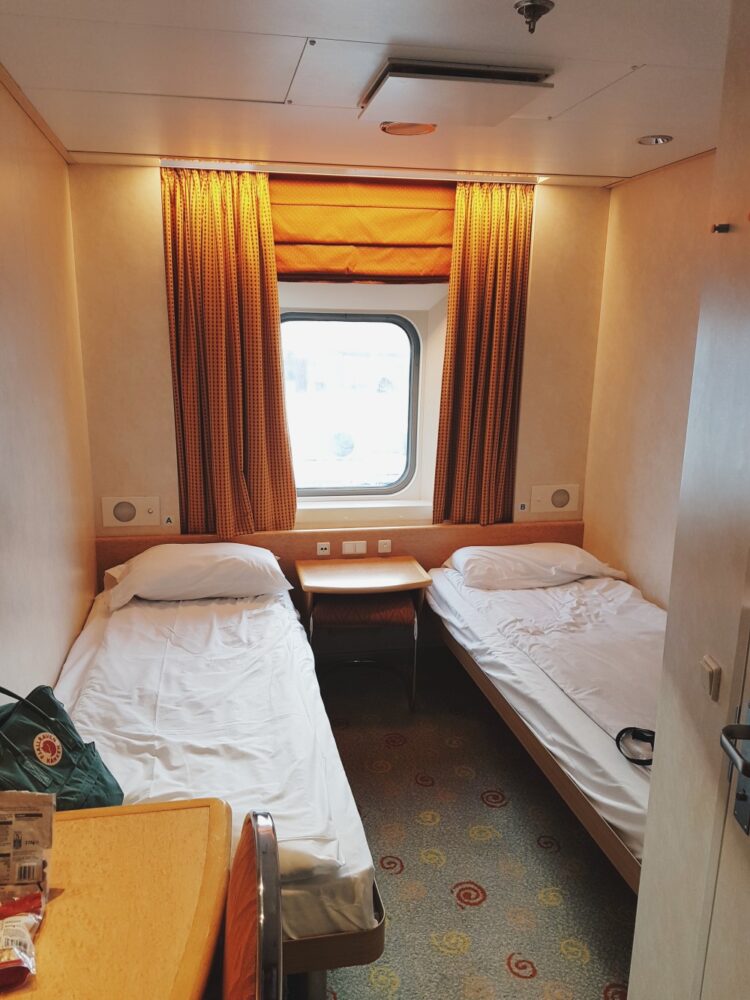 The Cabin
As I said before, we booked a 2 berth outside cabin which was located near the front of the ship. The room was actually a lot more spacious than I was expecting, and had two single beds, a nice big window, a desk, wardrobe, european plug sockets and an ensuite with shower, toilet and sink which was really spacious too! If you opt for a 4 berth room, it's the same size, just with pull down (I think), bunk beds instead.
Although the beds didn't look too comfy, they were actually really cosy and supportive for the bumpy crossing we experienced, cushioning us when we crashed into large waves during the night, and we both slept amazingly well on them (when we *could* sleep from breaks of sea-sickness).
The room was nice and clean and we had no issues at all on the sailing (and we practically lived in it the enitre crossing). I'm glad we opted for the sea-view over the internal rooms, as it was nice to watch the horizon and the weather and how insane the waves were. Can you guess we had a very choppy crossing?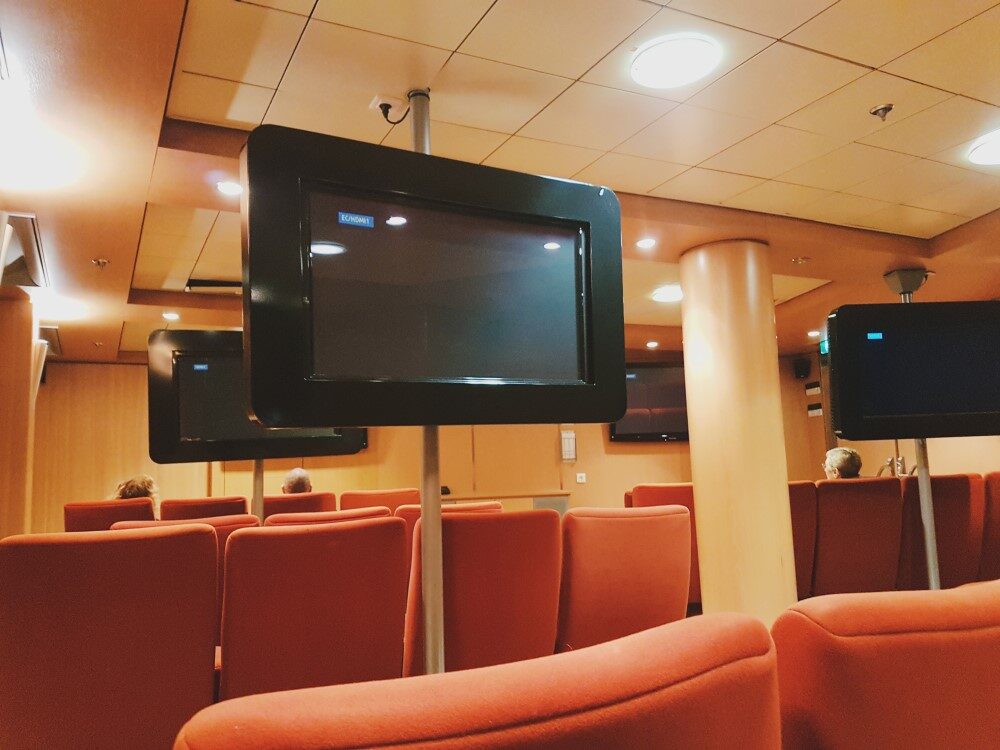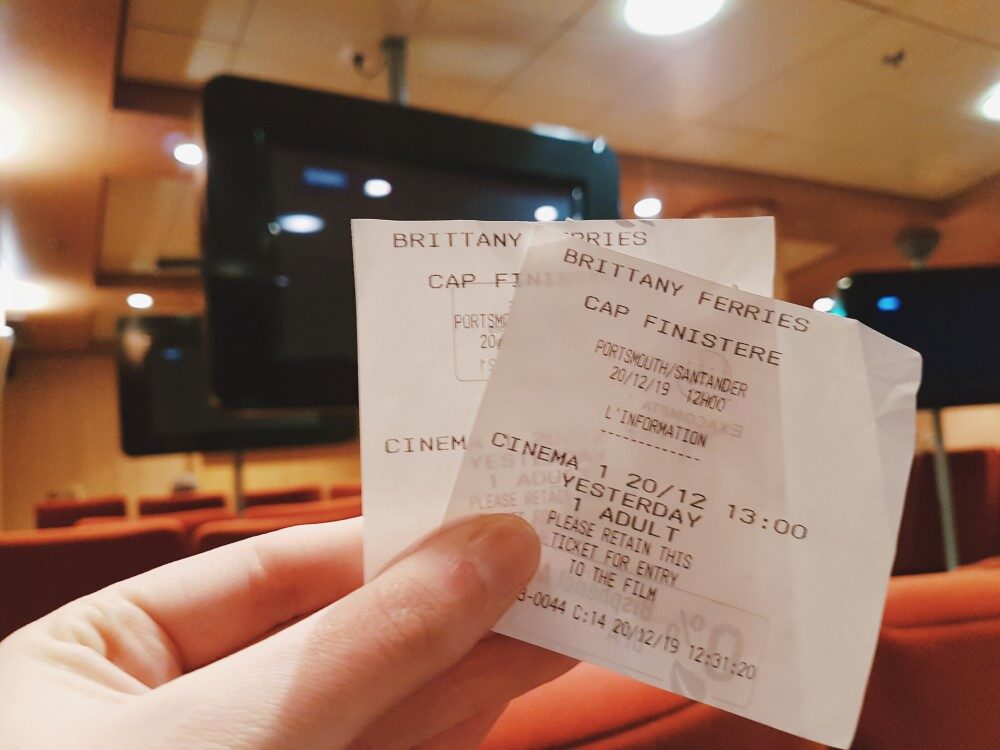 Entertainment
Being a cruise style crossing, there was plenty of entertainment on board the ship, but the only thing that we made use of was the cinema as after the film, we came down with horrendous sea-sickness and couldn't leave our beds! We saw 'Yesterday' which cost us £6.50 each. I was expecting a cinema style room, but it was just a room with a few TV's with a small group of cinema style steats, which were quite comfy. The only issue I had was that the volume wasn't very loud, so I struggled to hear bits of the film with the sound of the boat creaking and crashing against the waves.
Other facilities on board include an outdoor heated swimming pool (in use between May-September), a small spa with treatment rooms, a few shops including duty free, a childrens play area, interactive games in the bar area along with quizzes and magic shows, whale watching (when in season) and plenty of deck space to take a wander. They also allow pets both in kennels, or with a small number of pet rooms which have a separate exercise area on deck.
They also have free wifi access on board in selected public areas of the ship, or you can choose to upgrade to a premium package which you can also access in your cabins. We bought wifi and the speeds were surprisingly good – we could scroll instagram no problem at all. Prices vary depending on how much data you purchase.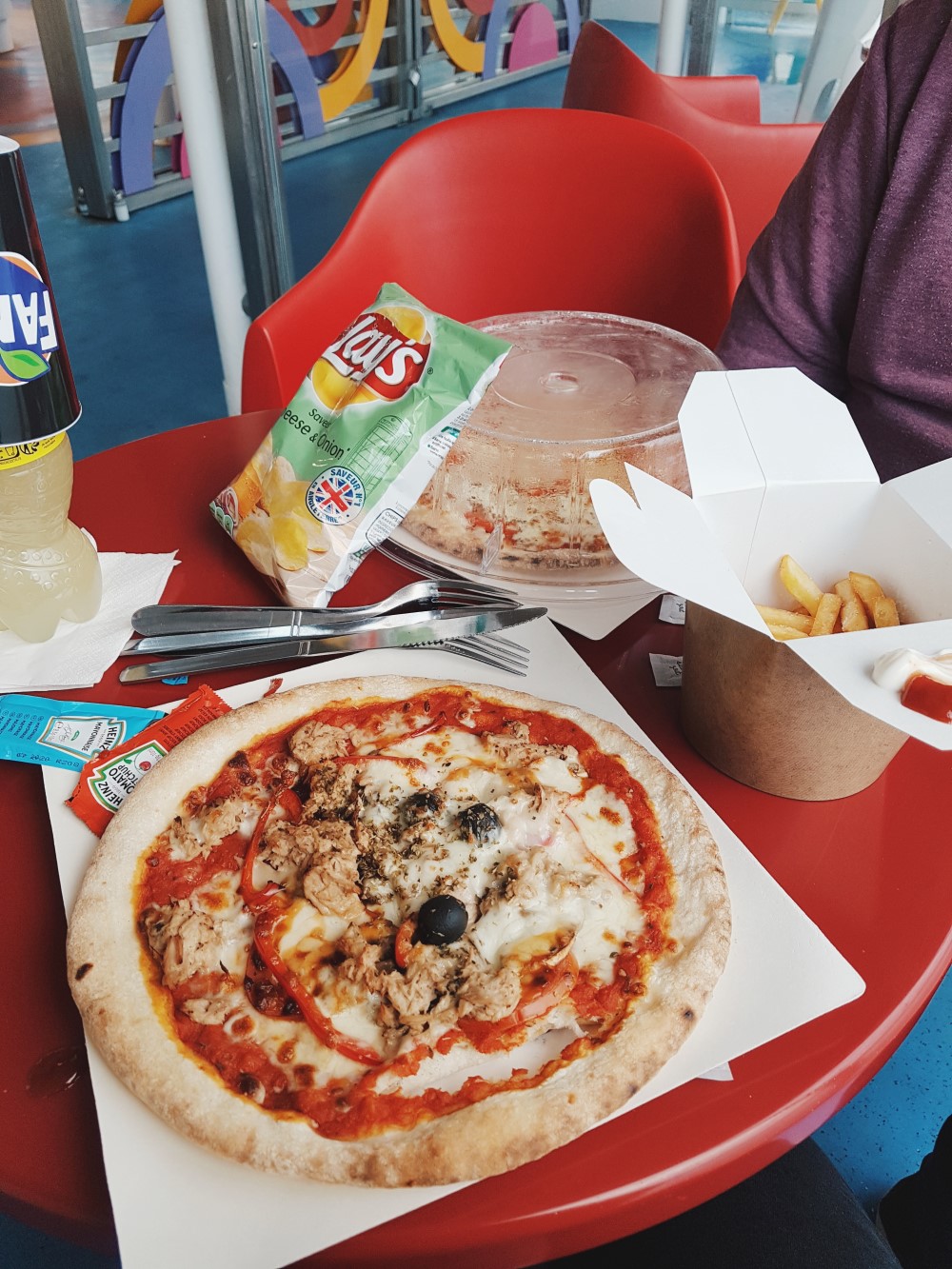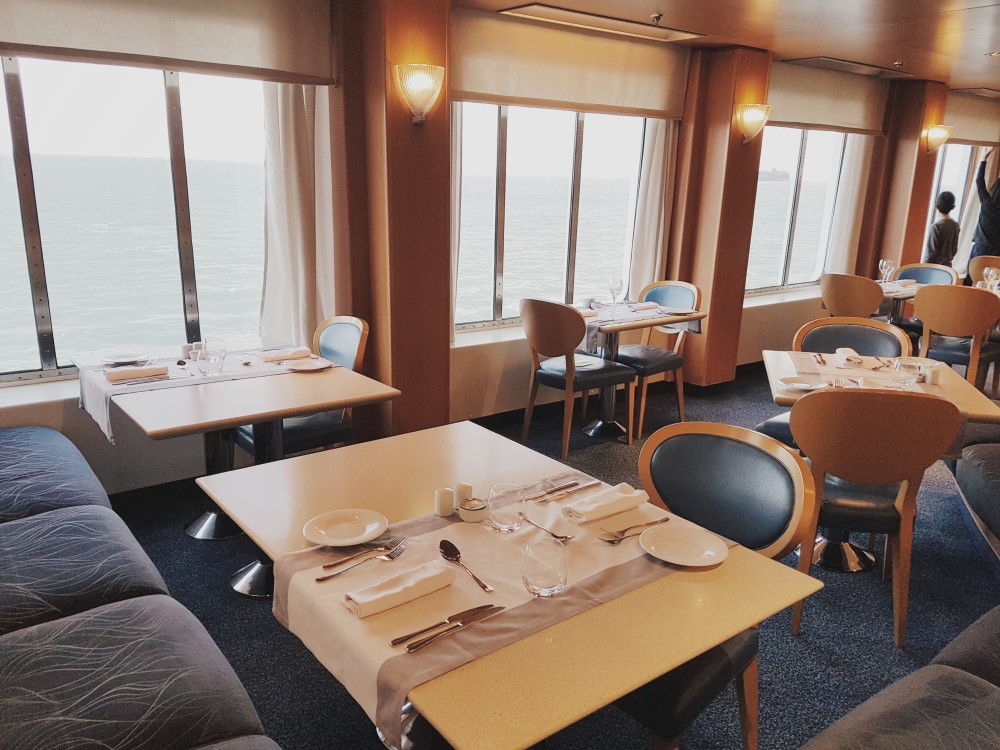 Food & Drink
The Cap Finistere has one main dining option – Restaurant du Port, which is an a la carte style restaurant. The options were quite expensive at around £20+ for 2 courses, so we decided to skip eating there, though the options sounded nice. You have to pre-book the restaurant by a specific time if you want to eat there, and then they have a waiting list for any cancellations which were called out until about 9-10pm.
We ate at Le Café Salad Bar after the cinema, which is located outside by the swimming pool. Although the area is covered by glass to protect from rain and wind, it has gaps, so it was freezing up there and occasionally the spray would come up just as high so you'd get a little wet! The selection of food was good though – salads, pasta, pizza and burgers. We both ordered pizza and chips to share, as that's all they were serving mid-afternoon, but it was SO tasty!
They also have another snack bar inside which offers light snacks, and a couple bars, so there's plenty of options to choose from on the crossing. We only had the chance to eat at the outdoor snack bar on the crossing, but the food that we had there was really nice.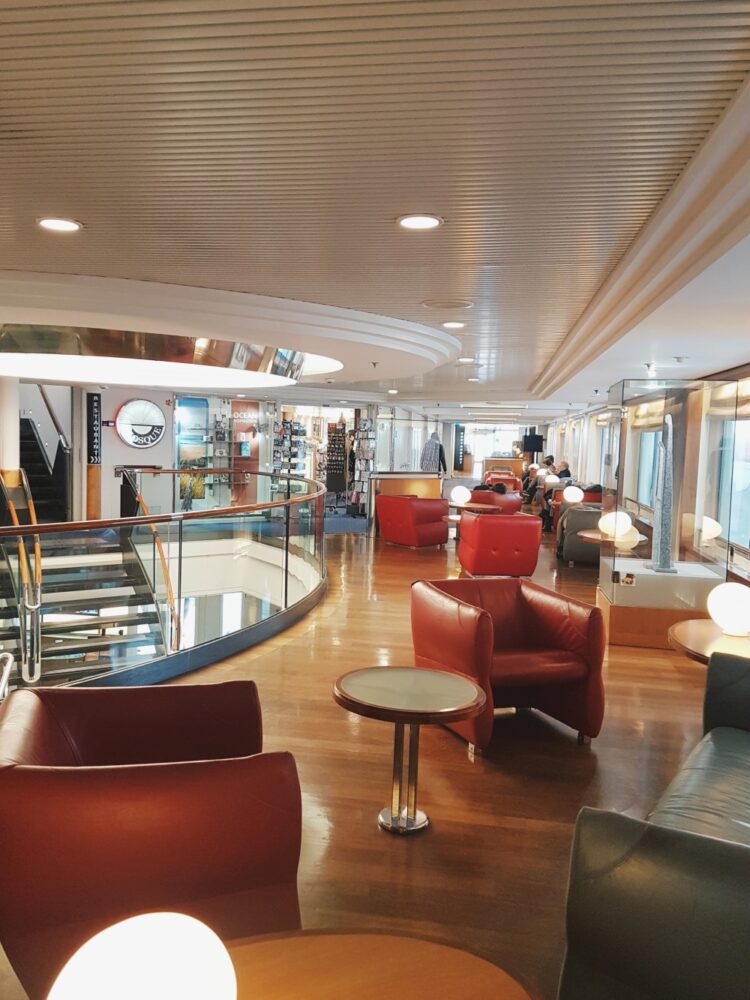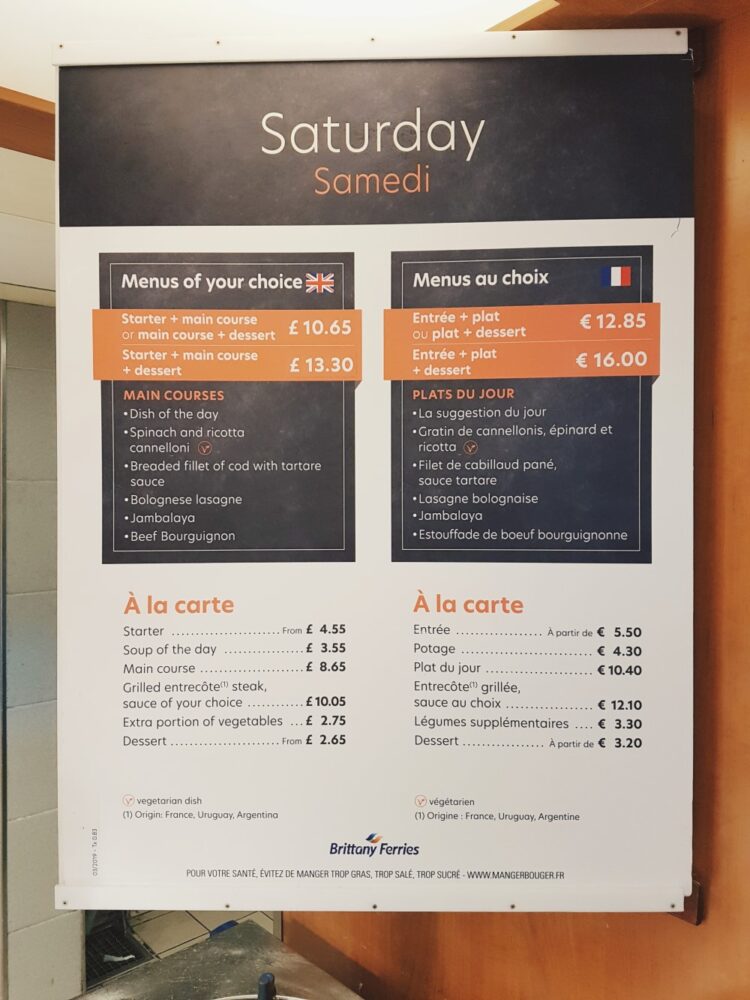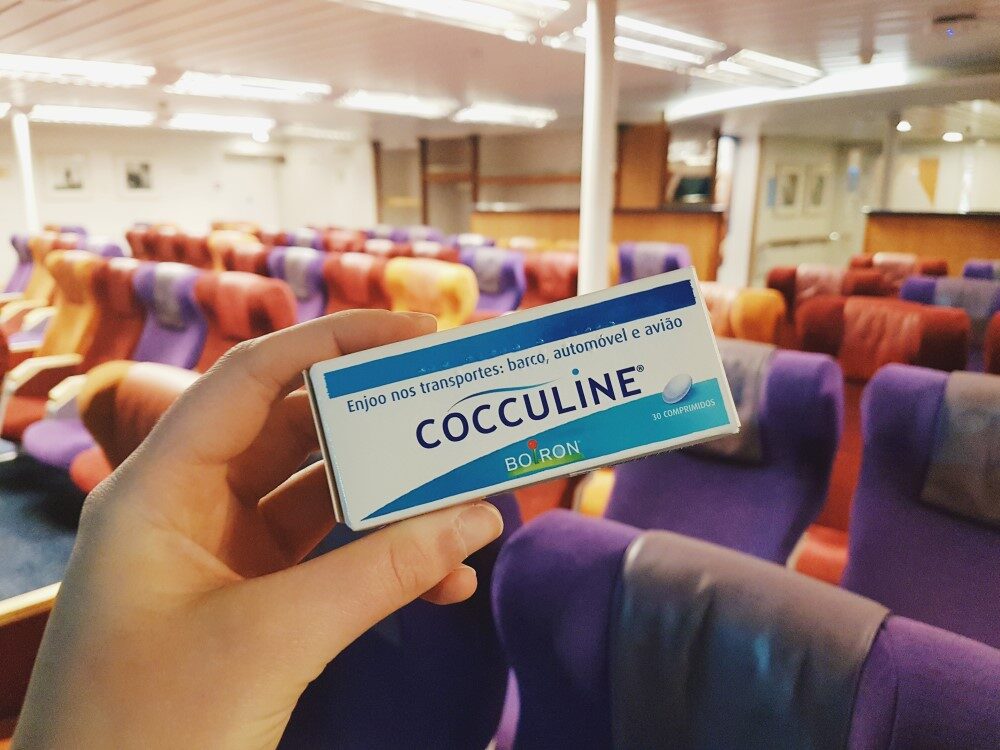 The Return Crossing – Caen to Portsmouth
We actually didn't cross back from Santander to Portsmouth due to the price and dates not working out for us, so we booked our return crossing from Caen in northern France to Portsmouth instead, again with Brittany Ferries. The crossing cost £140 and £10 to reserve our seats (you don't have to reserve seats or have a cabin on day crossings).
The ship (Mont St Michel) was similar but smaller, but as it was a daytime crossing lasting only 6hrs, we opted to book reserved seats instead of a cabin for that crossing and it was another good experience on board (and no sea-sickness that time).
Tips For Sea-Sickness
Unfortunately, the crossing from the UK to Spain is known to be a very choppy crossing at times, especially through the Bay of Biscay, and it didn't help that we crossed during a storm. Obviously, it's not always bad, as they have a swimming pool on the top deck outside, but I think we were just really unlucky when we crossed. As we don't usually suffer from sea-sickness, we weren't really prepared for it at all, and sadly, Brittany Ferries don't sell any sea-sickness tablets on board, so here's a few tips that should help if you take the same crossing.
* Take sea sickness tablets with you – we bought Cocculine in Portugal for the return crossing just in case. It's not available in the UK, but you can speak to your pharmacist for some UK ones.
* Use accupressure bands like these (affiliate link).
* Take ginger foods on board with you – candied ginger, ginger tea, fresh ginger (if that's your thing). Ginger helps with nausea and to settle a stomach.
* Take plain foods with you – salted crackers, plain crisps, bread. If you're really struggling, it's best to stick to plain foods if you do get hungry.
* Look at the horizon – if you don't have a room with a window, take a walk to the deck or a bar with large windows where you can see the horizon. Sea sickness is caused by conflicting sensory signals in your brain, so when you can see the horizon, this helps to correct the signals.
* Get some fresh air – if you can, try and get outside for some fresh air.
Have you taken this route before? Did you experience any sea-sickness? Is it one you're thinking of taking?