Two Weeks in Europe
This past May/June, we spent two weeks travelling from the UK through Europe with the goal of ending up in Slovenia (before sadly, heading home). I've wanted to visit Slovenia for SO long, but to me, it always needed more than just a long weekend trip to the capital, Ljubljana, as there's so much more to explore in the country. So, we decided to head there in the campervan instead.
We didn't know if we'd be pushing it to head down there in just a few days, and yes, some of the drives from each place were around 4hrs long, with the average being about 2.5hrs of driving each day. But it was so worth it, and we got to see everything we wanted!
We've shared more in depth posts about each place we visited which you can find here, but I thought we'd recap it for anyone just wanting a quick read!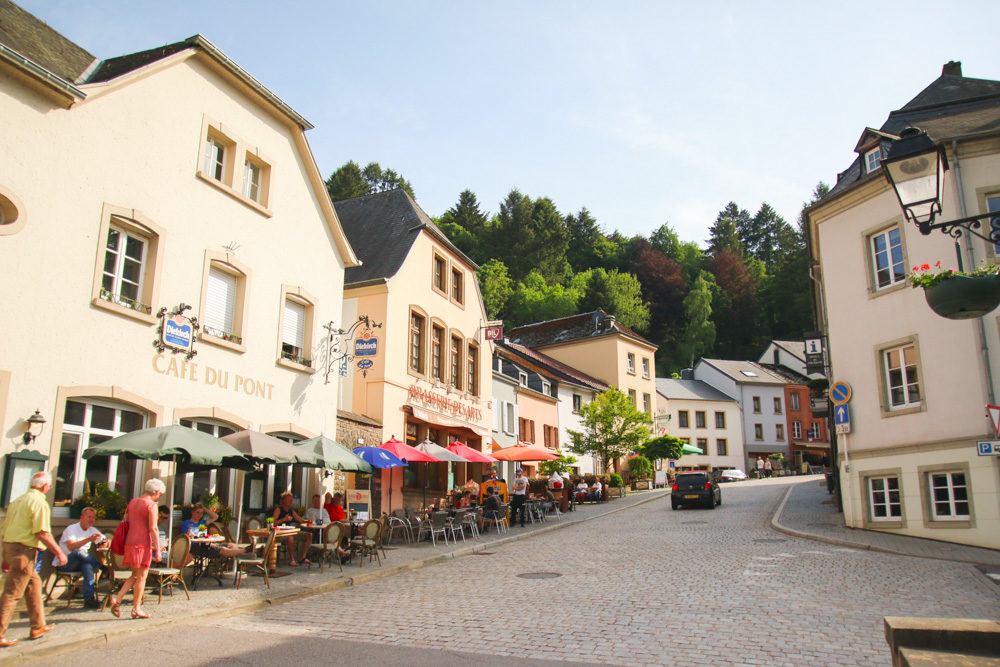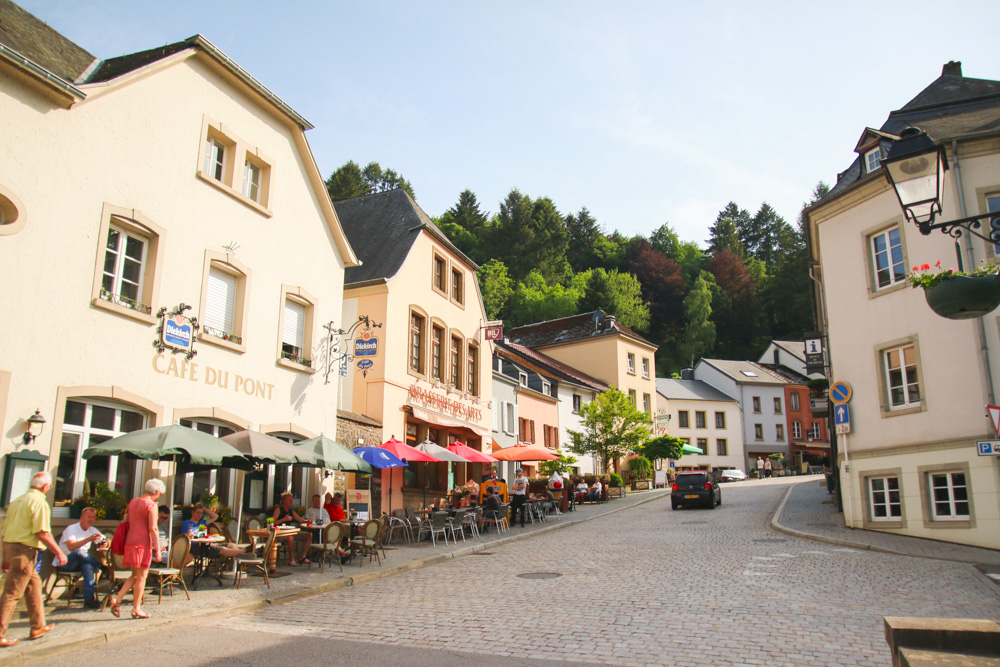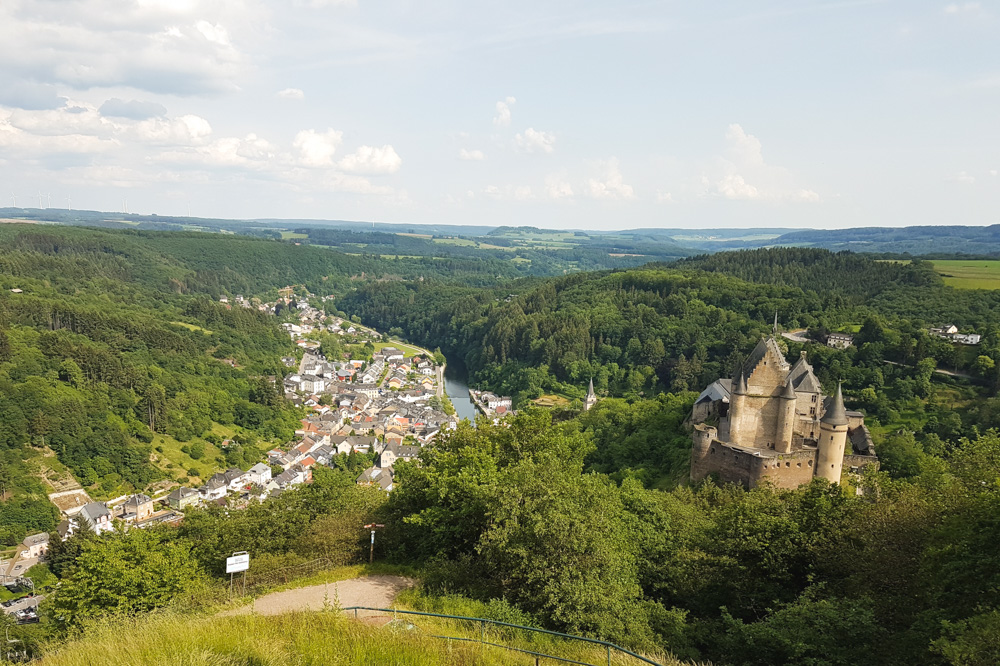 Day 1 – Vianden, Luxembourg
We got a late night ferry from the UK, arrived at 2am to our campsite nearby and woke the next morning with a 4hr drive to Vianden in the north of Luxembourg. We arrived late afternoon after a late start recovering from the tiring day we'd had finishing the van the day before and arriving so late that morning.
The town was filled with quaint, pastel coloured buildings that we wandered the streets for a while exploring, before heading up to the viewpoint on the chairlift. We definitely recommend that, where you can see both views of the town below, and Vianden Castle. If you have time, you can take a walk over to the castle too! We headed back down, had some drinks at a bar by the river while we found a campsite for the night.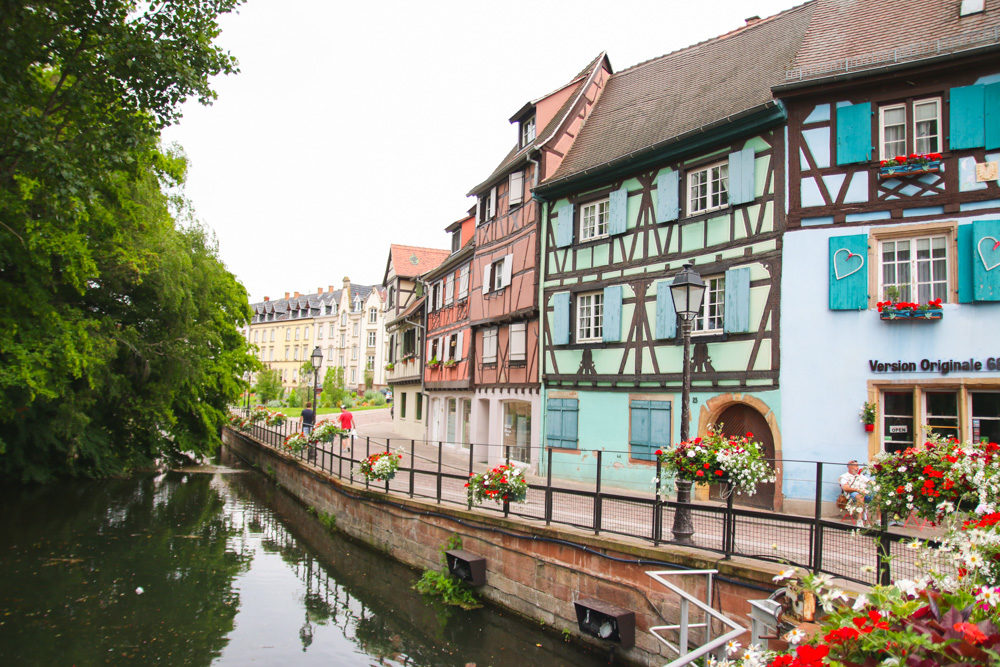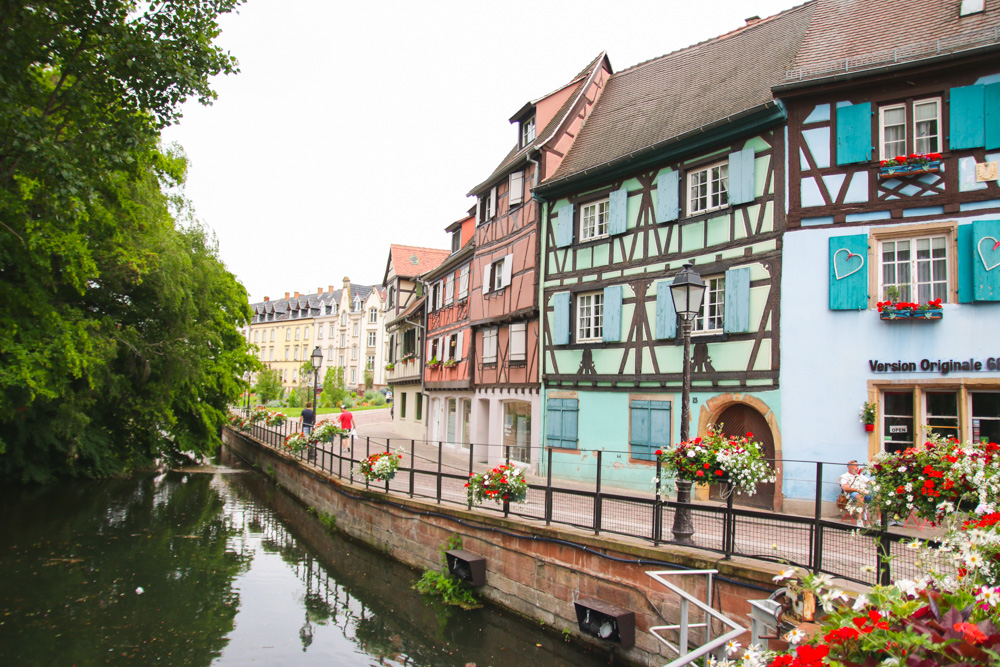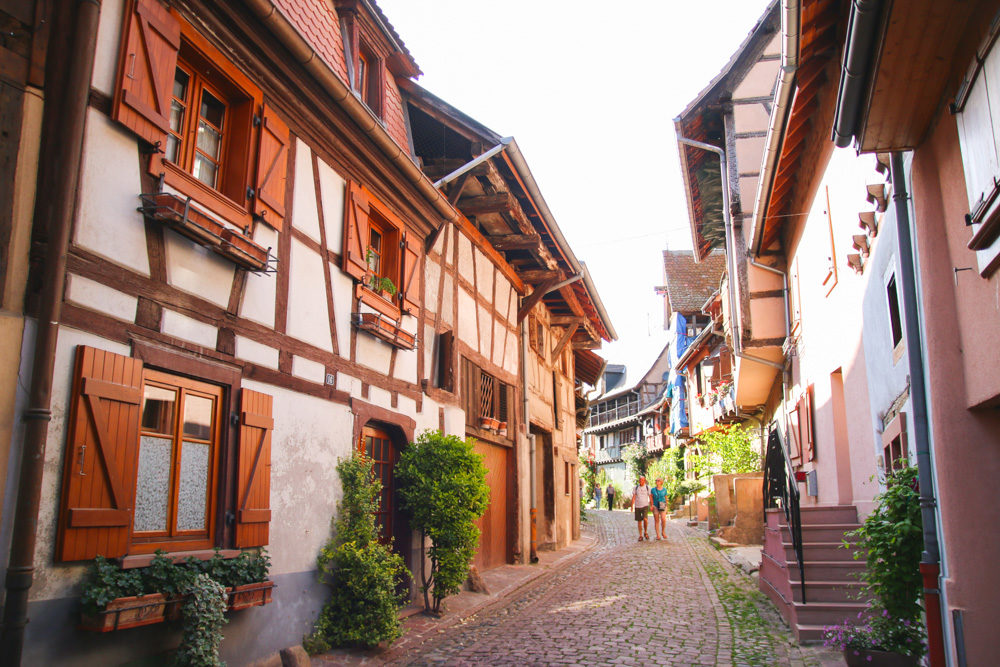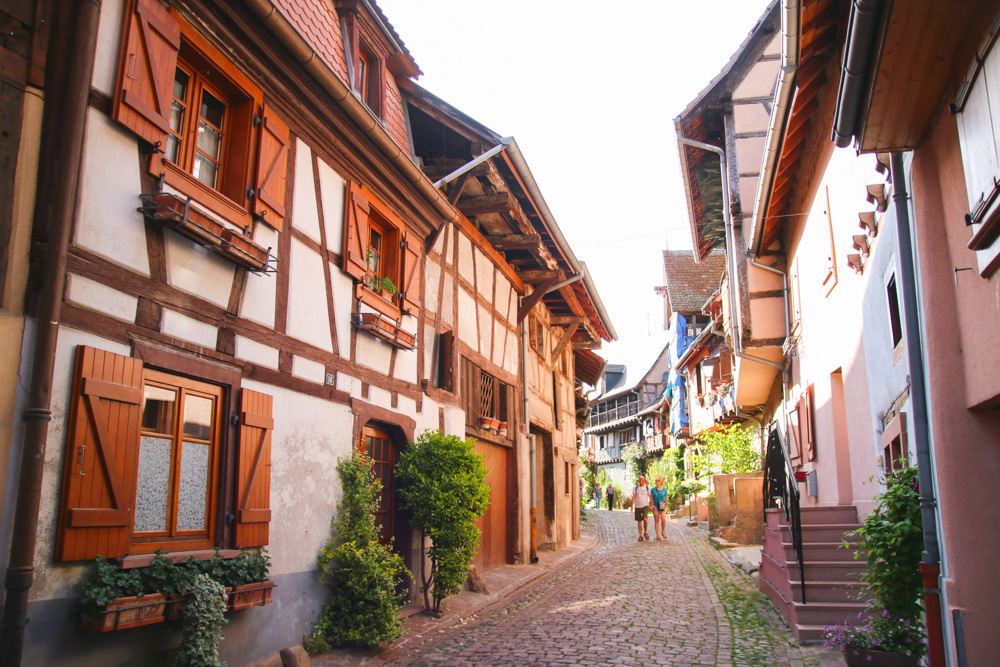 Day 2 – Colmar, France
The second day saw us driving 3.5hrs south into France to visit the old Alsacian towns of Colmar and Eguisheim. We spent the first part of the afternoon exploring Little Venice, before heading to explore more of the Old Town and stopping for some lunch. It's such a cute little town to explore, lined with the river and definitely worth a stop.
Afterwards, we drove 10 minutes outside of the town to visit the old cobble-stone village of Eguisheim. Built in a circular style, the village was filled with colourful wooden beamed houses, just like Colmar but on a much smaller scale. We definitely preferred it over Colmar, and although it's not in Provence, reminded us of a real life Beauty and the Beast style village!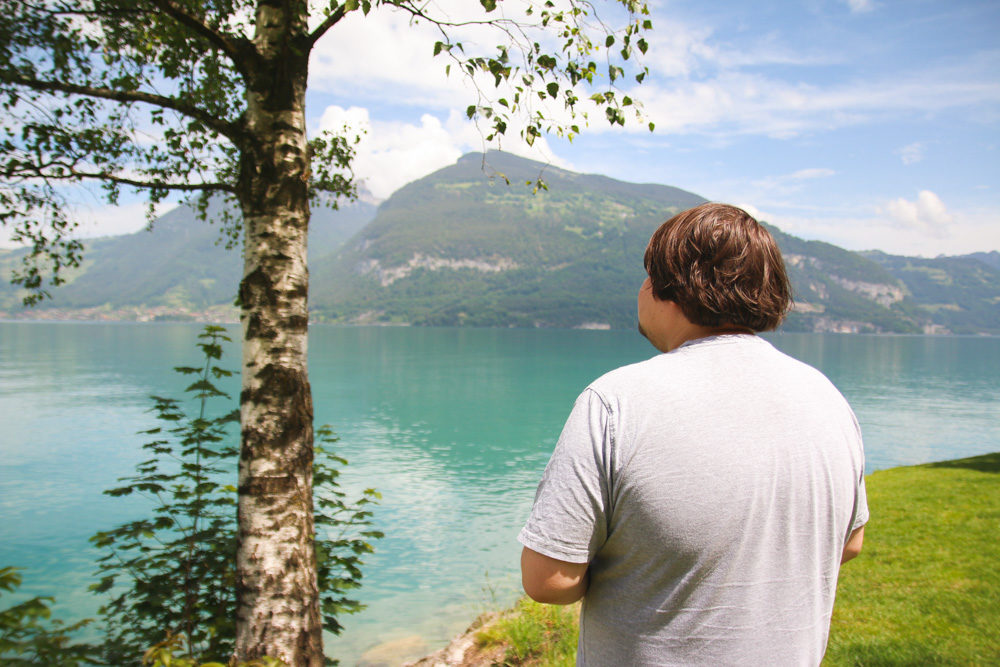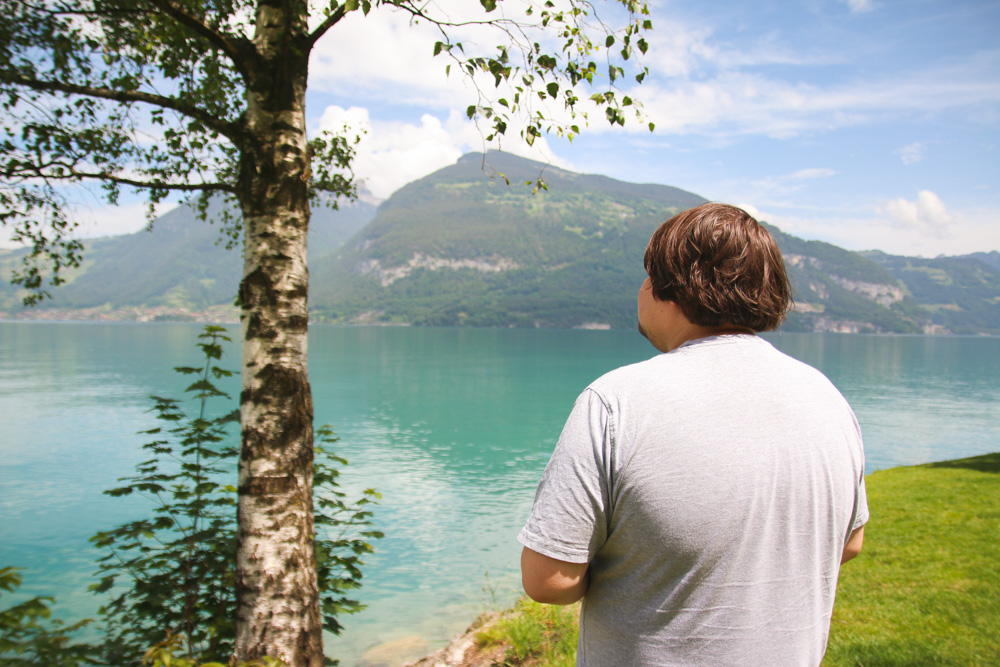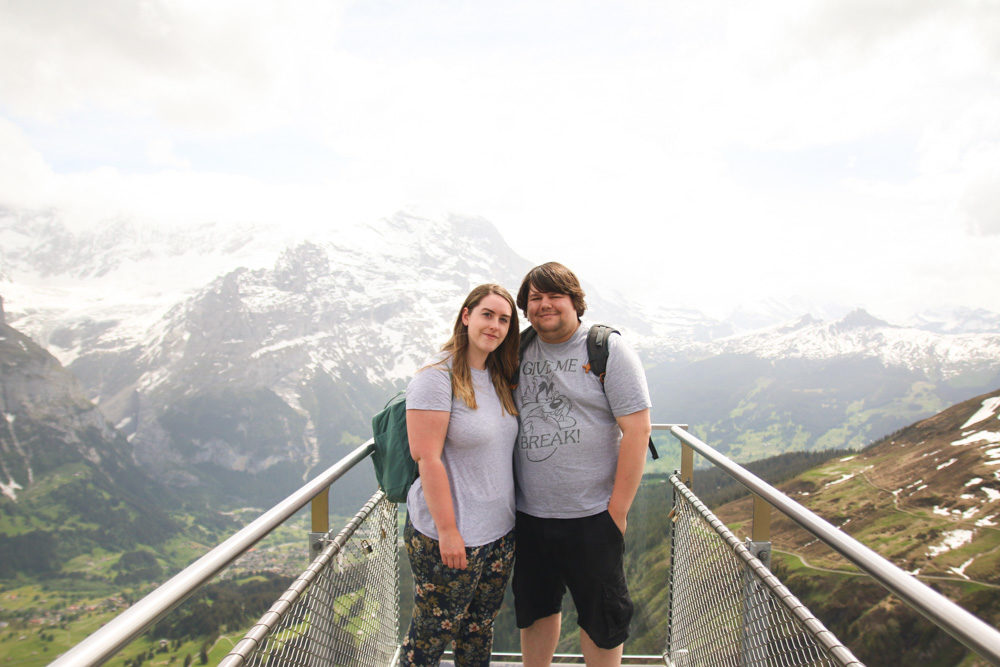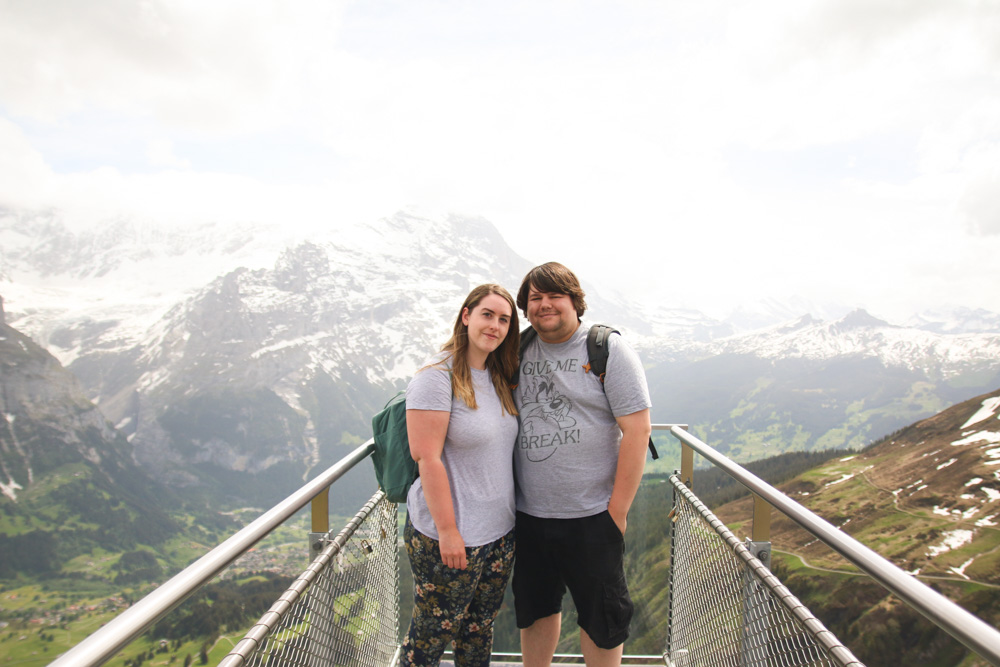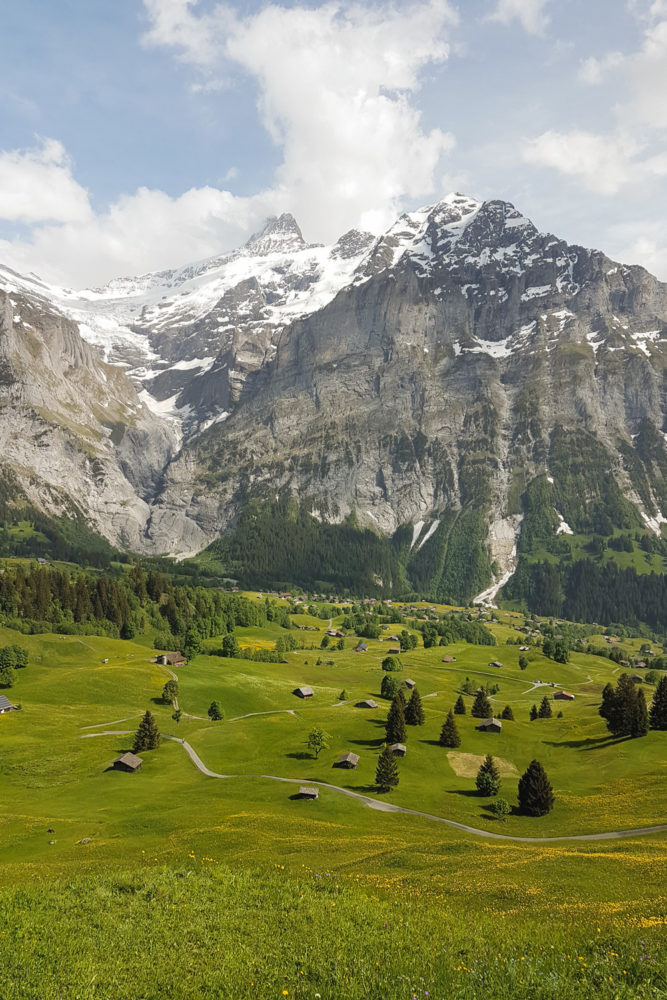 Day 3 – Interlaken, Switzerland
The drive from Colmar to Interlaken was one of the easiest and most scenic drives of the trip, passing through hundreds and hundreds of tunnels (don't Switzerland love their tunnels?!). It was also the most expensive 24hrs of the trip, and although it was so beautiful to explore, we couldn't wait to leave because we just hadn't budgeted for that level of spending haha!
We headed straight for Grindelwald, and took the (super expensive) cable car up to First. We hung around for a little while, admiring the views and watching all the activities you could do up there, wishing we had the $ to afford some of them, like the karting down the mountain, but we just stuck to the only free one up there of the cliff walk. The views were nice, but I actually preferred them from below the mountain, filled with ski shacks and greenery, with towering mountains all around!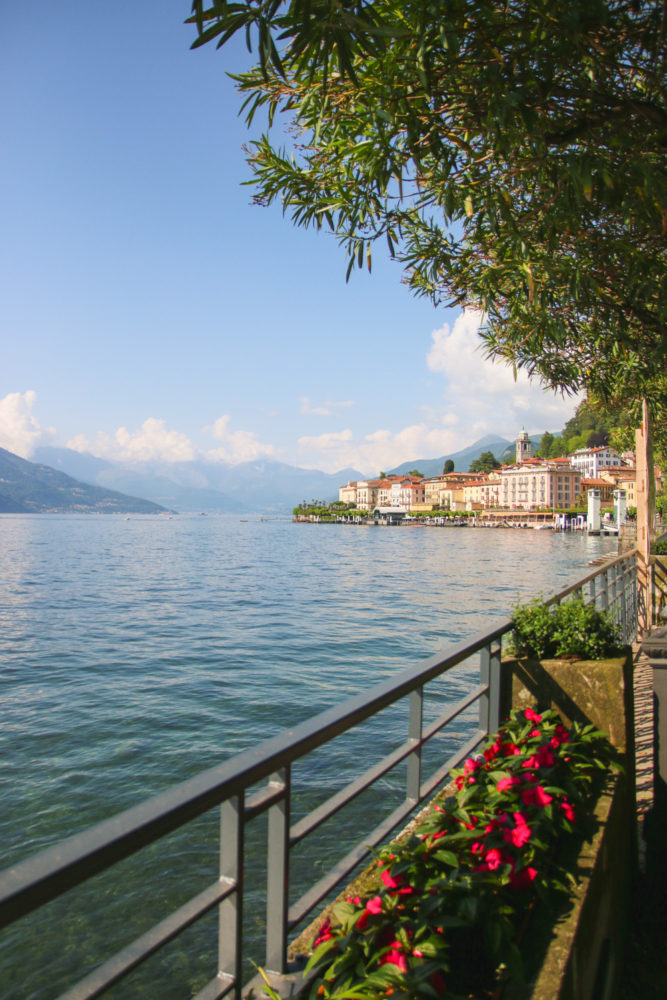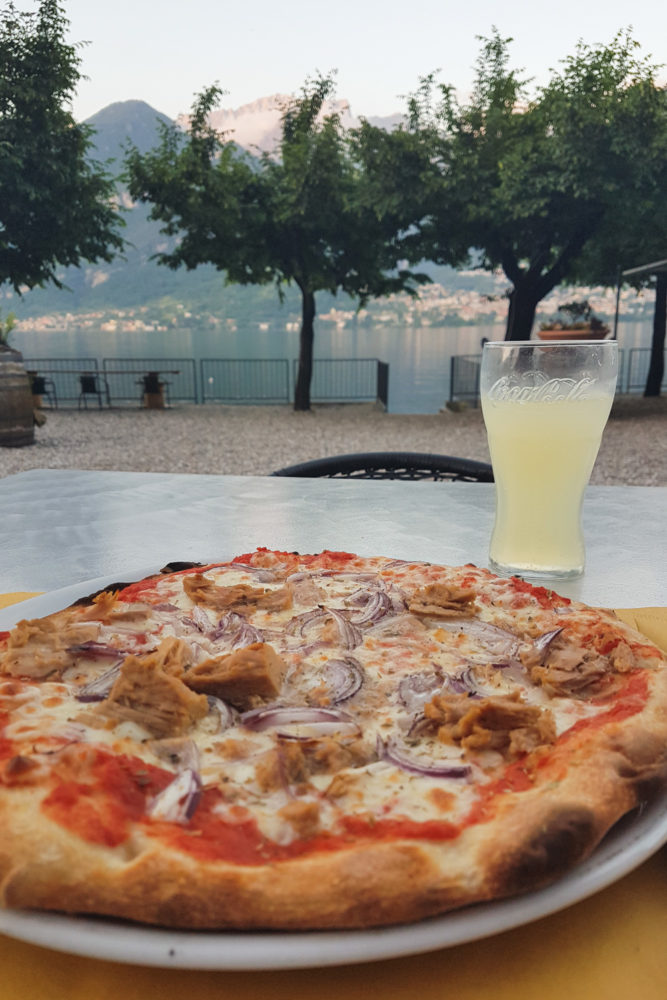 Day 4 – Bellagio, Lake Como
We headed into Italy on the 4th day, and those Italian roads and drivers are insane! We took the winding cliff and lakeside roads from Como to Bellagio, where we explored the town, treated ourselves to some gelato, and found a cute little campsite for the evening with a traditional trattoria with it's own private beach area at the side of the lake where we settled down for the evening with a freshly baked proper Italian pizza, while we watched the sun set.
We didn't really do much this day, but the views were amazing, and that campsite and pizza were honestly so good! It was a nice chilled day after all the walking we'd been doing the previous few days.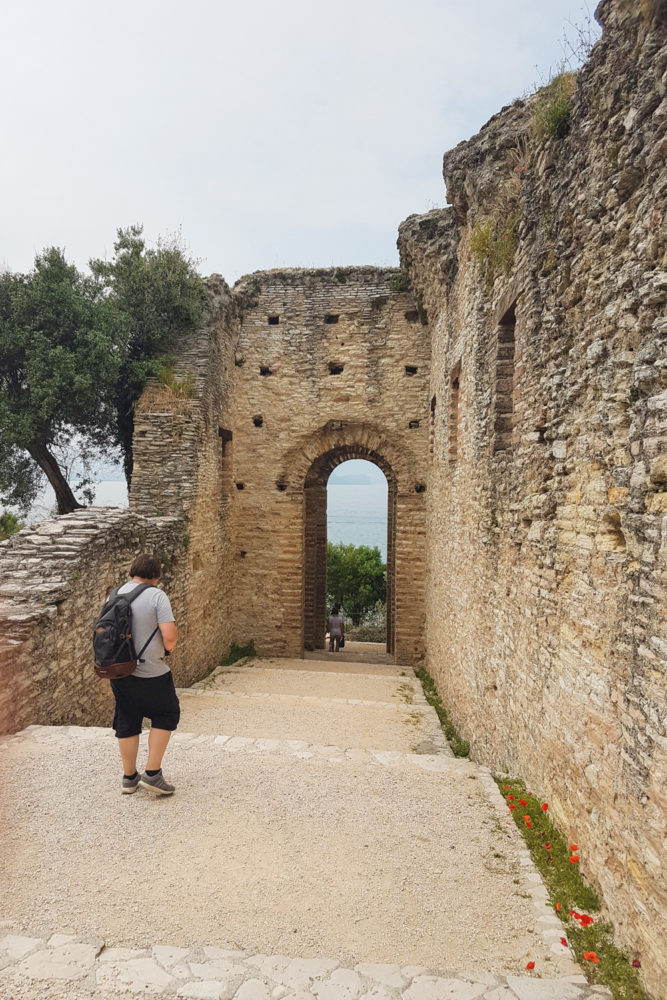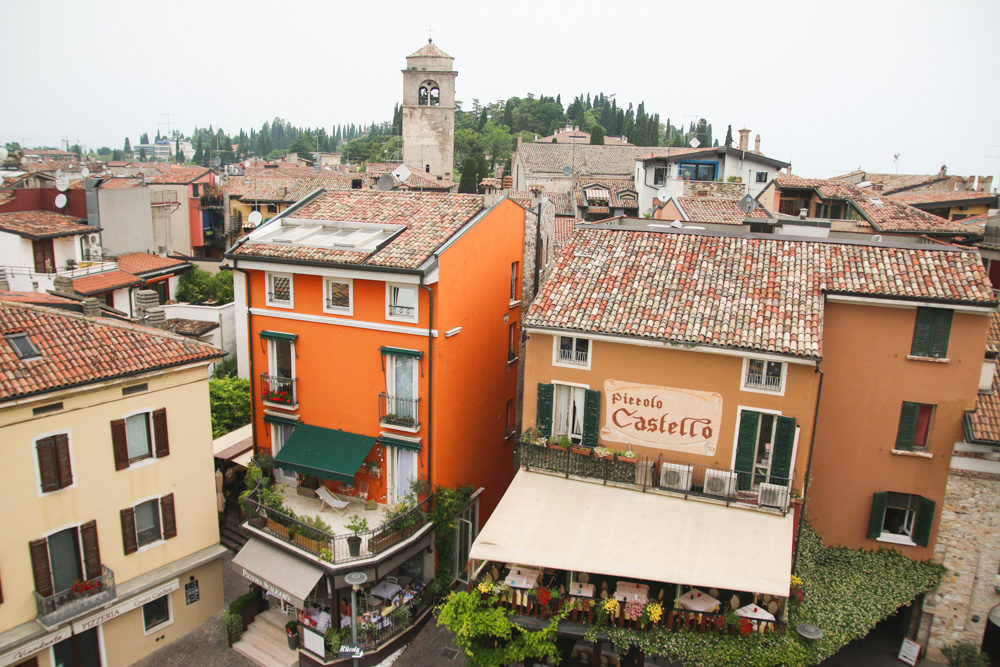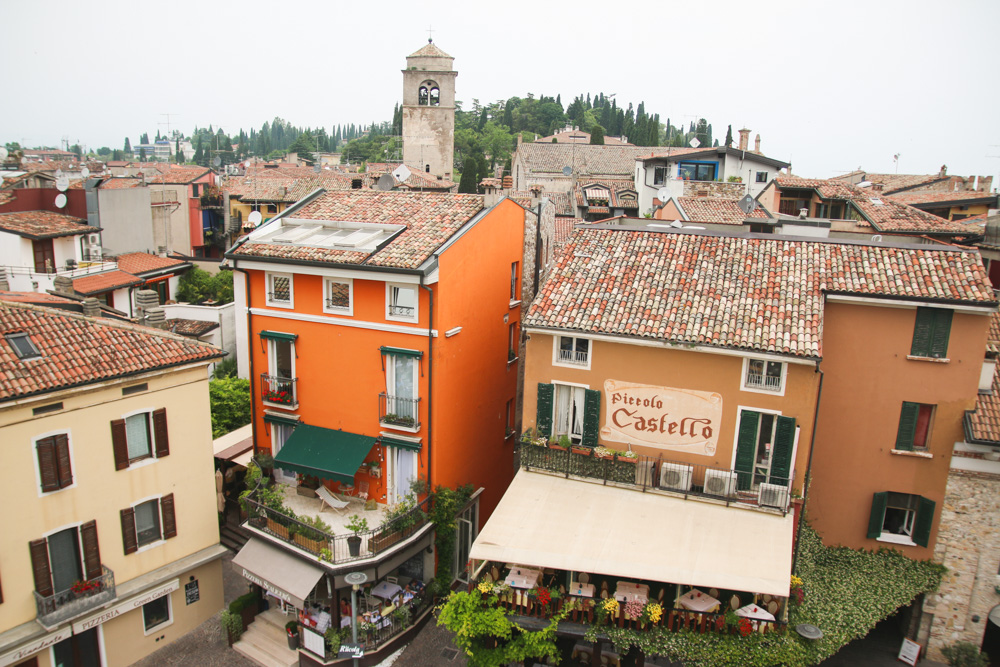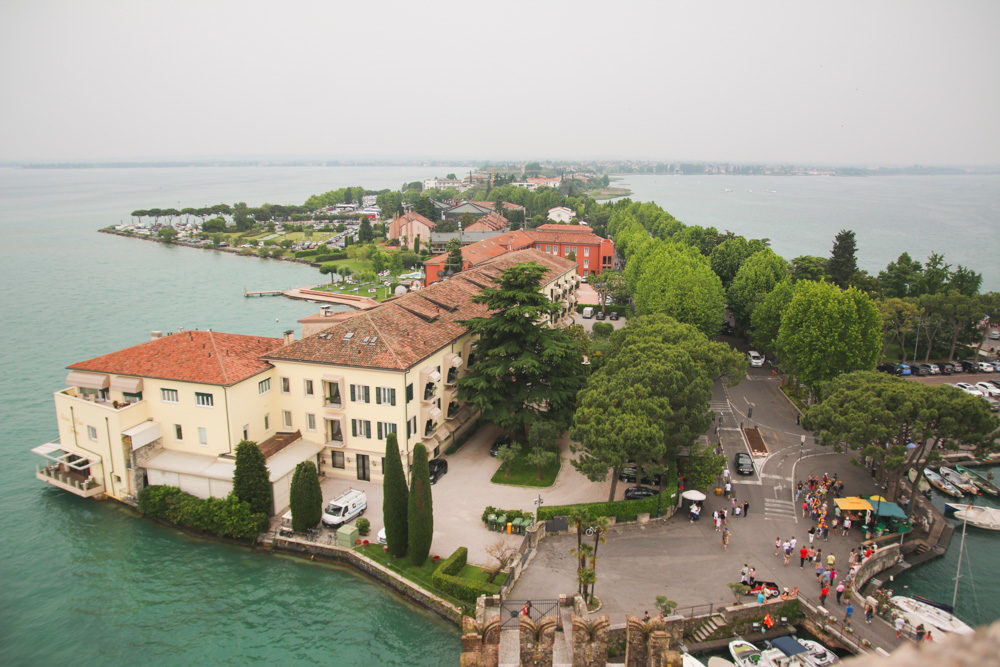 Day 5 – Sirmione, Lake Garda
This was one of my favourite stops of the trip, and somewhere that I'm dying to head back to at some point to see more of, because we just didn't have long enough to see all of the things that we wanted to in the day that we spent there. Ideally we'd have spent 2-3 days driving along the lake, but with the two weeks that we had we could only really stop at one town.
So we chose Sirmione, as it's one of the larger towns with so much history and so much to see. From beaches to swim in the warm lake water (and thermal springs), to old castles and ancient ruins to wander around. We spent a good few hours here, and then had the most chilled evening spent parked up for the night in the carpark right on the shore of the lake!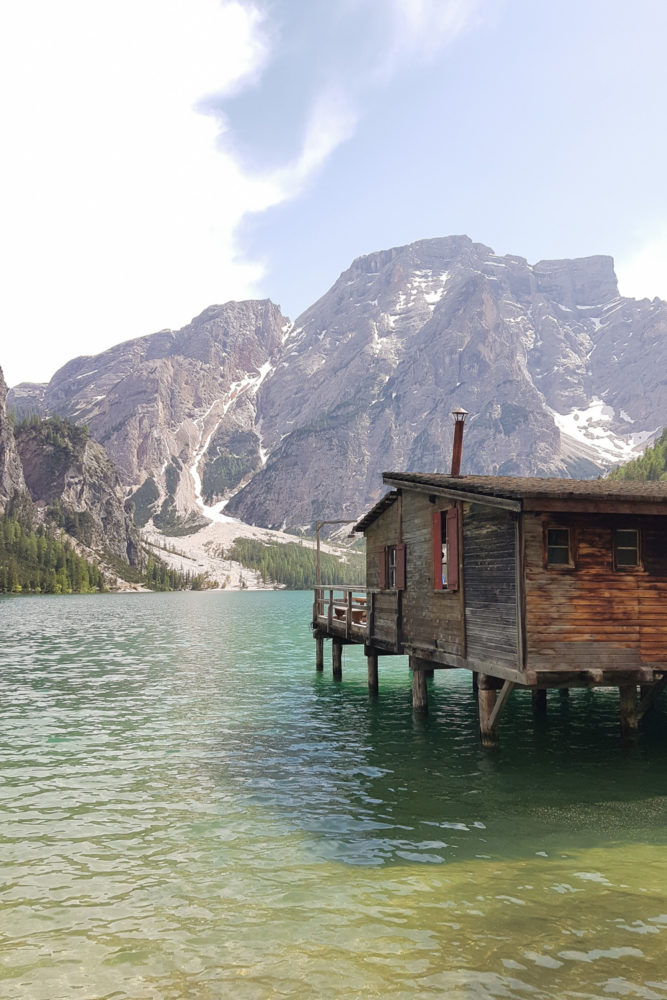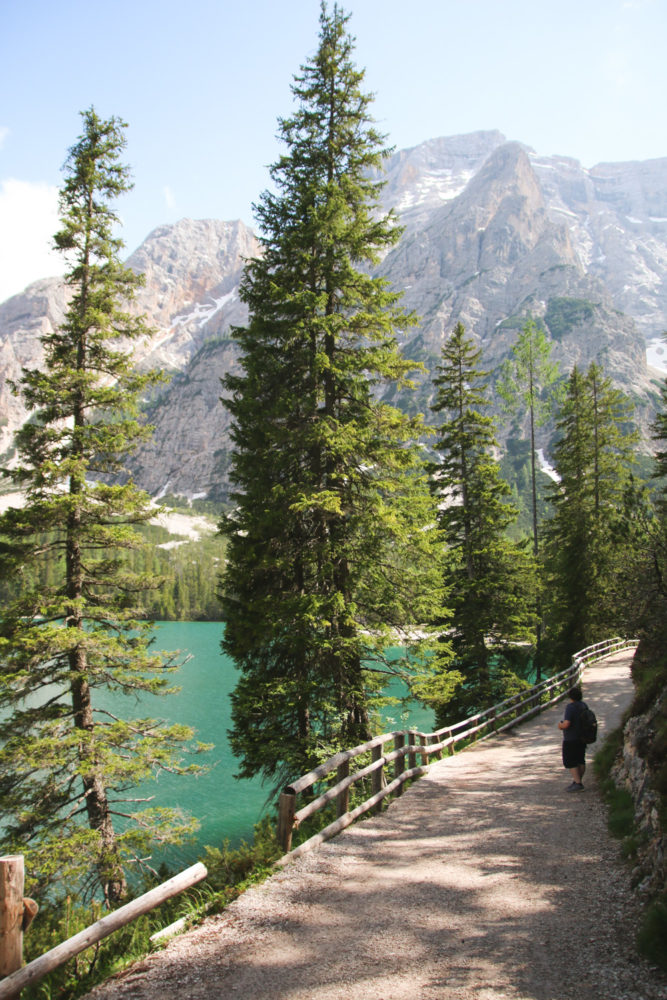 Day 6 – Lago di Braies, The Dolomites, Italy
Day 6 was another chilled day headed north from Lake Garda to Lago di Braies in the Dolomites of Italy. We got stuck in major traffic just outside of Garda because of a huge accident, but we finally arrived in Lago di Braies (also known as Pragser Wildsee) in the afternoon. Sadly, half of the lake was closed off for filming so the famous boathouse wasn't open and we were quickly shuffled away by security so that filming could start.
By the time we walked to the far end of the lake, which was closed due to safety reasons from landslides, they'd shut off a whole other section of the lake for filming as we were headed back so we didn't have the best experience here. That along with mega expensive parking for the campervan left us in a pretty bad mood about the whole thing. But, we found a campsite and spent the evening having a good clean up of everything, got all of our clothes washed and just chilled in the van with the rain rolling in.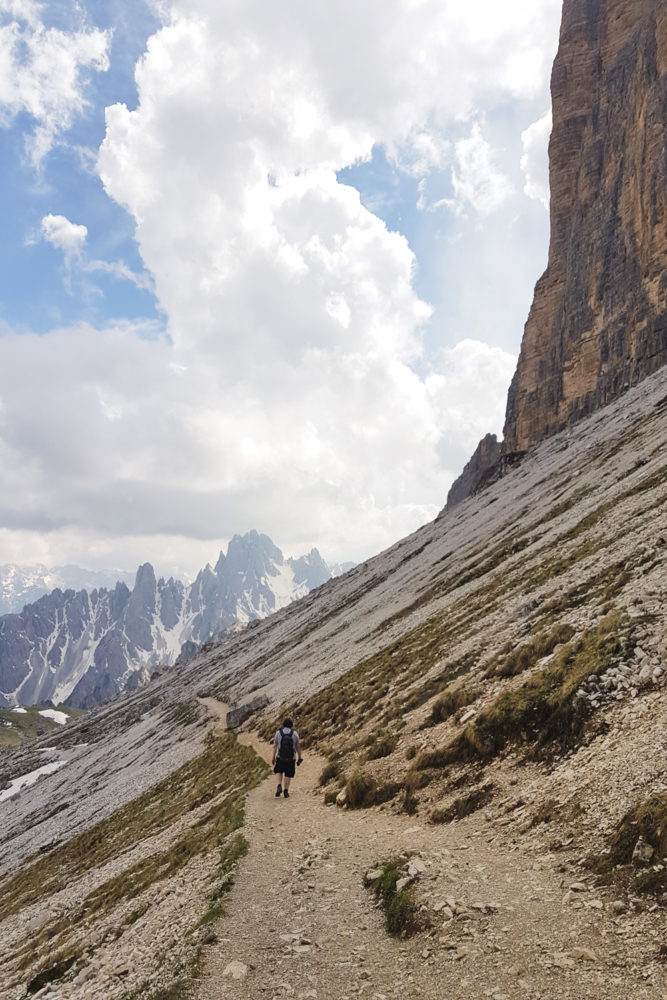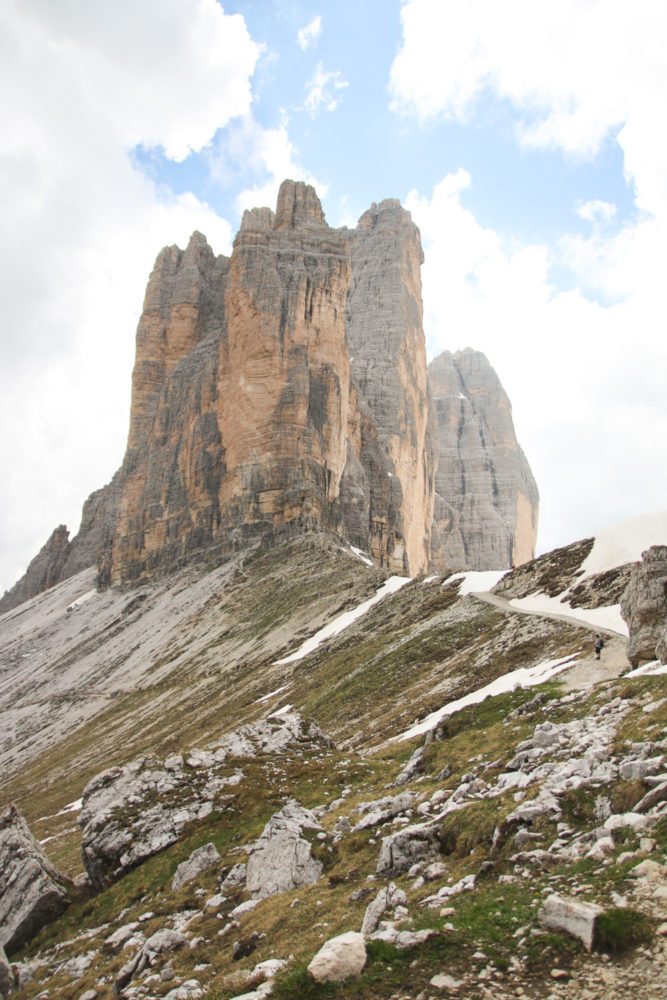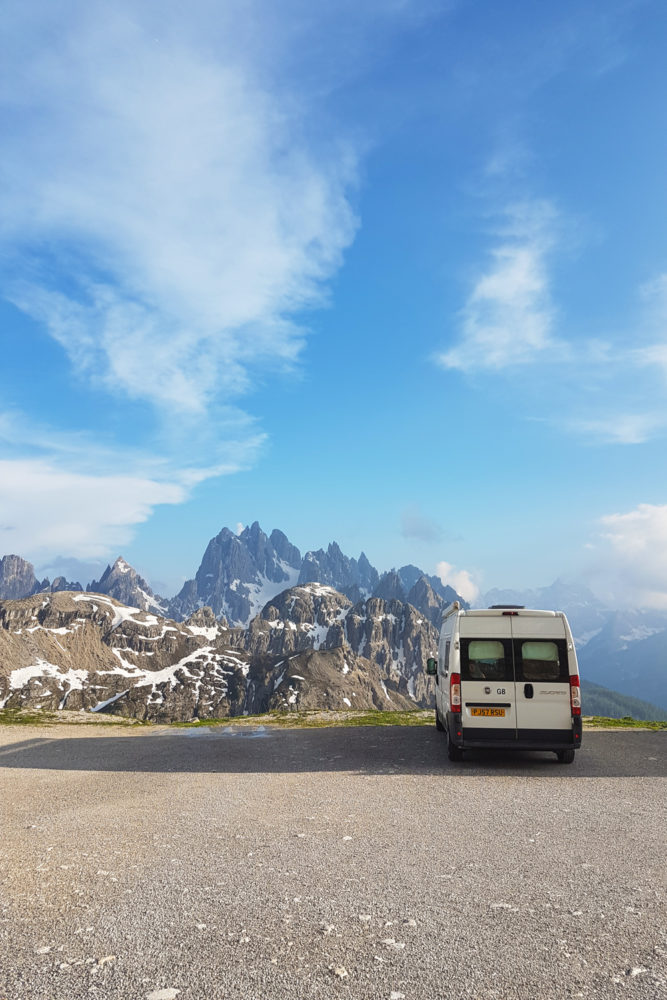 Day 7 – Tre Cime di Lavaredo
So we kind of did a huge detour on the whole trip because I really, really wanted to head to Lago di Braies, and the Tre Cime di Lavaredo, which was a good few hours north of the rest of the journey. But it was SO worth it. Tre Cime di Lavaredo turned out to be our favourite stop of the entire trip, and a night that we'll never forget. And we *almost* didn't head up there because we found out that morning while researching about it, that the road to the carpark was a toll road and would cost us €45 for the campervan!
We headed up anyway, and man was that road steep! I hated it, but the views from the top were amazing and I'm so glad we did it. We headed straight out to do the circular walk, which is actually pretty flat for the most part, but as the trail had only opened 5 days before we arrived, the snow hadn't been cleared on the second part of the trail yet, and so to me, it was too dangerous to traverse the tiny slushy path that everyone else had made to get across, so we turned back. The views were incredible though, and you can stay overnight in the carpark, so we did just that to get our moneys worth! We couldn't get over those views!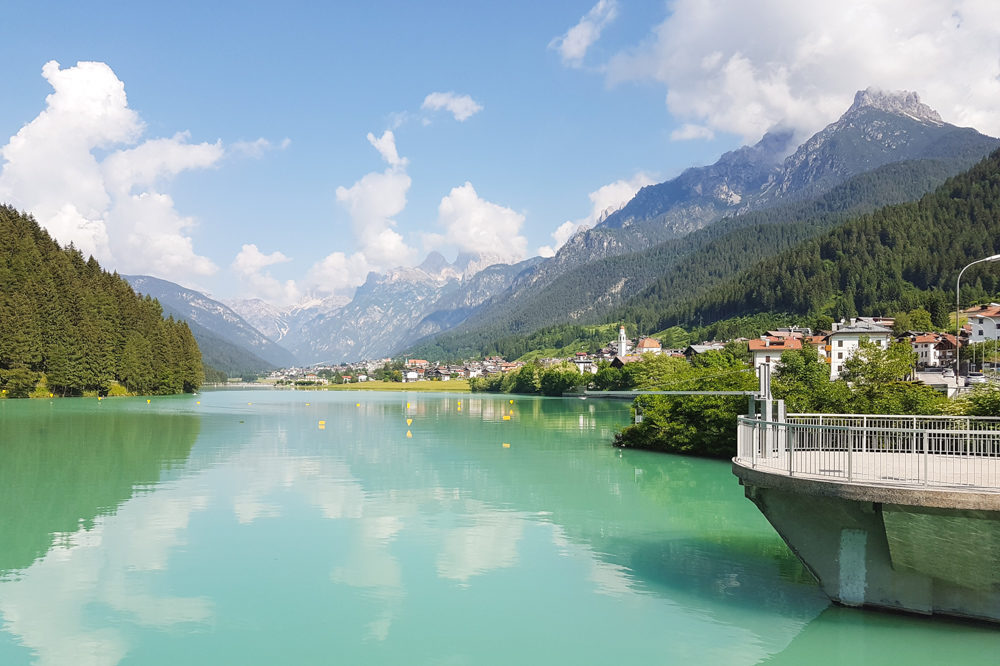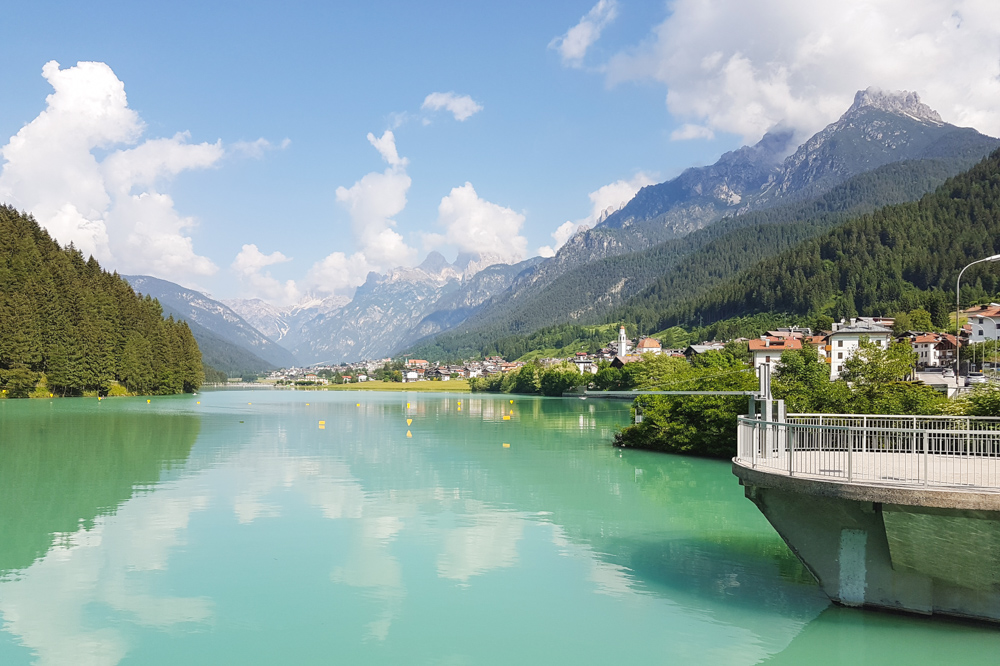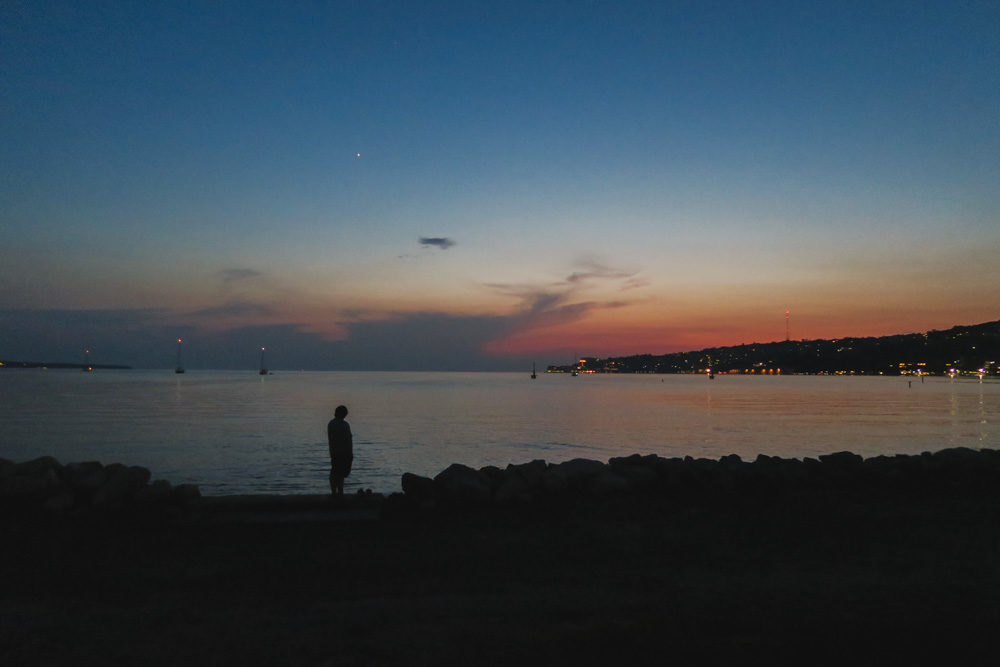 Day 8 – From Italy to Slovenia
Not every day goes to plan while you're travelling right? Well, our day driving from The Dolomites of Italy to Slovenia didn't quite go to plan. The roads up there in the Dolomites are insane, so the journey took double the amount of time than Google told us, but we did drive past some amazing views! It was crazy hot and humid and we were so over driving for the day. We headed to the coast of Slovenia, but as we arrived at Koper, they were shutting all the roads off into the main town faster than we could get in, so we scrapped that idea and headed to Piran instead.
Well that was a disaster too, because Slovenia is not very campervan/motorhome friendly, and all the parking was height barriered or full. So we scrapped that and headed to an aire that we found at the Marina. Well, go read the blog post to see how that one turned out haha!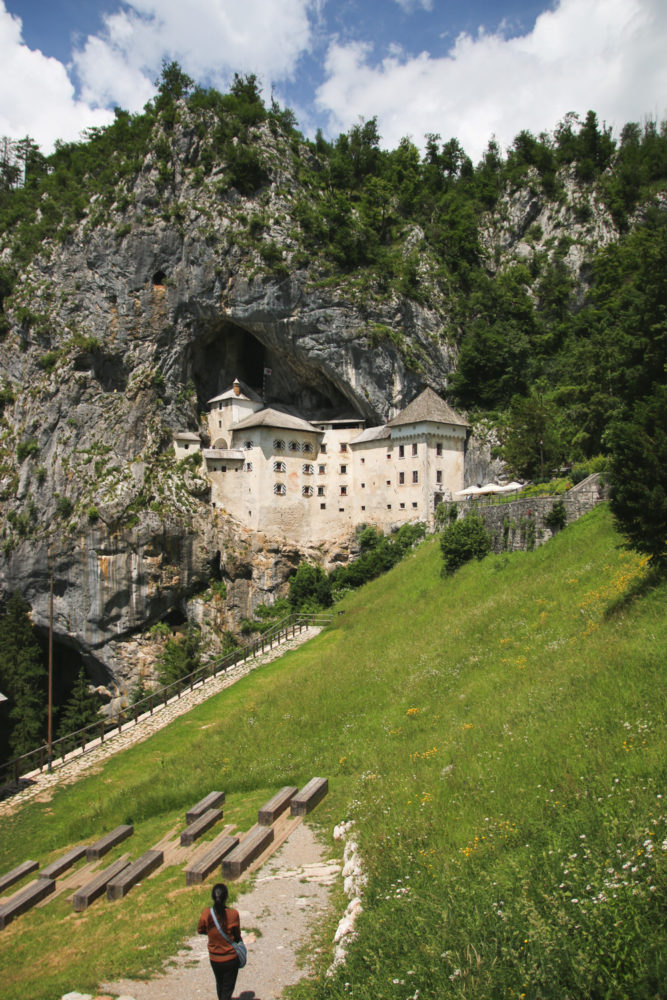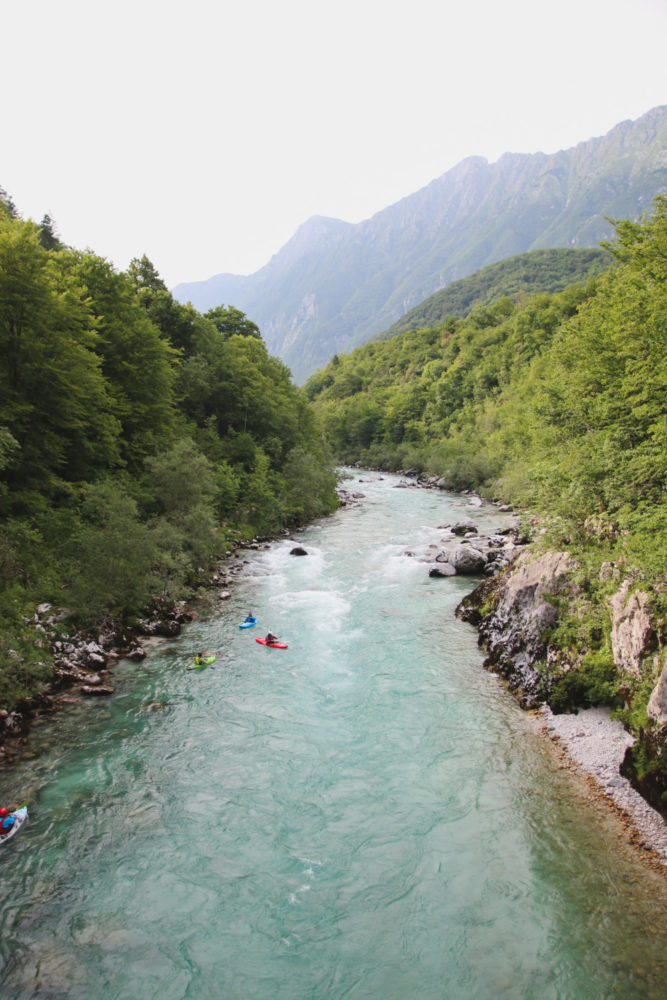 Day 9 – Predjama Castle & The Soca Valley
We headed back inland to explore more of Slovenia, and our first stop was to Predjama Castle. An old castle built into a huge cliff face and cave system. It was definitely worth a stop, and although we were unsure of whether to go inside the castle, because of mixed reviews online, we're so glad we did (get the audio guide – it's free)!
We then headed to somewhere I've been dying to visit for years! The Soca Valley. Just look at the colour of that river! We found a campsite right by the river, chilled out for a while and then went for a short walk to the Slop Kozjack waterfall, which passes right by the river. Definitely worth stopping by if you get the chance!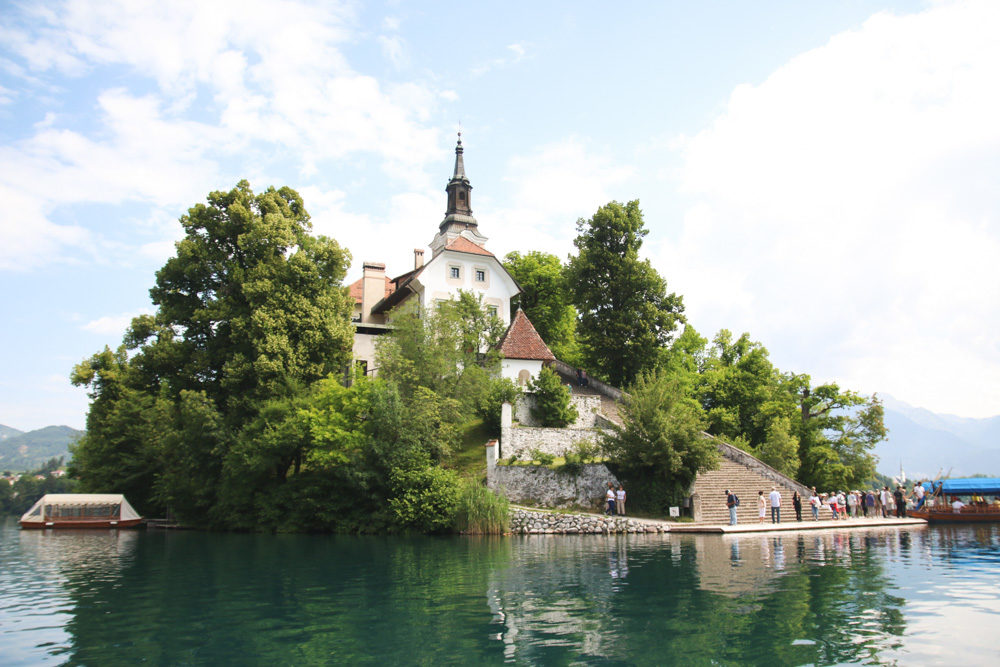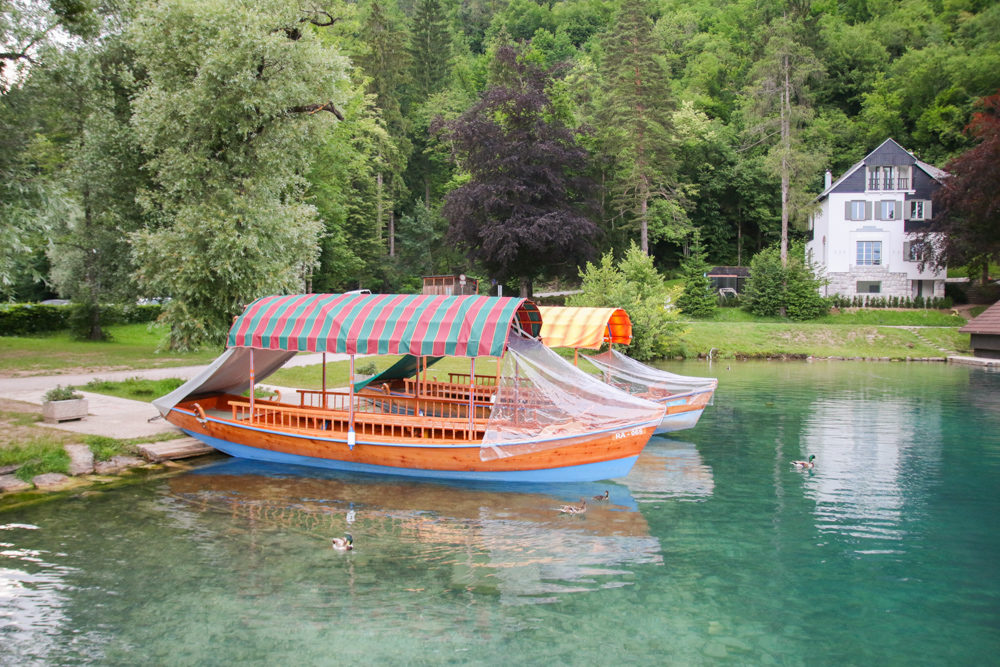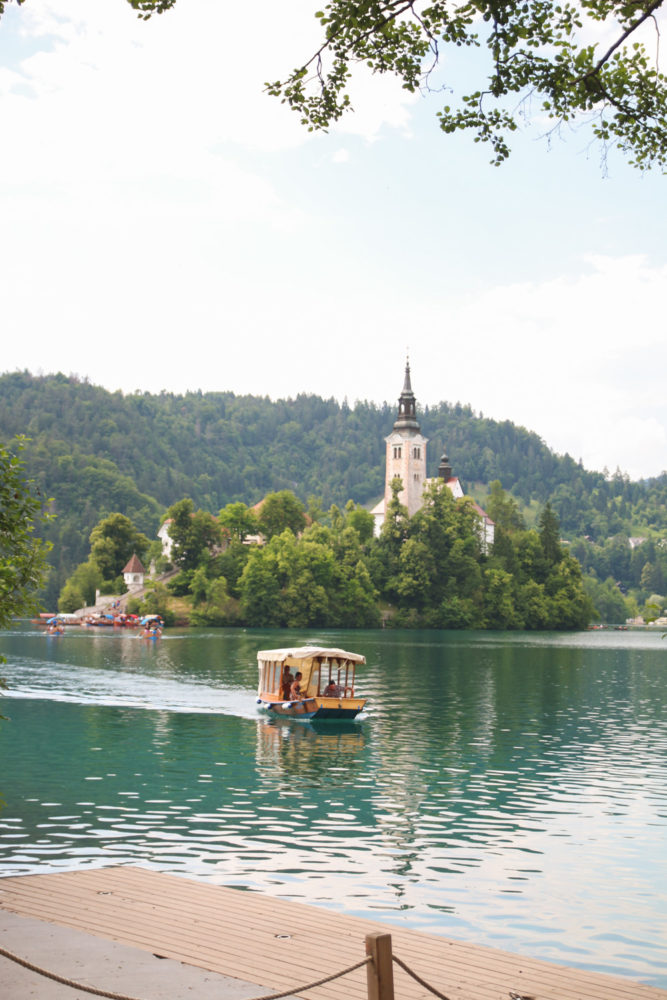 Days 10 + 11 – Lake Bled
This was the main reason we headed to Slovenia on this roadtrip! Ever since I first saw photos of the tiny island sitting in the middle of the lake, I knew we had to go there. It definitely didn't dissapoint! We spent the afternoon walking around the lake (it's only 6km) and taking in all of the views, before crashing for the night. It was SO hot and humid that we basically just didn't want to move!
The next day, we hired a row boat and paddled out to the famous island. What an experience that was haha! There's not much to do on the island, but it's well worth a little paddle out and around it if you have time. There's quite a bit to do at Lake Bled, so you can easily spend a couple days here.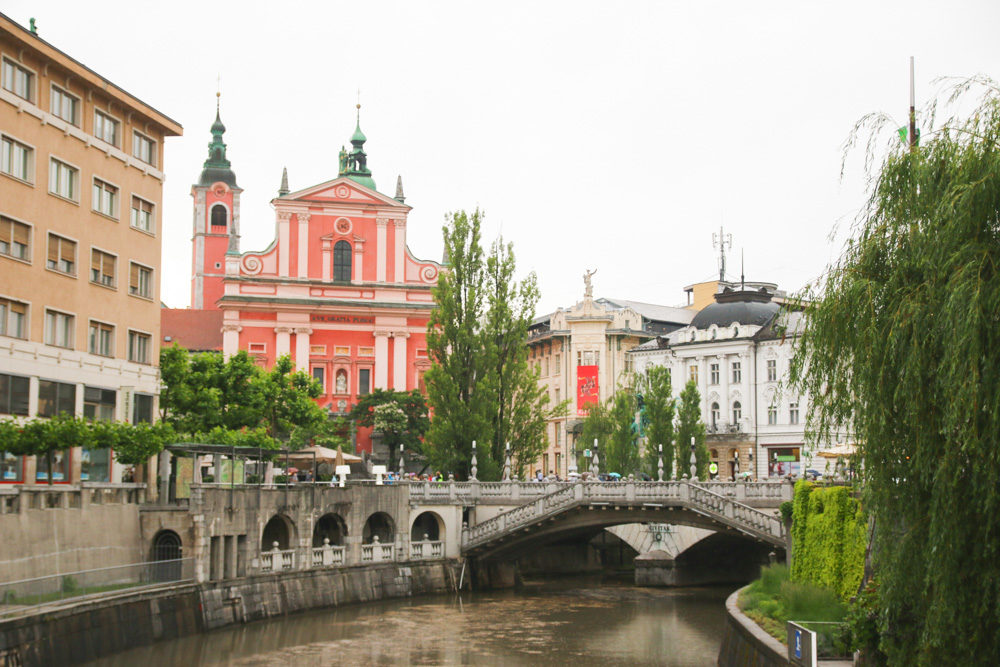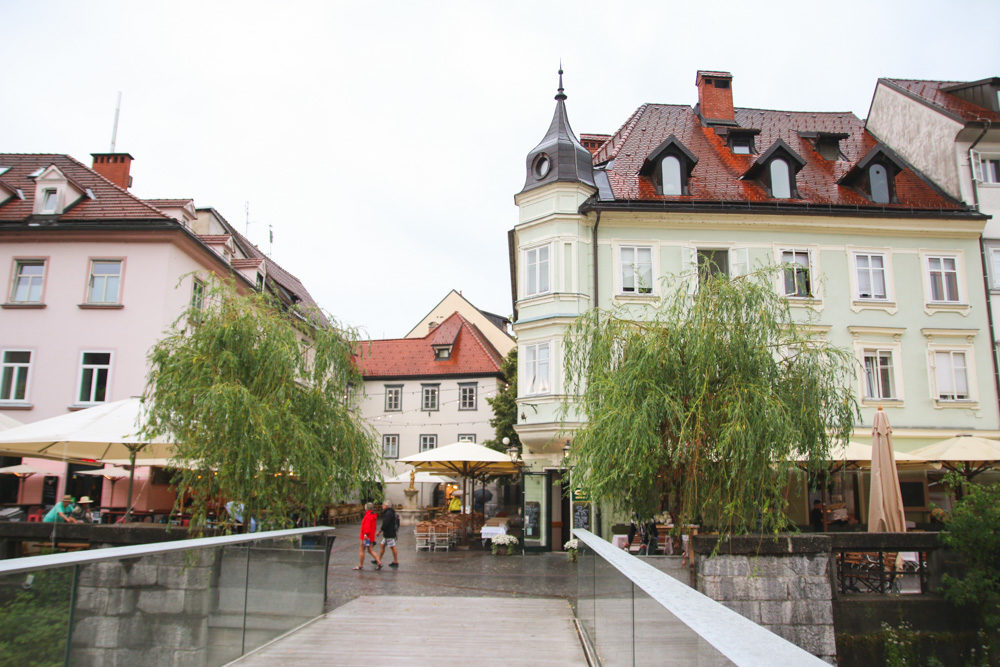 Day 11 – Ljubljana
After hiring a rowboat to paddle out to Bled Island, we hopped in the van and drove to the nearby train station to head to Slovenia's capital, Ljubljana (pronounded Loo-blee-ah-nah). Being a city, we knew parking the van would be difficult, so we decided the best and easiest option would be to head there on the train. It only took an hour, and Shane got a nice rest from driving (he fell asleep). We arrived to torrential rain and the worst thunderstorm we'd ever seen.
It eased off after a while of hiding under the train platorms, so we headed out in search of food and sights. It's such a lovely city to explore, and being so small, it really doesn't feel like you're in a city centre at all. We didn't get to see everything we wanted though, as we found our missing cat (she was missing for just over a year), and my mum called to confirm it was her. So we cut our day there short and headed back to the van to make a start on heading home early to see her! So after this point the trip was a bit of a rush, with long, long driving days. But we would have had a few extra days exploring Austria and Germany.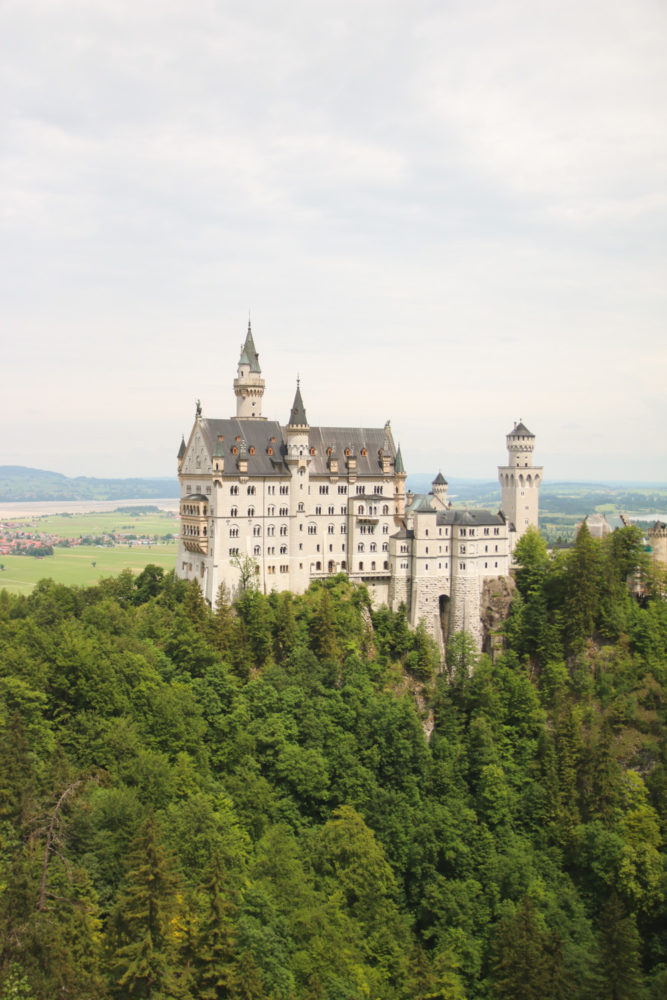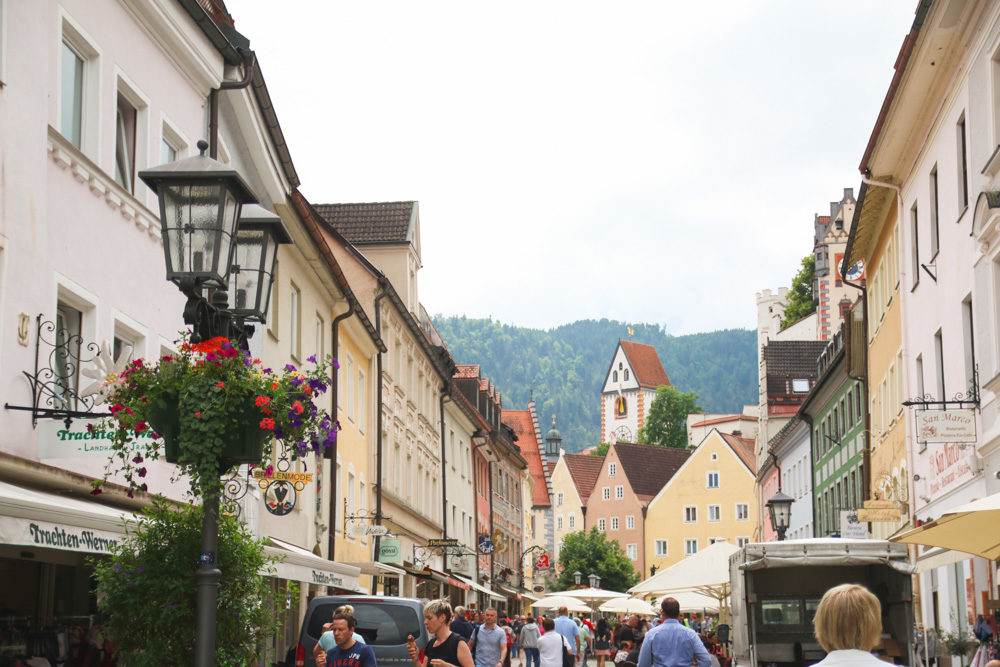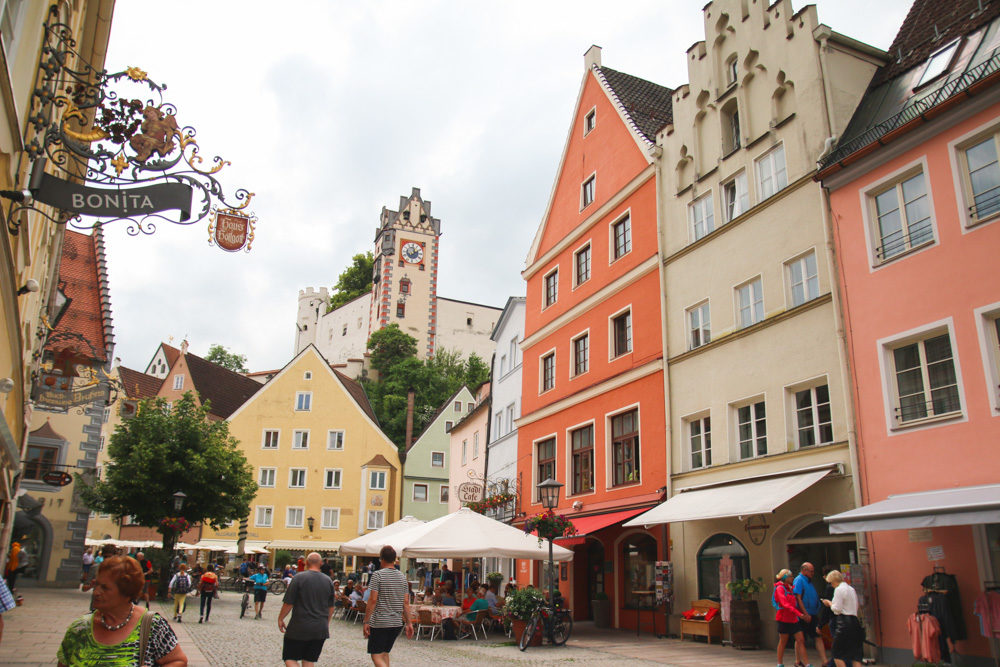 Days 12-14 – Hallstatt, Neuschwanstein + the Journey Home
So ideally, day 12 would have been us driving from Lake Bled to Hallstatt in Austria, exploring the town for a couple hours, heading up the gondola and then taking a slow drive towards a campsite near Neuschwanstein. But instead, we drove to Hallstatt, couldn't find parking, gave up and headed towards Neuschwanstein and just chilled for the afternoon/evening.
Day 13 was spent at Neuschwanstein Castle and the nearby town of Fussen. We loved the exterior of the castle, but honestly, the inside was a letdown. Save your money and go for a hike in the woods surrounding the castle to get the best views instead, as you can access all of the surrounding area for free (you only need to pay car parking). Fussen was such a lovely little town, filled with pastel buildings! I wish we could have stayed longer, but we had a long 8hr drive back to Luxembourg that evening, ready for our drive back to Calais the next morning for our ferry that afternoon!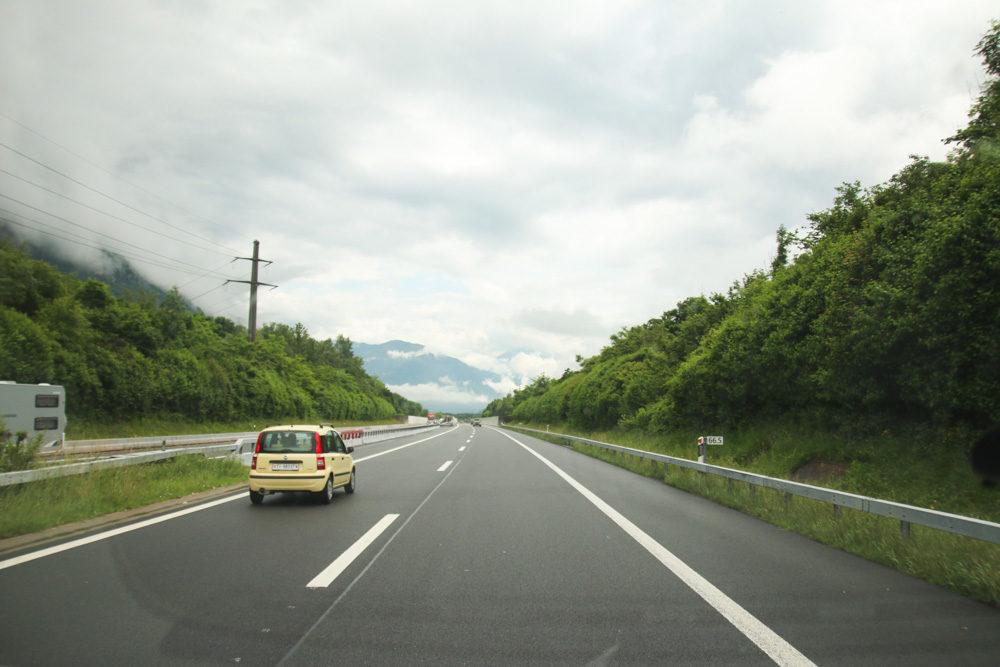 More Info
So, that's our entire two week itinerary. You can read the full posts on each day for more detail. We absolutely LOVED the trip, and although we had to cut the trip short (which we were SO ok with), we wished that we had those extra few days to see more of Austria and Germany.
I created a little Google Map below, which you can open to see the trip in more detail, including details of each campsite/parkup we stayed at throughout the trip, all of the places we visited for sightseeing and the entire journey. Just open it up for more details, or you can even save it to your own maps for future reference!
We'll be doing a full Q&A post soon, answering loads of questions about the trip, like how much it cost us, where we loved the most, which country was the most accomodating for campervans (and which wasn't). So, if you have any questions you want us to answer, just leave us a comment below and we'll include it in the post!
Where's your favourite roadtrip you've done in your van so far?