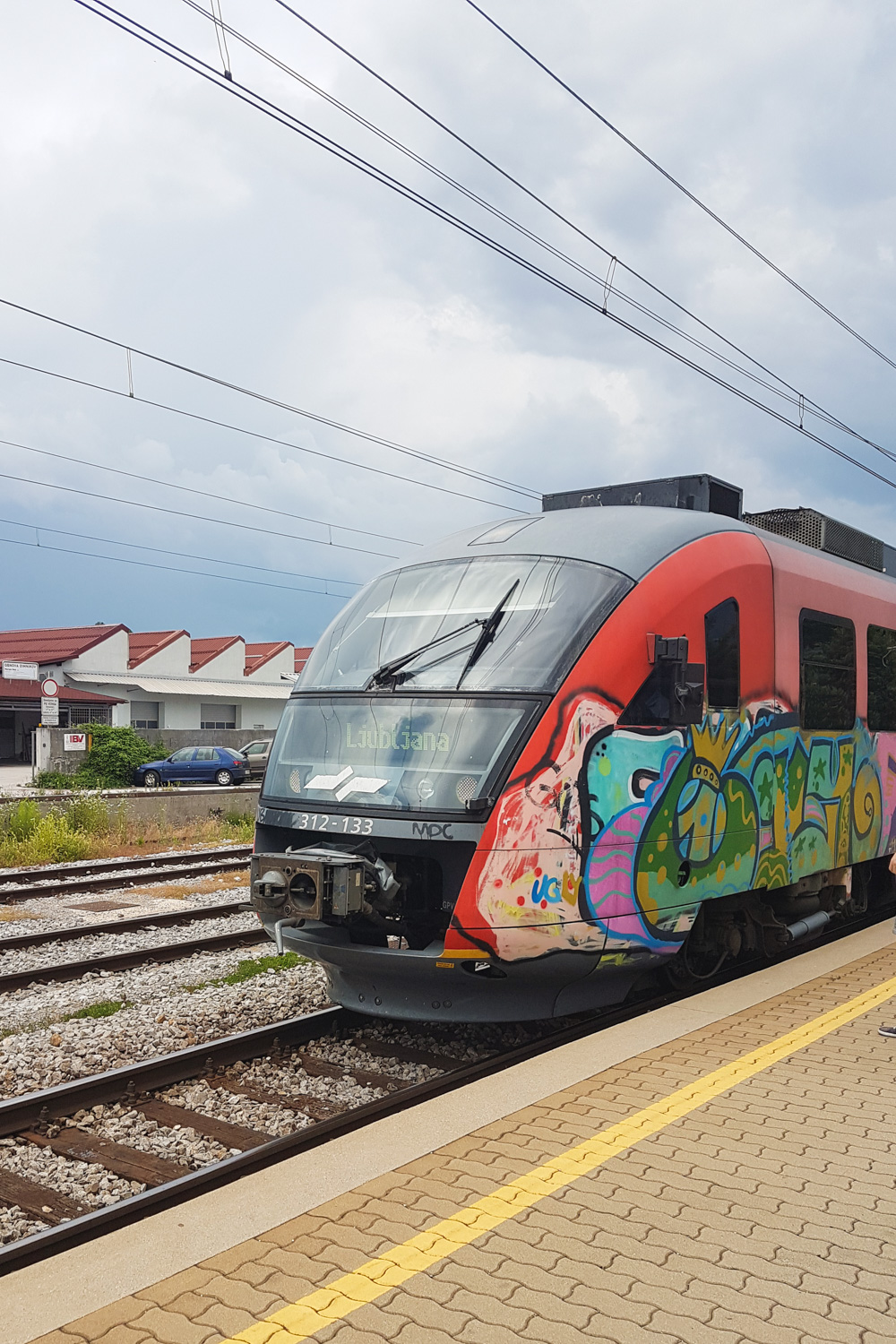 From Lake Bled to Ljubljana
As I've said before, Slovenia was probably the worst place we visited for accessability for campervans of the entire two week roadtrip. Almost every carpark had signs up saying no parking for campers/motorhomes, both during the day and night, and a lot of the car parks had height barriers.
We hadn't visited any cities so far on the trip, so heading into Slovenia's capital city, Ljubljana (pronounced Loo-blee-ah-nah) we knew was pretty much going to be impossible to park. I'd done a quick bit of research online the night before, and most people were saying parking for motorhomes/campers was pretty impossible. So we stuck to our idea of hopping on the train from Lake Bled to Ljubljana for the day instead.
After our morning spent rowing on Lake Bled, by the time we arrived at the train station, it was already 11am, and the next train wasn't for another hour. One thing to note, is that Lake Bled (Bled-Jezero) train station doesn't go to Ljubljana. You have to go to Lesce-Bled station about a 15 minute drive out from Lake Bled towards the highway, to catch the train from there.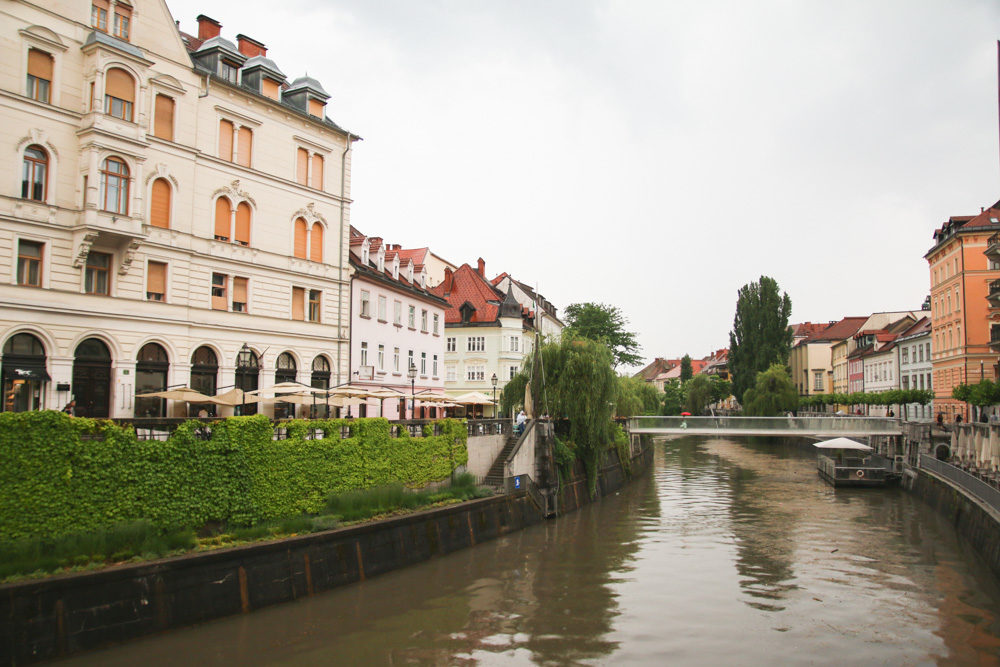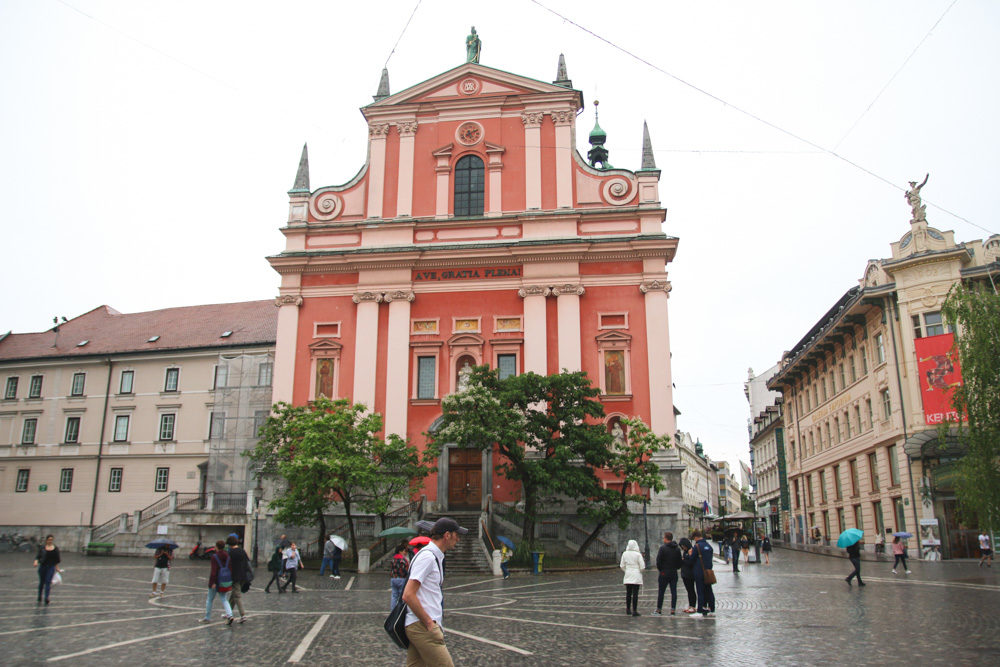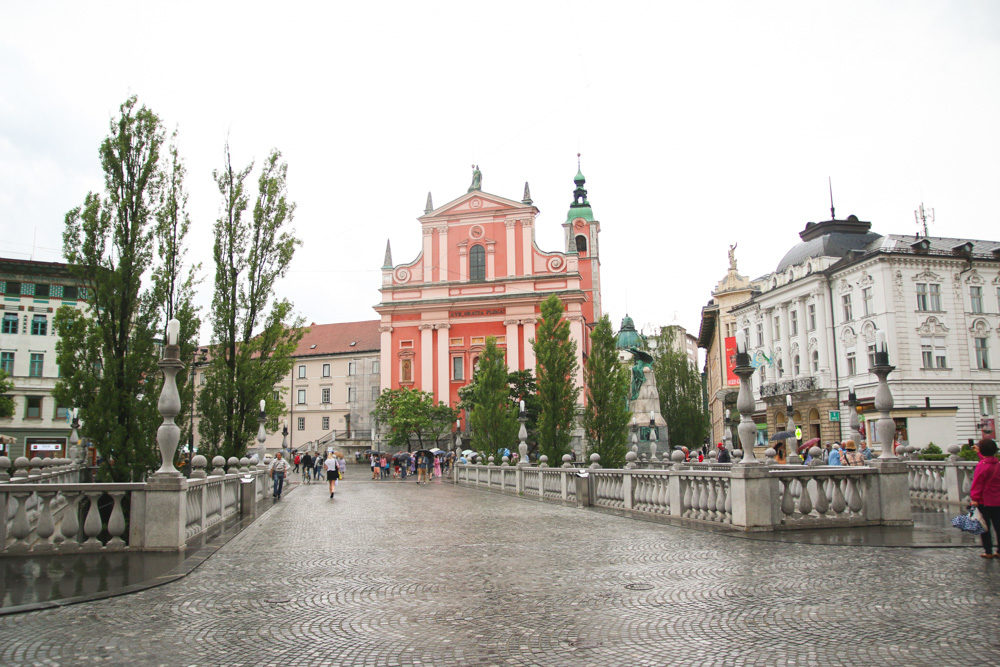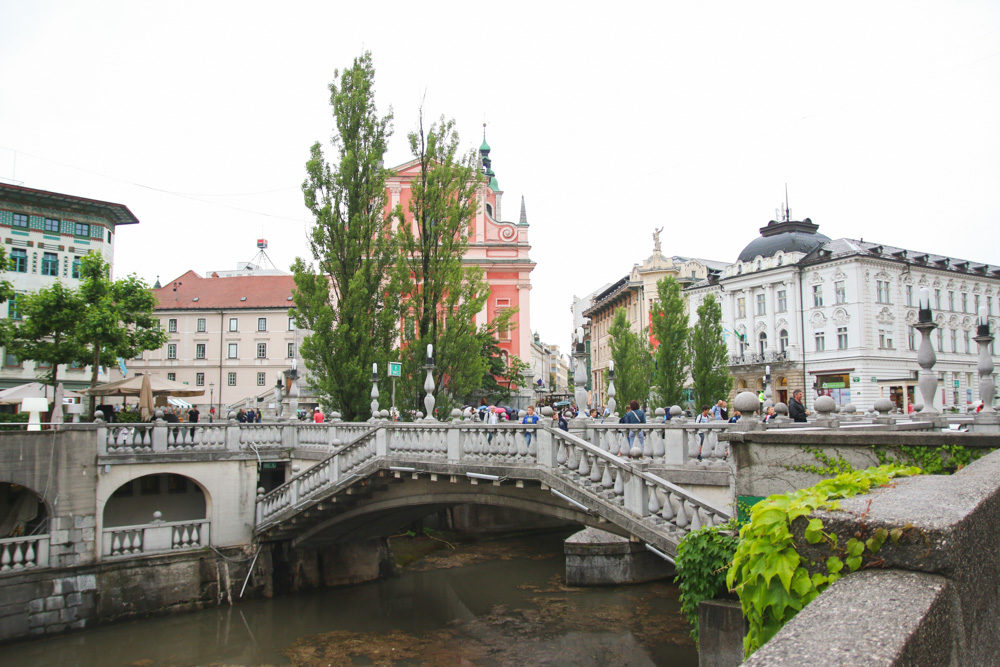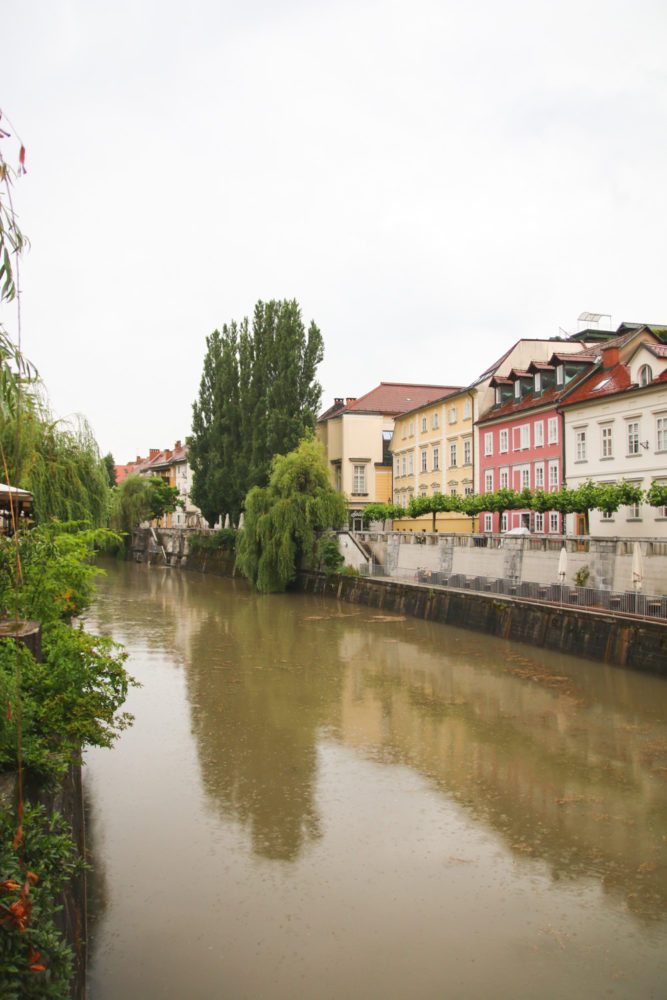 Ljubljana
The train took roughly an hour and was a direct route from Lesce-Bled to Ljubljana Central. We left the blue skies of Lake Bled for the rumbling grey clouds of Ljubljana. I stupidly left my waterproof jacket in the van, and by the time we arrived the heavens had opened!
I've honestly never heard thunder and seen lightning like it before (and I'm terrified of thunderstorms), so we just stood in the train station waiting for it to pass. People were coming in with their umbrella's SOAKED. Like they'd just jumped out of the river soaked! It was crazy.
Eventually it lightened up enough for us to head out and go for food. We ate at Cantina Mexicana and it was so so good! We definitely recommend stopping there if you fancy some Mexican food in Slovenia!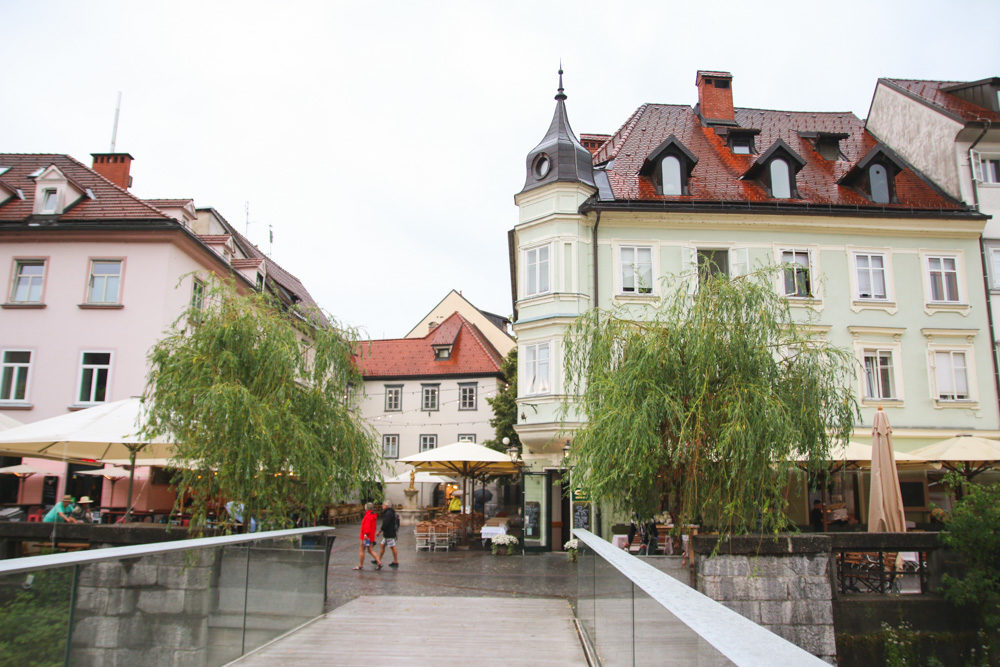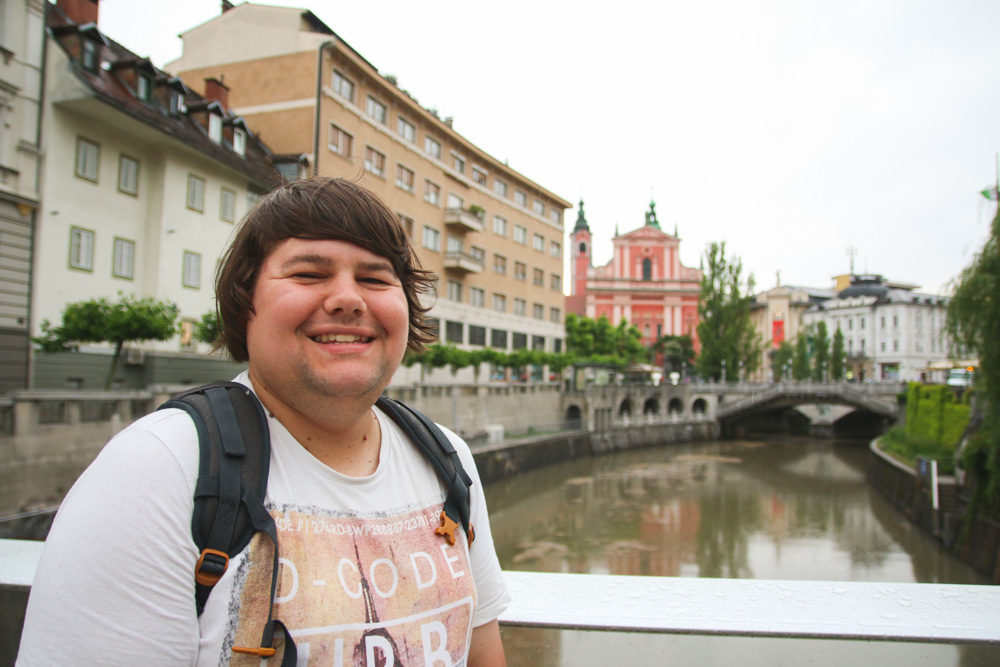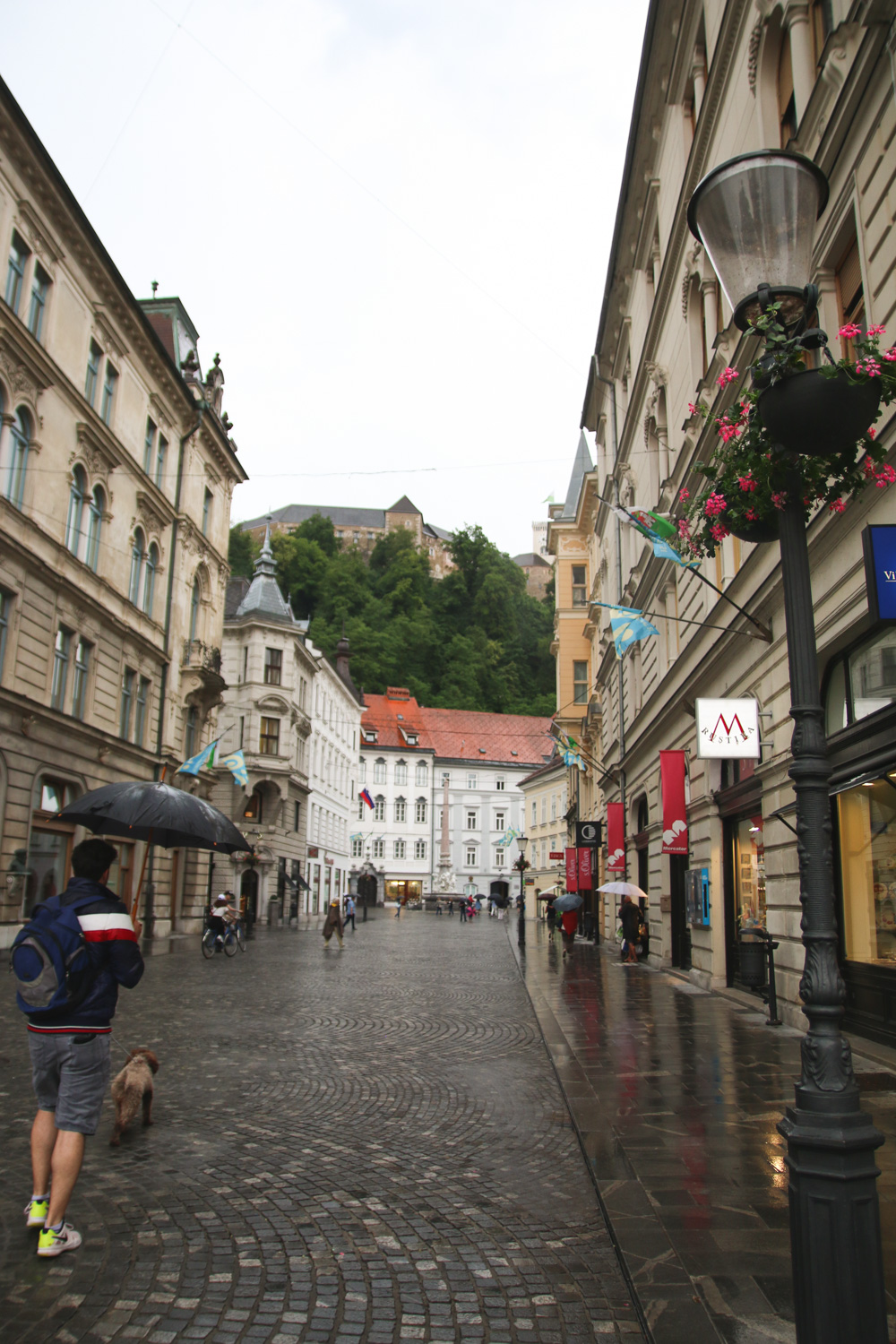 The walk from the train station to old town Ljubljana is about 10 minutes, and one of the first things you see when you arrive is the famous Triple Bridge. It was originally built as one bridge and replaced by the current bridge in 1842. To prevent any bottlenecking on the bridge, in 1929 two footpaths were installed either side of the main bridge, creating the famous triple bridge.
We walked along the riverbank for a bit taking in the city. The vibe was so nice there – I can imagine on a nice sunny summers day, the restaurants and bars would be filled, especially come evening. And the architecture was so nice too!
As you can see, the river was a lovely shade of brown when we arrived. It had so much debris floating in it from the thunderstorm (like grass and things that had washed into the river), which was not what we were expecting to see. It's usually a lovely shade of green. We heard one tourist walk up to the bridge and say to his friends "well, it didn't look anything like this the last time we were here" haha!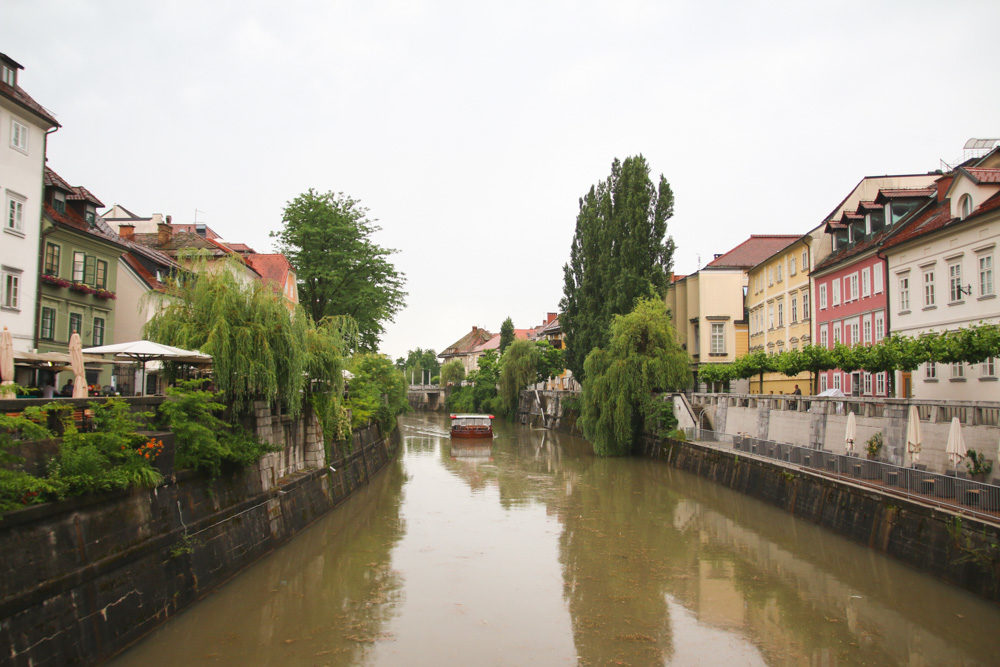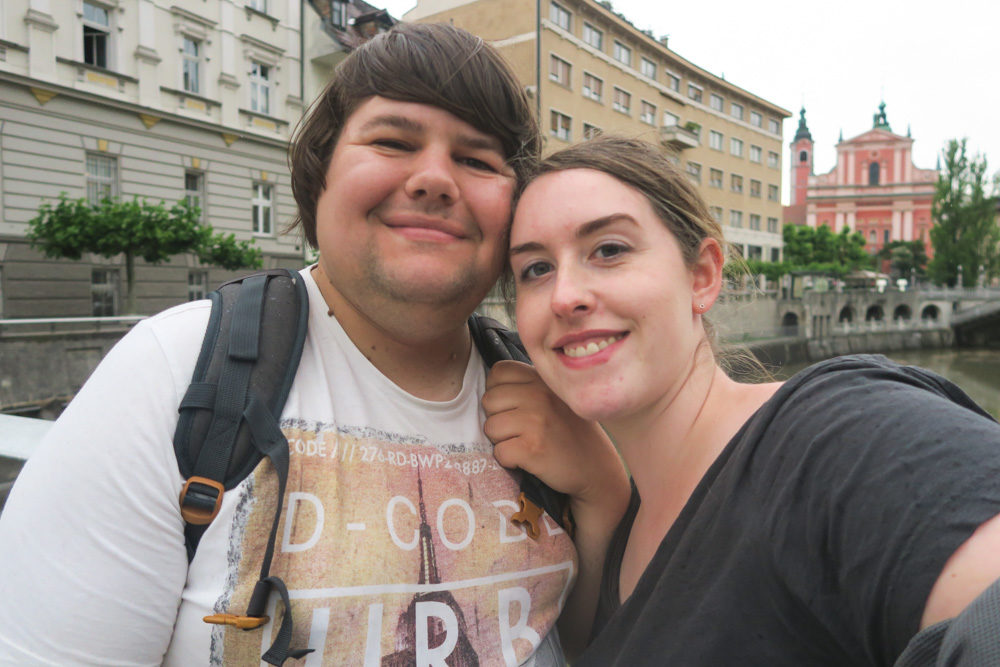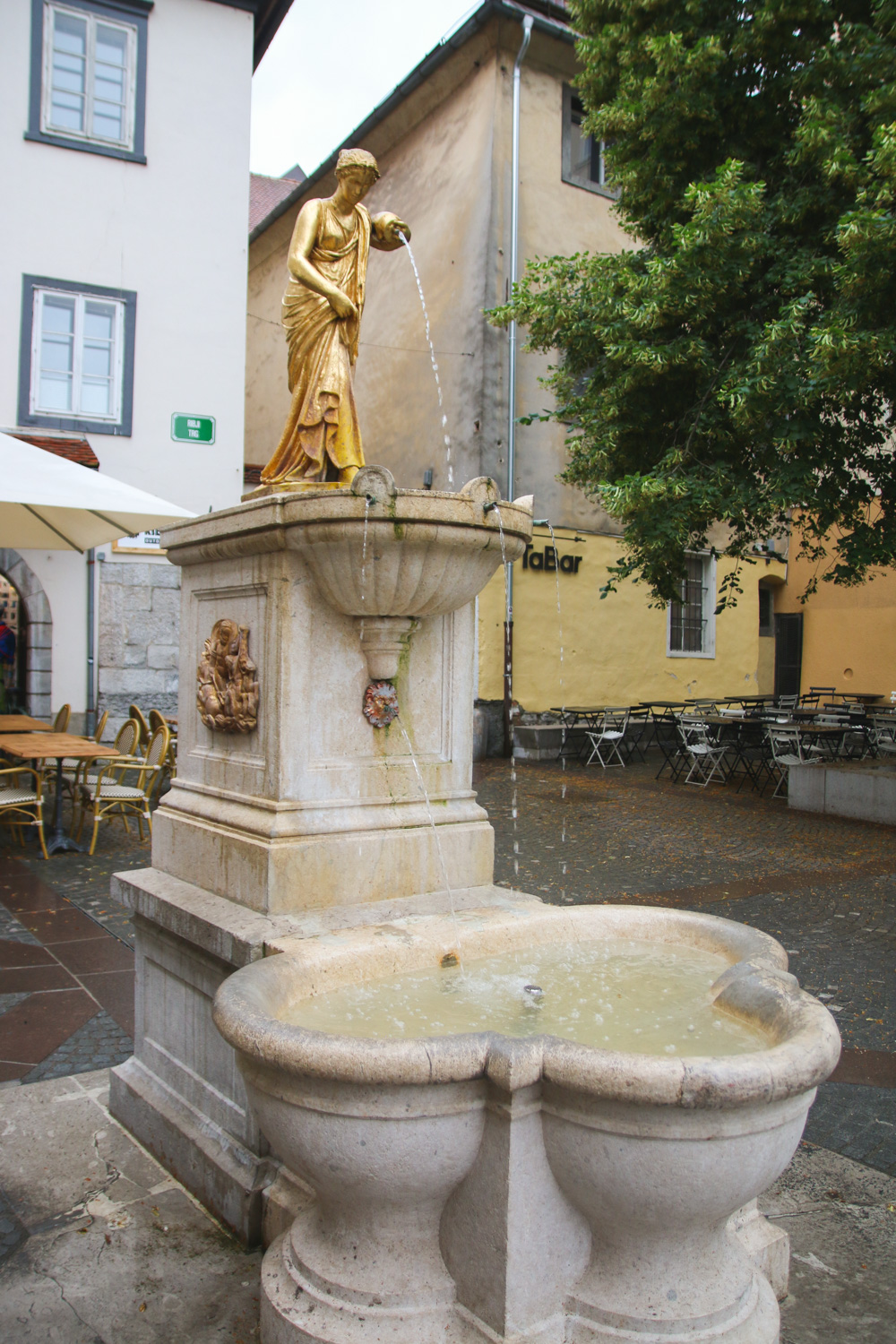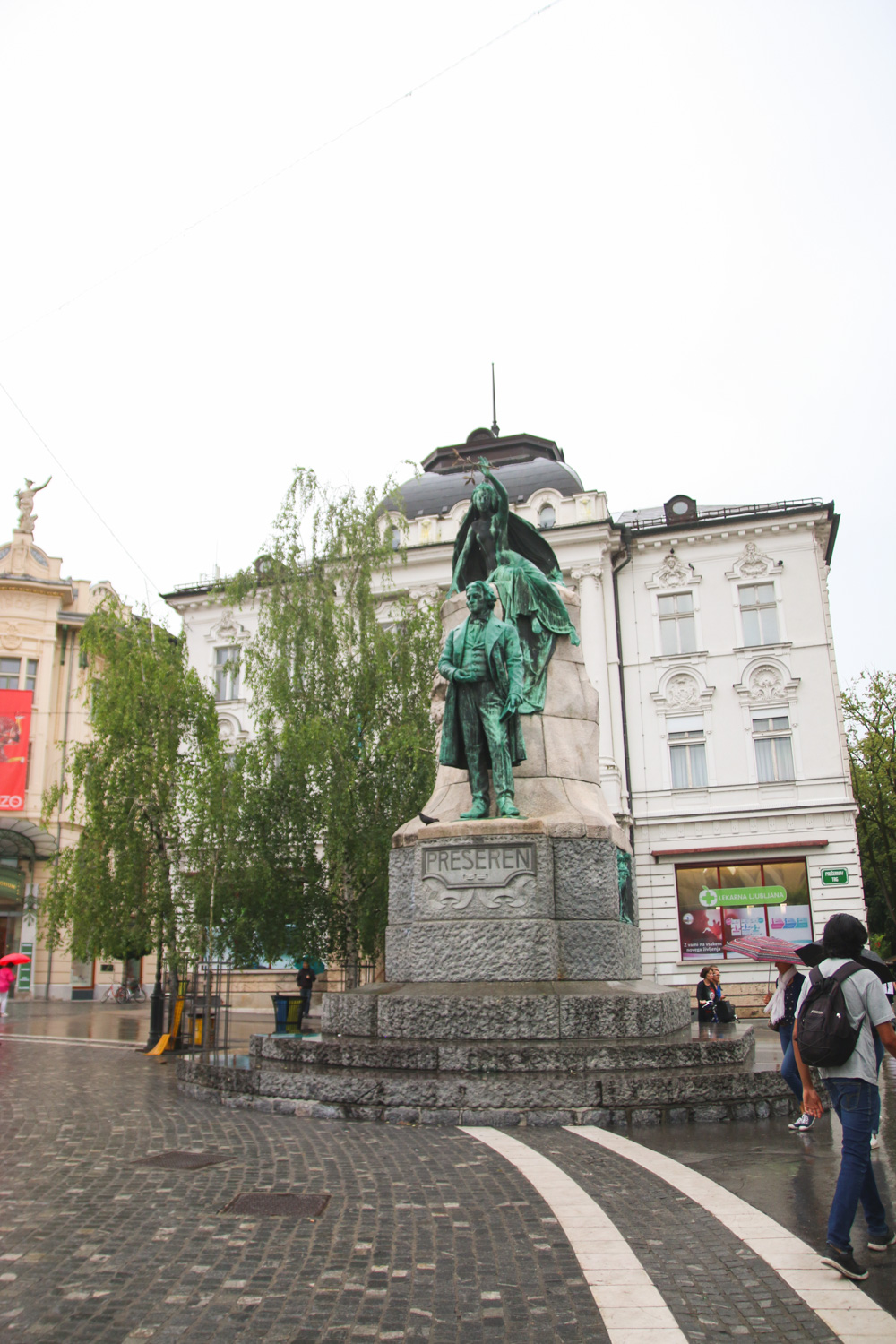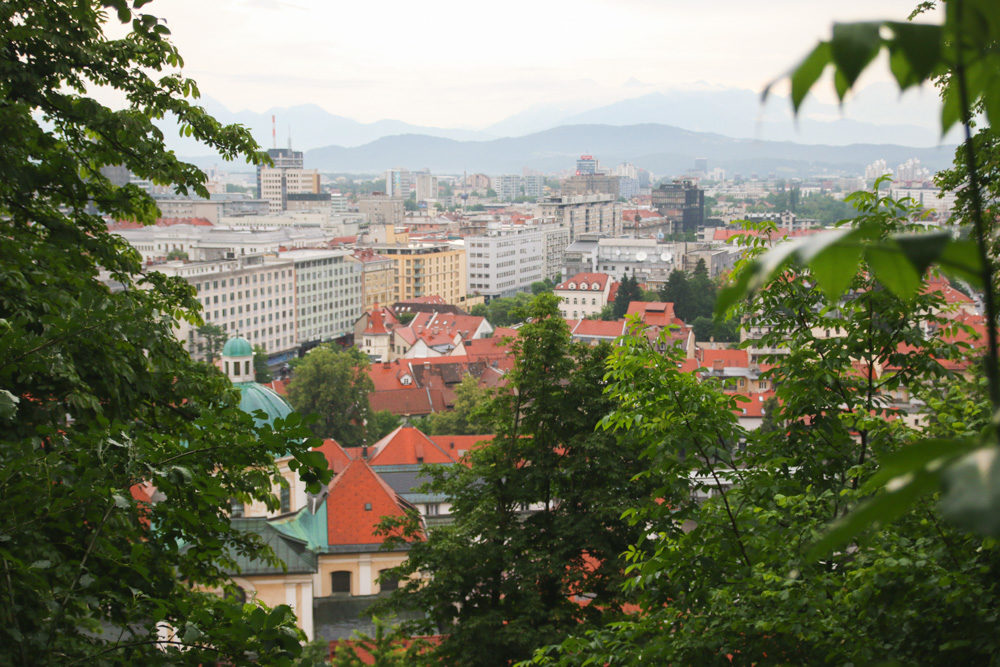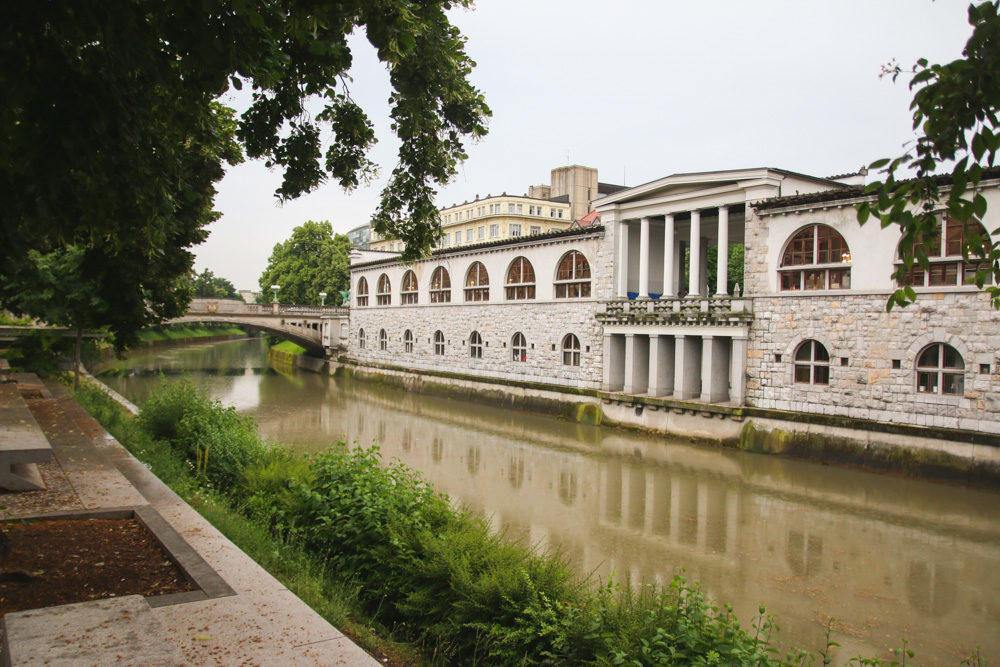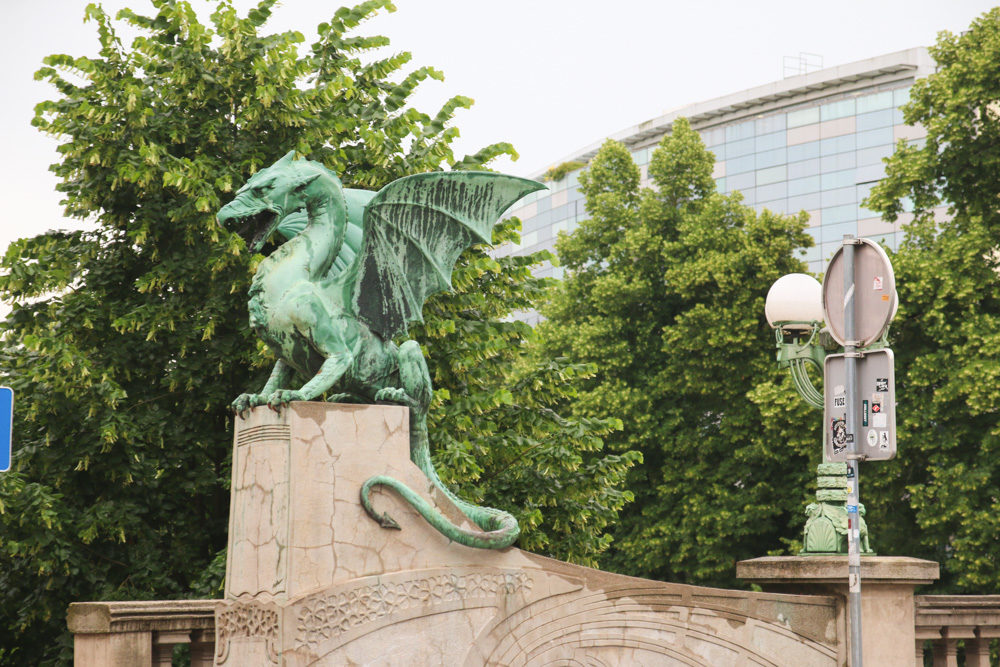 And then this is where our entire trip took an unexpected (happy) turn and got cut short by 5 days. While we were sitting in the train station waiting on the train to Ljubljana, I was scrolling through our local lost and found pets facebook page (which I did every single day after our cat went missing in May 2017). Well, someone posted the night before asking if this cat belonged to anyone, as it had been coming to their garden each night for the past few months. Instantly, I knew it was our cat Keeko. We compared markings and I sent the post to my mum. She contacted the woman and arranged to go around when the cat appeared again to get the microchip checked, just to be sure.
Well, we left it at that, enjoyed our lunch and explored Ljubljana for a couple of hours. As we were walking up the insanely steep hill to Ljubljana Castle (in the rain that had just started again), I got a phone call from my mum. It was Keeko! I burst out into tears. My mum burst into tears. Everyone was in tears! At that point, Shane decided that we'd cut the trip short and head home to see her. And I was totally fine with that. She'd been missing for 377 days (A year and two weeks exactly). I couldn't believe she was home! We think she hopped into an ambulance that night and was taken to the other side of town where she lived wild until she found shelter in this person's garden. I have no idea how she survived the insane winter we had with all that snow.
Needless to say, we didn't make it up the hill to Ljubljana Castle. We hopped on the next train back to Lake Bled and then drove 4hrs north to a tiny campsite in Austria for the night. Though, we still had one place left to explore before hopping on a ferry home.
But, if you do visit Slovenia, I absolutely loved Ljubljana! I don't think there's too much to see and do after about a day or two there, but I definitely recommend visiting! Just be sure to hop on a train into the city if you're in a campervan. It had such a lovely small town feel to it, and was named the European Green Capital award in 2016 for creating a green, clean, safe and sustainable city.