Some of our favourite parkups have been completely free aires we've found on our travels. Others have been campsites. We like to do a mix, but to keep costs down we try and stay on aires or wild camp as much as possible. Our van has everything we need to be completely self-sufficient for at least 3-4 days until we need to stock back up on fresh water and empty our waste.
Here we share some of the countries we've found it easy to find free or cheap aires while travelling in Europe. I know there's other countries like Norway and Finland which are amazing for wild camping, but we haven't been there ourselves to experience it (yet) so here's our top few out of the ones that we have visited so far.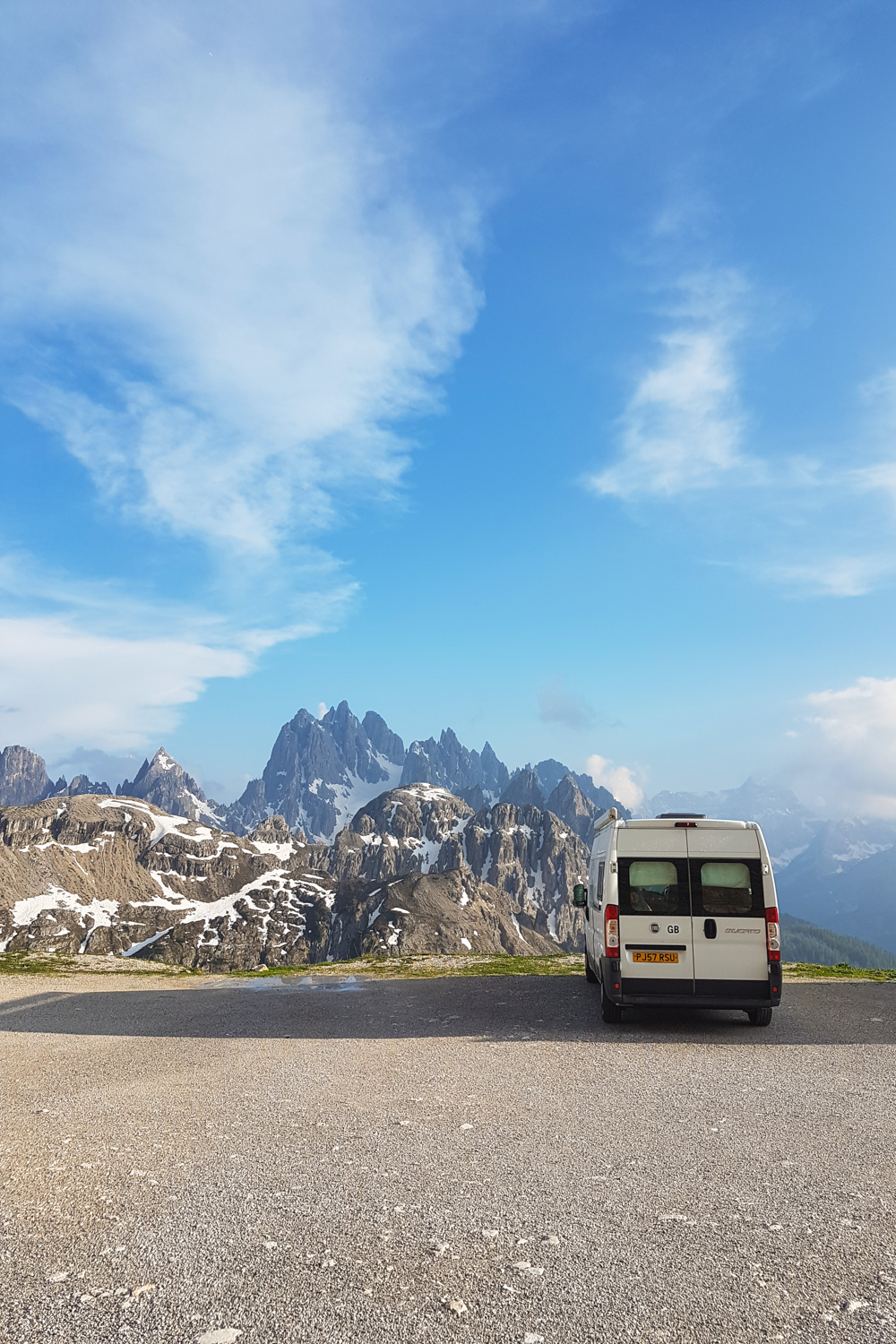 Italy
We found finding good parkups in Italy quite easily. Most of them we did have to pay for (but this was our choice as it was our first trip to Europe in the van, and using aires), but we never struggled to find somewhere to sleep for the night, and every one of them we had a perfect night sleep in amazing locations. One was spent on the lakeside of Lake Como, another on the shore of Lake Garda (that one was a carpark, but still, the views were amazing) and our favourite stay – at the top of a mountain in the Dolomites (which was definitely worth the €45 toll road fee to get up there)!
France
On our first trip to Europe, we passed through France, but on that occasion we didn't have our porta-potti so we used campsites. On our most recent trip which took us through Spain + Portugal, we drove back to the UK via France. We made a few stops and it was so easy to find lovely aires there.
I think France is one of the most well known countries in terms of finding cheap or free aires and there's plenty of them around and they were all in nice, quiet areas with no problems. One was even in the woods at the back of a housing estate where we woke up to the most amazing misty sunrise surrounded by trees.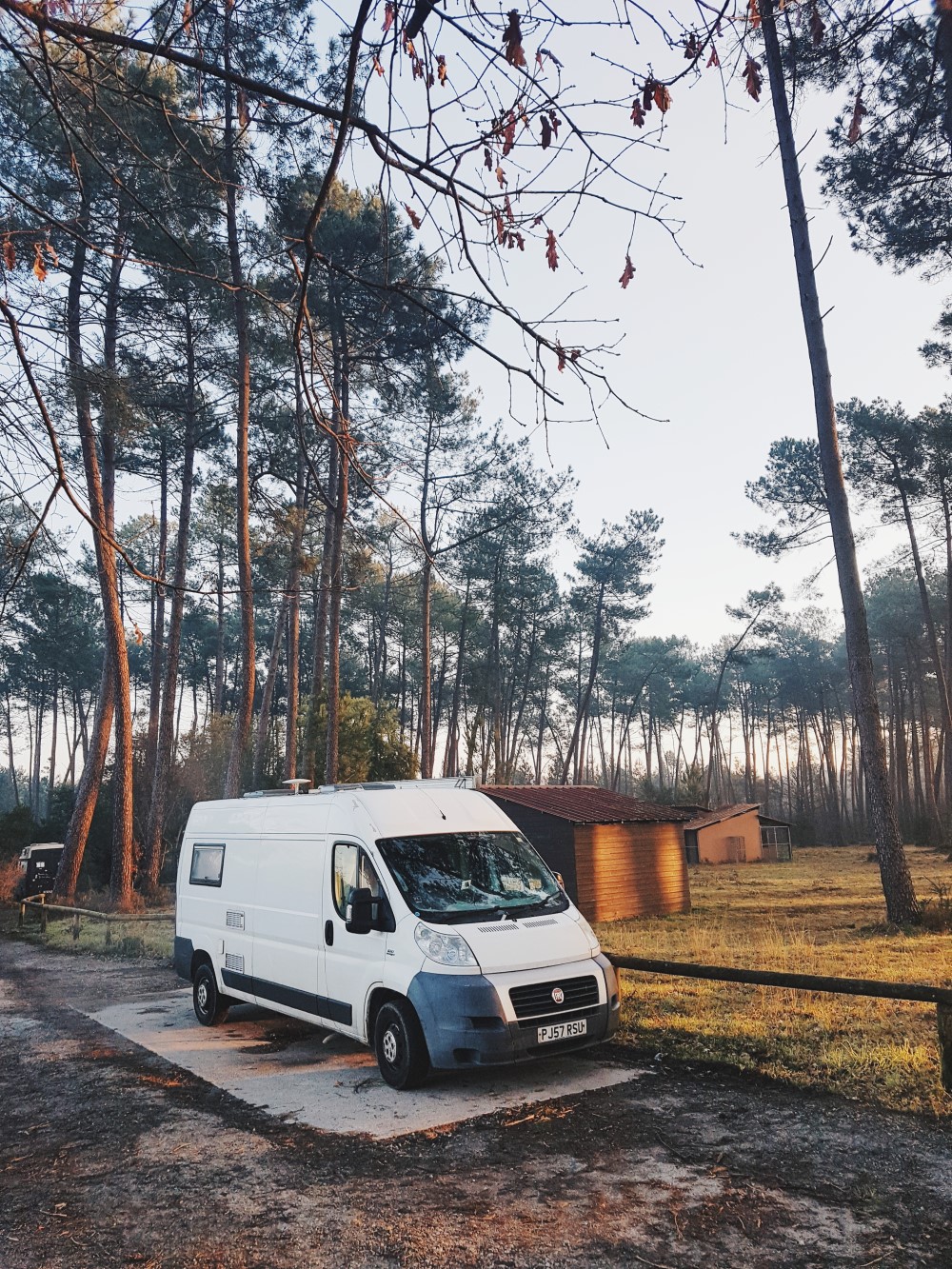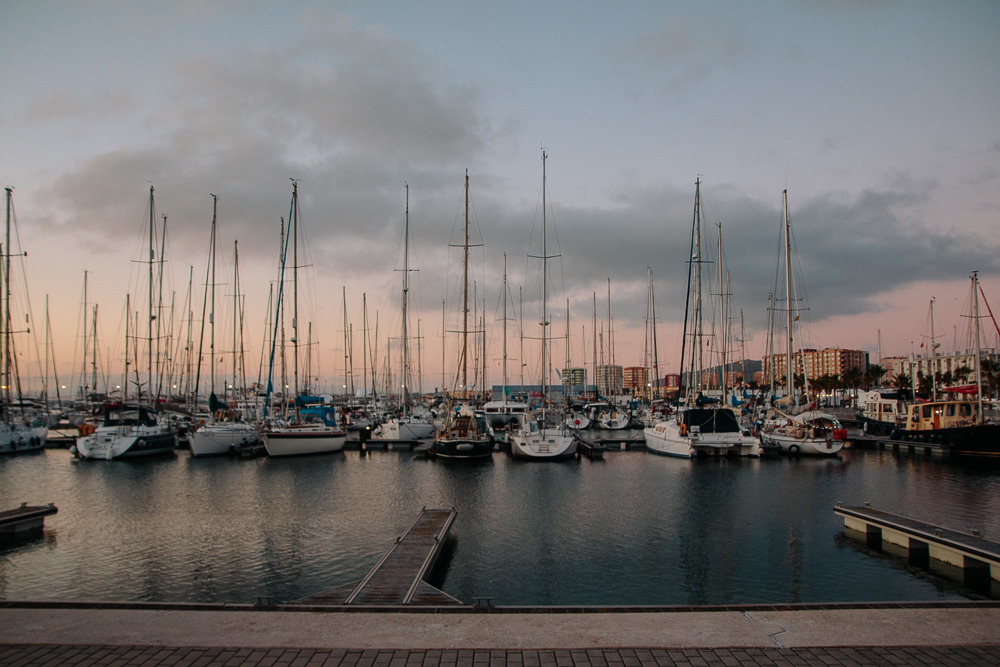 Spain
We were a little bit worried about Spain after seeing on Instagram a few of our friends and people we follow get broken into while on their travels, but luckily we didn't have any problems while we were there, but we did have some amazing spots to sleep for the night (with no issues).
We slept in a marina at the crossing for Gibraltar which was definitely one of the highlights of the parkups in Spain, we slept at the top of a mountain overlooking a lake, and a few carparks with electric and waste disposal as you'd expect and all of them were lovely. We didn't have any trouble finding places near to where we were or were headed!
Portugal
It was our dream for so long to take our van to Portugal and we finally did it over Christmas last year. We found Portugal to be super accessible for vanlife, with supermarkets having drinking water, waste disposal and laundry services, and plenty of free and paid aires, though those did become a little few and far between as we got down to the Algarve region.
The GNR are well known for fining people wild camping in certain areas along the south coast, so this was a big concern of ours, but we managed to avoid them by staying in well reviewed areas, and avoiding anywhere that fines had previously been issued and moving on every day. I think it becomes a bigger issue during the summer months with the volume of people that head there.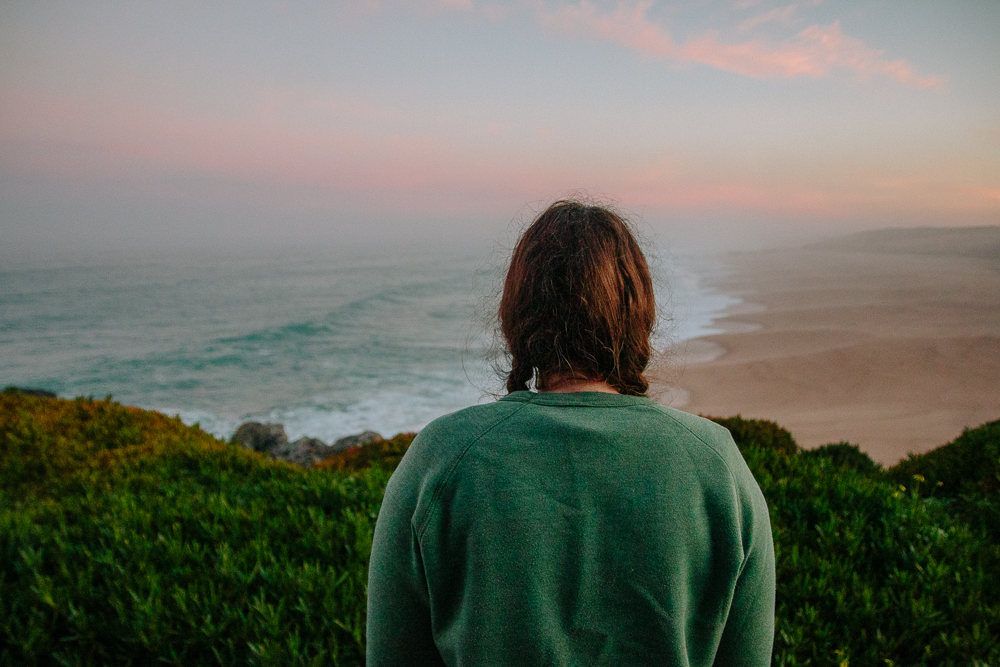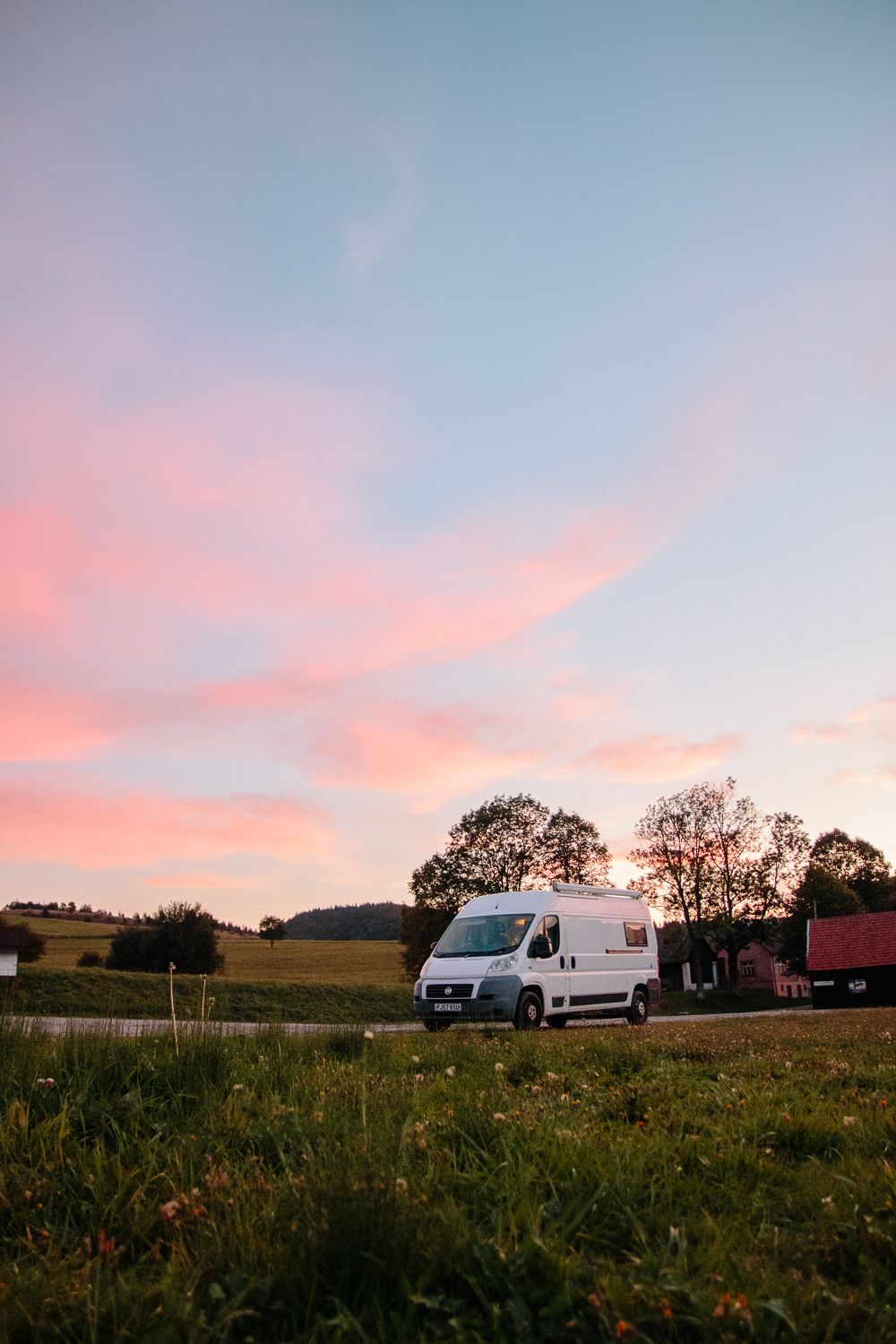 Slovakia
Ok so this is a bit of a cheat one because while we had the most amazing views in Slovakia for our parkups, it was very hard to find decent ones. There were plenty around on Park4Night, but they had bad reviews of either locals or police moving people on, or just filled with litter.
The first night we arrived in Slovakia we had the most amazing lakeside parkup. We had no issues, went to Bratislava for the day, then headed back there. After an hour or so of being there, we were told to leave by locals, so we ended up back in Bratislava for the night next to some party boats. That was fun. The next night we camped in a carpark for a ski slope out of season at the back of a village and had the most amazing views and luckily, no issues there. It was very hit and miss there, but the views were stunning!
Germany
We were supprised to find Germany so accomodating for campervans! We've been there a few times now and each time we've never had any issues finding somewhere to park up, or empty our waste. Most of the places that we've stayed have been carpark style aires (one was literally a few designated spaces in a regular carpark), but the good thing was knowing that we were safe to be there with no problems and all of them were free to use, where you just paid 50c for electric overnight.
So there's our list of our favourite places for wild camping and aires in Europe so far, but I'm sure this will grow the more we explore Europe. Where are some of your favourite countries that you've found for wild camping or aires?