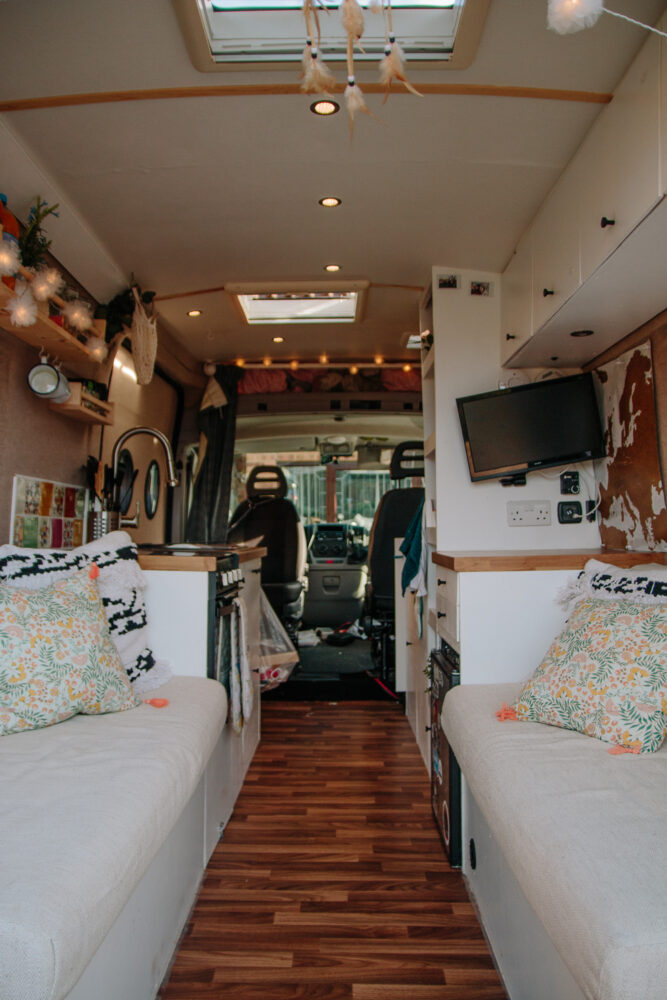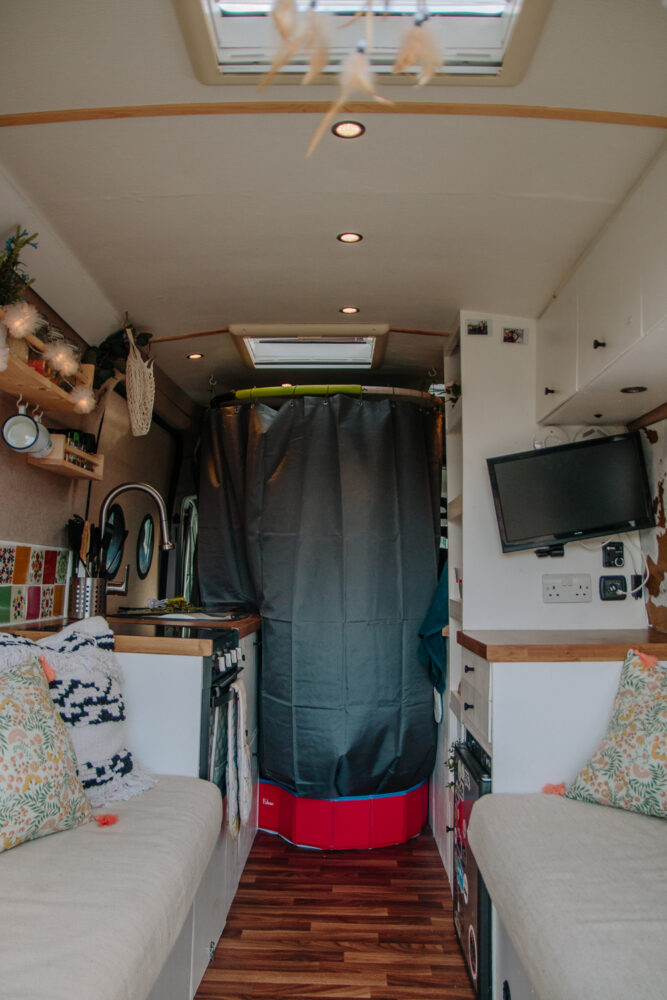 Do you Need a Shower in a Campervan?
Initially, we planned to have a whole wetroom in our van, complete with toilet, a folding sink/mirror setup and a shower. It took up a huge chunk of space in the van, but to April, it was a necessity – when you're wild camping with no access to showers, you want to be able to go to the toilet easily and keep clean right?!
Well, over time, our opinions changed. We went to a few meetups and got talking to people who converted their own vans and lived in them full time, and they didn't have a shower in their van at all! Some people we spoke to had motorhomes that came with bathrooms in them, and you know what… they rarely used their showers!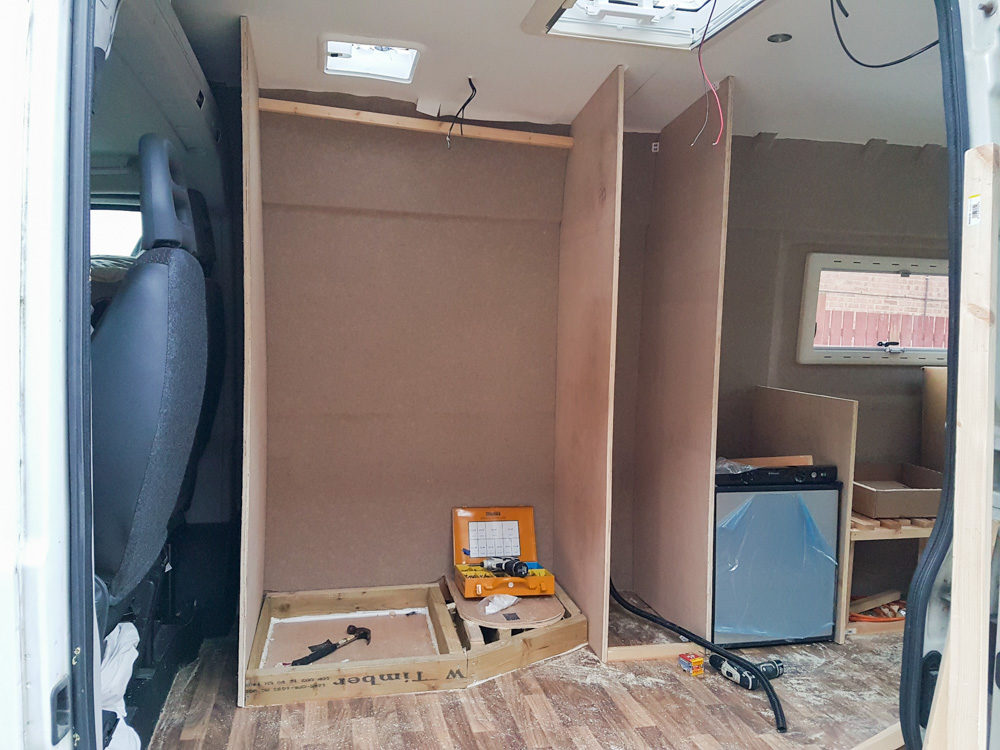 The shower area before
After about a year and a half of having the area cordoned off in our van (which was mostly used as a dumping ground for bags and our porta-potti, we decided it was time to rip it all out! Yup, we decided to get rid of our bathroom!
We took a 2 week roadtrip to Europe a few months before in the middle of summer, and for the beginning of the trip, we were staying on campsites every night, until we bought our porta-potti. Then we had the ability to wildcamp, and from them on, we visited campsites every other day to shower, stock up on water and empty our grey/black waste. And you know what? We survived! So we decided that we could use the space for something else instead.
What is Our Current Setup?
So now, we've transformed the area into a worktop with cupboard space and a little bookshelf above it. In the cupboard underneath, we use one side to store the porta-potti which slides out on ultra strong drawers. On the other side, we store our drinking water tank, and other bits and bobs. We also have a USB shower setup.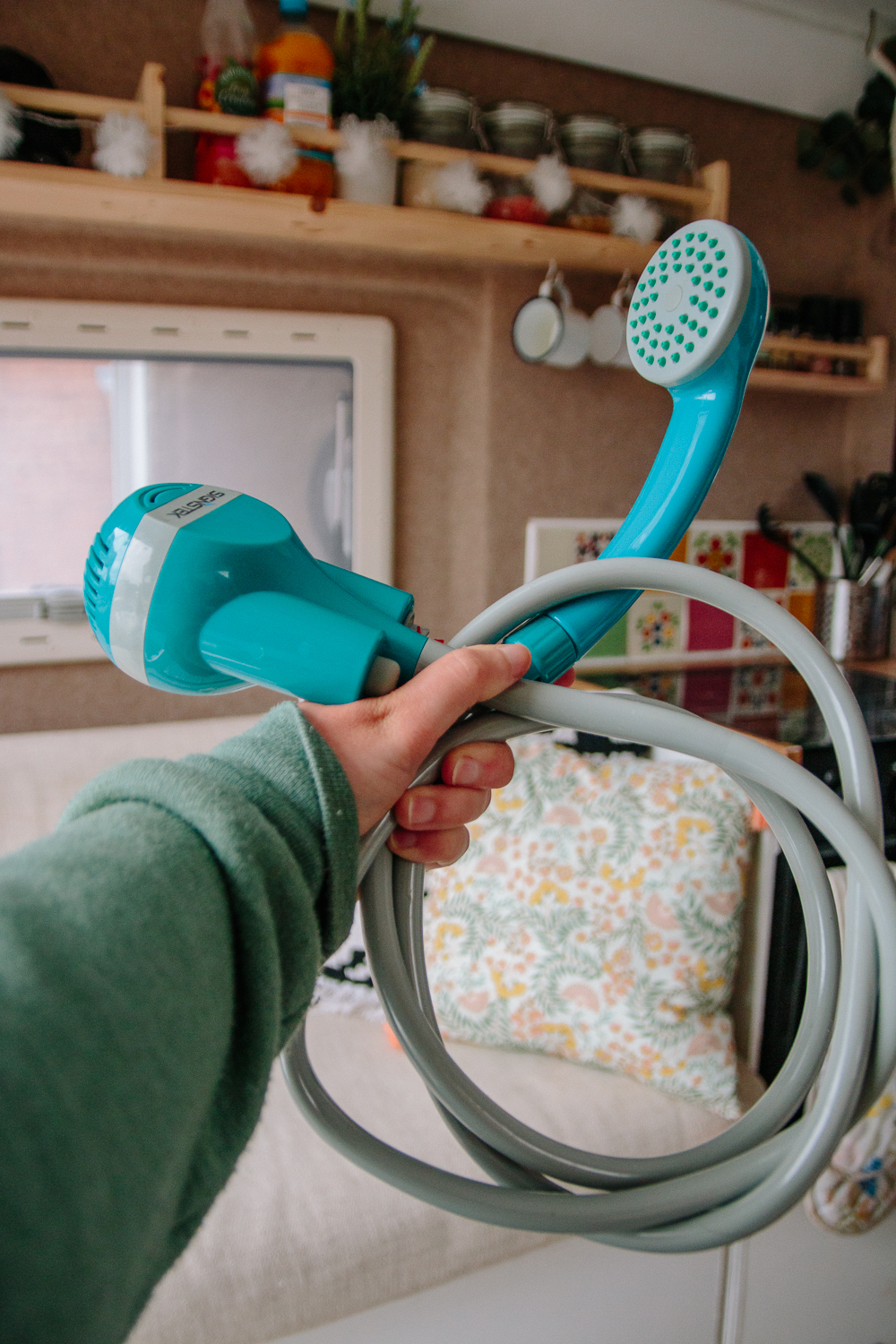 How to Stay Clean in a Campervan
So, obviously we don't have a full on shower/wetroom in our campervan anymore, so how do we stay clean while travelling? Well there's a few options:
USB Shower – This is our new setup (credit to Hannah + Myron for giving us the idea). We use a USB Shower (affiliate link), 2 shower curtains, a hoola-hoop, a bucket and a dog paddling pool to create a mini shower inside the van! We thread the shower curtains on to the hoola-hoop, hook it onto the ceiling, fill a bucket with warm water (see our post for how to get hot water in a campervan), stick the USB shower in the bucket and you have yourself a lovely warm shower. Once finished, you just empty the dog paddling pool into your waste water tank and you're fresh and ready to go! Shane also uses the USB shower to wash his hair over the sink which works well too!
Sink Wash – a simple way to wash in your van, providing you have warm water, a sink and a flannel. It's pretty self explanitory, but great if you don't have a shower setup in your van or for a super quick wash.
Public Showers – most leisure centres, service stations and gyms let you use their showers for a small fee. If you're headed to Scotland, check out our guide with a list of Public Showers in Scotland.
Lakes/The Sea – this is what a lot of full time vanlifers tend to do. It's free and if you're there anyway you might aswell use it! Obviously, using soap is not recommended for the environment, but if you're headed to the beach or a lake for a day, you can have a quick wash while you're there. Some places even have outdoor showers to rinse the salt off at beaches.
Campsites – Obviously, most campsites have showers, but not all will let you use them without staying the night. But if you need to top up or empty resources, it's a great place to have a shower too! We try to use one once a week, have a good clean and do our laundry while we're there too.
So, no, you don't need a shower in your campervan! There's plenty of other options available to keep clean while on your travels and we personally love our USB shower – it's actually pretty powerful and we've only ever had to charge it once so far!
How do you stay clean in your campervan? Do you have a shower/wetroom in yours?
Shop Our Setup (or Similar)